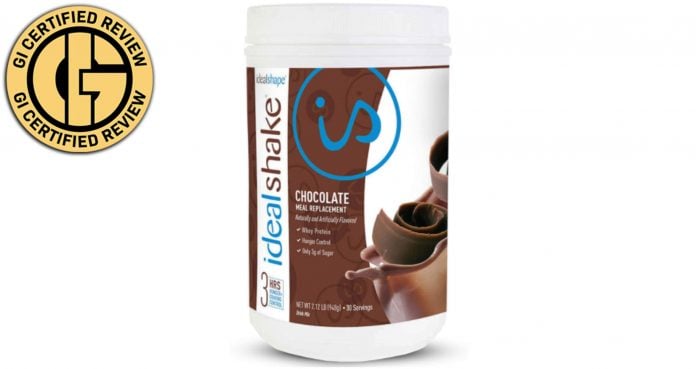 This meal replacement shake tastes great and can enhance all of your goals when it comes to weight loss, appetite suppression, and fast absorption.
Product Overview
As much as we want to get all of our essential nutrients from whole foods and home cooked or prepared meals, sometimes life just doesn't allow that. This is where a quality meal replacement shake can come to our aid. But finding a good quality meal replacement shake that checks off all our boxes, especially in terms of a good ratio of macronutrients, can be challenging. While getting all of those essential nutrients from whole foods is preferred, a good quality meal replacement shake can take your gains to the next level by offering healthy ingredients, limited to no artificial additives, and a solid ratio of protein, carbs, and fat.
IdealShape has created a meal replacement shake, IdealShake, which allows you the opportunity for a quality meal replacement product that doesn't break the bank and offers great benefits to your health and fitness. While our busy schedules can limit what we cook and how well we eat, IdealShape's shakes can eliminate snacking and work to keep us full as we seek to accomplish all of our goals.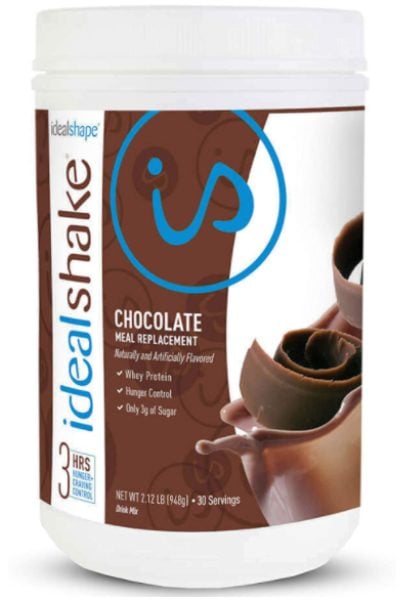 IdealShape is a company who cares about their customers and products, bringing only the best quality ingredients and processes to their mission. With great meal replacement shakes, protein bars, and drink mixes, the options to control and manage weight while also working on that desired physique are within your grasp with IdealShape. By using IdealShape products, you are taking charge and working to transform your life to be healthier and more satisfied in your mission to succeed.
---
See where IdealShape IdealShake falls on our list of the Best Meal Replacements!
---
IdealShake Highlights
IdealShape brings this great meal replacement shake, IdealShake, to you in order to help you see your weight loss and fitness goals come to life. Designed to block hunger and increase fat loss, this shake will help keep you full and enhance your gains, especially when paired with a great workout routine. This shake is easily digested and absorbed by your body so all those vital nutrients make it to you fast. Their hunger-blocking blend is specially designed with a blend of protein, fiber, and Slendesta, a potato protein extract, to eliminate snacking and unwanted calories.
With just 120 calories, this shake consists of 3g fat, 12g carbs, and 11g protein to offer a good ratio of macronutrients while only having 3g sugar. With 8 great flavors, it may seem like you are cheating on your diet, but in fact, you are enhancing those gains beyond what you could imagine. IdealShake will make you feel more full and get that daily nourishment for whatever you need to promote a healthier lifestyle.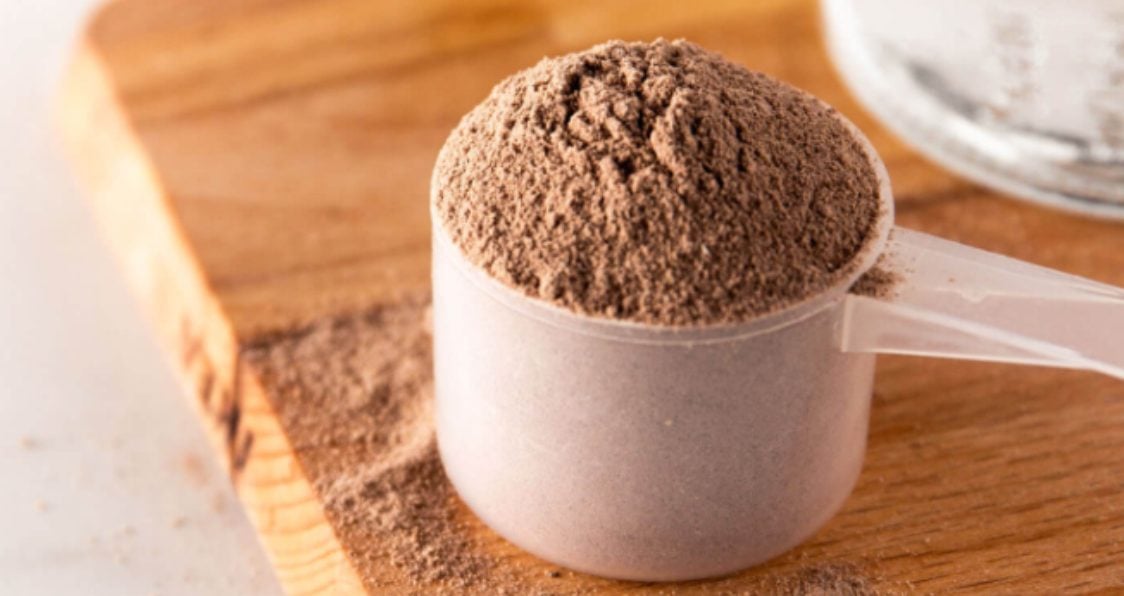 Ingredients
Protein Blend
Whey Protein Concentrate & Isolate: Whey protein is a great source of protein to help you see muscle growth and aid in the feeling of fullness (1). It can be easily digested and aid in easing stress as well as booting immunity.
Others: Sunflower lecithin
Hunger Blocker Blend
Slendesta: A potato protein, this can increase satiety to suppress appetite and control hunger. As a result, it is a great ingredient to aid in weight loss (2).
Sodium Caseinate: Used as an emulsifier and thickening agent to improve the retention of fat in foods and water and improve taste and texture.
Others: Isomalto-oligosaccharide, sunflower oil, maltodextrin, mono- and diglycerides, dipotassium phosphate, soy lecithin, sodium silicoaluminate, cocoa powder, potassium carbonate
Vitamin and Mineral Blend
Calcium Carbonate: Helps develop and maintain healthy bones and muscles, as well as relieving heart burn and upset stomach symptoms (3).
Vitamin A Palmitate: Contains antioxidant properties to relieve oxidative stress, and is great for skin and eye health.
Folic Acid: Helps your body produce and maintain new cells while enhancing digestive health and nutrient uptake.
Vitamin D3: Promotes stronger bones and healthy muscles, while also benefiting skin and immune health (4).
Vitamin B12: An essential nutrient that helps the body create DNA, supports bone health, and aids the brain and nervous system (5).
Others: Magnesium oxide, ascorbic acid, vitamin E acetate, biotin, potassium chloride, niacinamide, D-calcium pantothenate, electrolytic iron, zinc oxide, pyridoxine HCL, thiamine HCL, riboflavin, potassium iodide, natural & artificial flavors, cellulose gum, maltodextrin, salt, sucralose, acesulfame potassium, bromelain, papain, Digezyme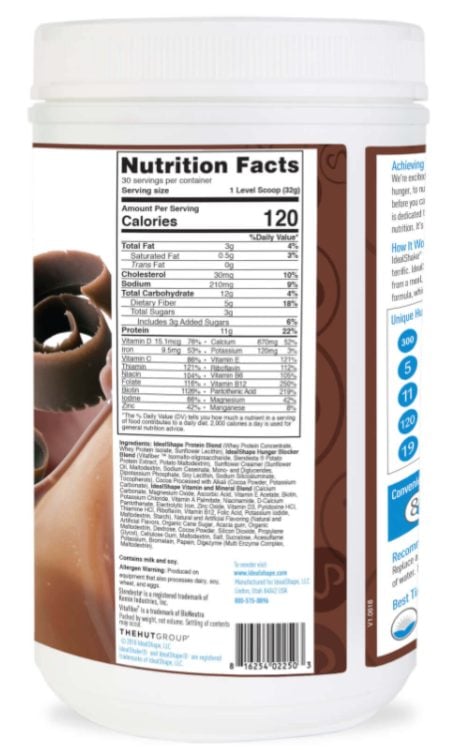 Price, Flavors & Effectiveness
IdealShape meal replacement shake is everything you need in terms of great ingredients and solid benefits to keep you full and give you plenty of nutrients for when a whole food meal can be hard to find. With 30 servings per 2.12 lbs. tub, one 32g scoop is the serving size to give you everything you need.
With 8 great flavors to choose from, you will never be bored with the taste. These flavors include:
Chocolate
Vanilla
Strawberry
Salted Caramel
Chocolate Coconut
Cookies 'N Cream
Mocha
Mint Chocolate Chip
Pros: Very filling with great flavors makes this an effective and great tasting product. Contains good digestive enzymes and solid vitamins and minerals. Good ratio of macronutrients and low in calories.
Cons: Does contain artificial ingredients, like maltodextrin, and is low in certain minerals you would want more of, like potassium.
Price: $32.99
Overall Value
IdealShape brings IdealShake Meal Replacement Shake to the table as a great replacement for those who cannot fulfill a whole food meal given their busy schedules. Designed to help you lose weight and block hunger, while also pumping you with essential vitamins and minerals, this shake is perfect for helping you see your desired goals. A great ratio balance of macronutrients is coupled with this shake being only 120 calories and containing 3g sugar, great for most diets out there. What you are really getting is a high quality meal replacement shake from a reputable company at an affordable price. Try IdealShape IdealShake meal replacement shake today and see that desired weight loss really start to take effect.
Try IdealShape IdealShake Meal Replacement Shake Today
Generation Iron may receive commissions on purchases made through our links. See our disclosure page for more information.
Let us know what you think in the comments below. Also, be sure to follow Generation Iron on Facebook, Twitter, and Instagram. 
*Images courtesy of IdealShape
References