Indie Pro 2021 Results: After much hype, we have our champion.
This weekend held the IFBB Indy Pro 2021. After a long quiet period in the world of bodybuilding due to the world pandemic, this competition was one of the first majorly hyped shows of the season. The competition is yet another Olympia qualifying event, with the first place victor to earn qualification. After an exciting battle, the Indy Pro 2021 results have finally been called.
Finally, the 2021 bodybuilding season is starting to feel in full swing. Last weekend held the Pittsburgh Pro and after this weekend we will have the New York Pro upon us on May 15th. We're finally getting to see some action and the hard work of hungry competitors displayed on stage.
Not only that, the Indy Pro 2021 was specifically hyped up because of three competitors. Blessing Awodibu, Morgan Aste, and Just Rodriguez. These three were frontrunners to win the show due to the impressive showcase of their physiques in social media updates and photos.
Blessing Awodibu, in particular, has been causing quite a stir. He not only competed today at the Indy Pro, but is also set to compete at the New York Pro next weekend. Blessing has been hyping that competition up with his online rivalry with Nick Walker. Tonight was a chance to preview if he could live up to the hype.
It's not common for a competitor to compete in bodybuilding shows back to back weekends. Some fear this could lead to off timing with contest prep. Others believe it can lead to further success. With such a close gap between the two shows – it might be easier to simply stay competition ready throughout that week.
It's a delicate balance and a double edged sword. Now that his first night of competing is completed – we'll have to wait and see what happens next weekend.
But all of the hype is small in comparison to real honest results. And we now have the Indy Pro 2021 results officially announced. You can check them out below.
Indy Pro 2021 Breakdown
Men's Open Results
1. Justin Rodriguez
2. Mohamad El Elam
3. Blessing Awodibu
4. Dorian Haywood
5. Carlos Chapa
6. Morgan Aste
7. Camilo Diaz
8. Roy Evans
9. Dwayne Walker
10. Stephen Frazier
View this post on Instagram
Men's 212 Results
1. Tonio Burton
2. Nathan Epler
3. John Jewett
4. Bryan Balzano
5. Noel Adame
6. Justin Randall
7. Sahar Kazes
8. Thomas Lenihan
9. Derik Olsan
10. Ryan Walters
View this post on Instagram
Indy Pro 2021 Official Scorecards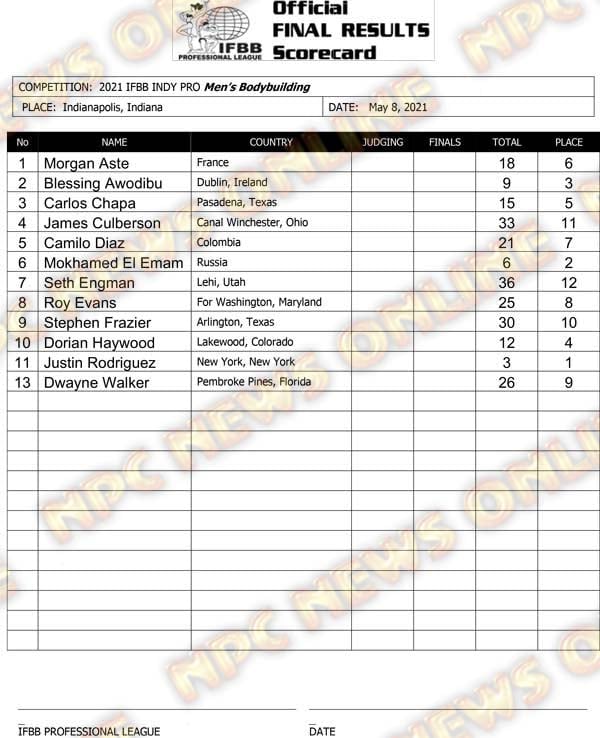 That wraps up the IFBB Indy Pro 2021 results! Make sure to check out our full IFBB Pro results page from this year and previous years right here to catch up on any action you may have missed!