This pre-workout ensures you get massive pumps and laser focus to seriously increase athletic performance.
Product Overview
The best pre-workouts are those that will check all of the boxes for every one of your needs. Some make false claims, others have difficult side effects, and some just flat out miss the mark. Inspired Nutraceuticals DVST8 Worldwide is a great pre-workout to consider when faced with the tough choice of what to buy. With great ingredients and benefits, this supplement has proved to be worth it.
DVST8 is designed with five core trademarked ingredients and ensures you have amazing focus, increased energy, and of course, massive pumps. With no banned substances or artificial colors, this offers a clean formula without any shady ingredients to ruin a great pre-workout supplement. As a vegan-friendly option, this is great for everyone looking to elevate their workouts.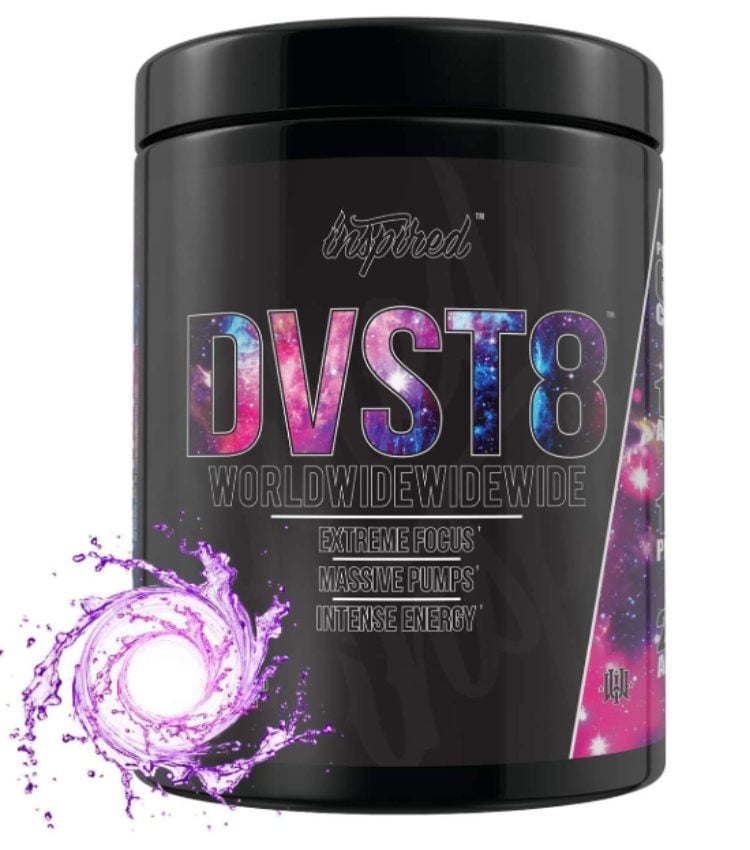 Shop at Inspired Nutraceuticals
Inspired Nutraceuticals is a solid supplements producer who prides themselves on the integrity of their products, seeking to bring passion, knowledge, and truth to consumers to aid in their overall health and performance. With 100% transparent labels, each ingredient is laid out so you see exactly what you are getting and their philosophy is simple: they only make products that they trust to take themselves.
Inspired products are manufactured in a state-of-the-art facility in the United States and complies with Current Good Manufacturing Practice (CGMP). With each supplement clinically dosed for all your needs, Inspired's countless hours of research and dedication show through in their products.
DVST8 Highlights
DVST8 is one of those pre-workouts to really get you going for all your pre-workout needs from extreme focus, serious energy, and massive pumps. With two researched blends and five core trademarked ingredients, this product works seamlessly to give you full on muscle pumps to keep your workouts as intense as ever. With a transparent formula and label, you know exactly what you are getting with DVST8.
With 10 clinically dosed ingredients all chosen for specific pre-workout reasons, these two blends work seamlessly to provide you with that intense energy and laser-like focus. Great for elite athletes or everyday gym-goers, this vegan-friendly pre-workout supplement has zero WADA banned substances and no artificial colors to keep you healthy and your body clean from harmful additives. With great flavors and a decent price, DVST8 is one pre-workout to consider when looking to get massive pumps to see overall growth.
Ingredients
The Truth Matrix
 L-Citrulline Malate: A free form amino acid, citrulline can increase nitric oxide and blood flow for more efficient use of arginine. It can also aid in reducing fatigue to keep your workouts going longer and stronger, improving overall endurance (1).
Betaine Anhydrous: Is a performance enhancing compound linked to power output and an increase your ability to lift more. It can also reduce levels of homocysteine which can interfere with muscle growth and fat loss stunting you from the full benefits of your workouts (2).
Arginine Nitrate: Works well with citrulline to maximize benefits and can increase vasodilation, the dilatation of bloods vessels which can decrease blood pressure and as an essential amino acid, it also plays an important role in blood flow (3).
Mushroom Mix: Cordyceps, Reishi, King Trumpet, Shiitake, Lion's Mane, and Turkey Tail.
That Prestige Worldwide Energy
 Choline Bitartrate: A molecule great for boosting cognitive properties (4). Used to improve memory and mental performance, choline will ensure you get that solid boost for your energy and laser-like focus.
L-Tyrosine: As a non-essential amino acid, tyrosine helps improve cognitive function, reduce stress, and improve mood (5). It is used to improve memory and alertness, especially in situations that can be stressful.
Natural Caffeine: Comes from green tea and stimulates epinephrine for increased energy, mental focus, and reduced fatigue. Caffeine can also increase mood. Green tea has a host of benefits as well including improved brain function, fat loss, and longevity (6).
Others: Advantra Z (citrus arantium fruit), methylliberine, theobromine, KannaEase (sceletium tortuosum standardized for alkaloids)
Price and Flavors
DVST8 has three great flavors at a reasonably affordable price. With 25 servings per container, one scoop per serving will really give you that great energy boost to provide for insane muscle pumps. At a price of $39.97 USD, you get three flavors to choose from including Galaxy Pop (Rocket Popsicles), Malibu Breeze (Strawberry Watermelon), and Sour Yummies (Sour Gummy Worms).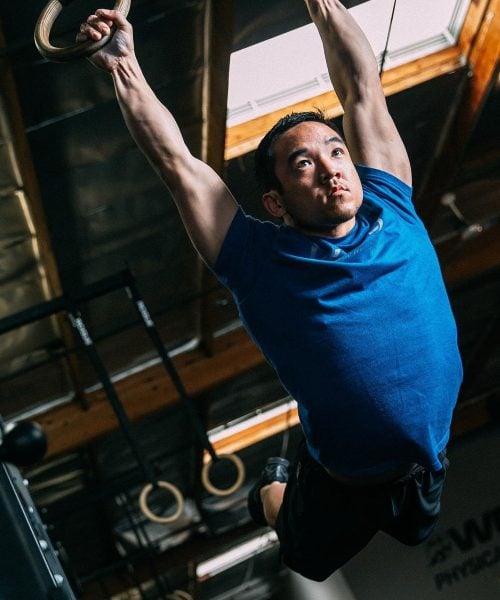 Sponsored Athlete
Andrew Kong uses Inspired Nutraceuticals supplements to boost his workouts and stand out as an elite CrossFitter in the fitness world. A strong and accomplished athlete and lifter, Kong uses his skills and technique to get stronger and more fit every day. Using CrossFit as his outlet for promoting a healthy lifestyle, he and Inspired work together to promote and bring great supplements to consumers to improve their daily lives as well.
Overall Value
Inspired Nutraceuticals DVST8 Worldwide is a perfectly crafted pre-workout with five trademarked ingredients and plenty of others to increase energy, provide for solid muscle pumps, and promote intense focus. With no banned WADA substances and zero artificial flavors, this vegan-friendly supplement is great for everyone from athletes to everyday gym-goers looking for a workout boost. By improving your pump, enhancing your physical and mental endurance, offering pure motivation, and eliminating all of your stress in the gym, DVST8 is one pre-workout you absolutely need to try. What you are getting is a great supplement from a reputable company with clean, beneficial ingredients to bring your workouts to the next level. See what Inspired Nutraceuticals can do for you today.
Try DVST8 Worldwide at Inspired Nutraceuticals Today
Let us know what you think in the comments below. Also, be sure to follow Generation Iron on Facebook, Twitter, and Instagram. 
*Images courtesy of Inspired Nutraceuticals and Andrew Kong Instagram
References