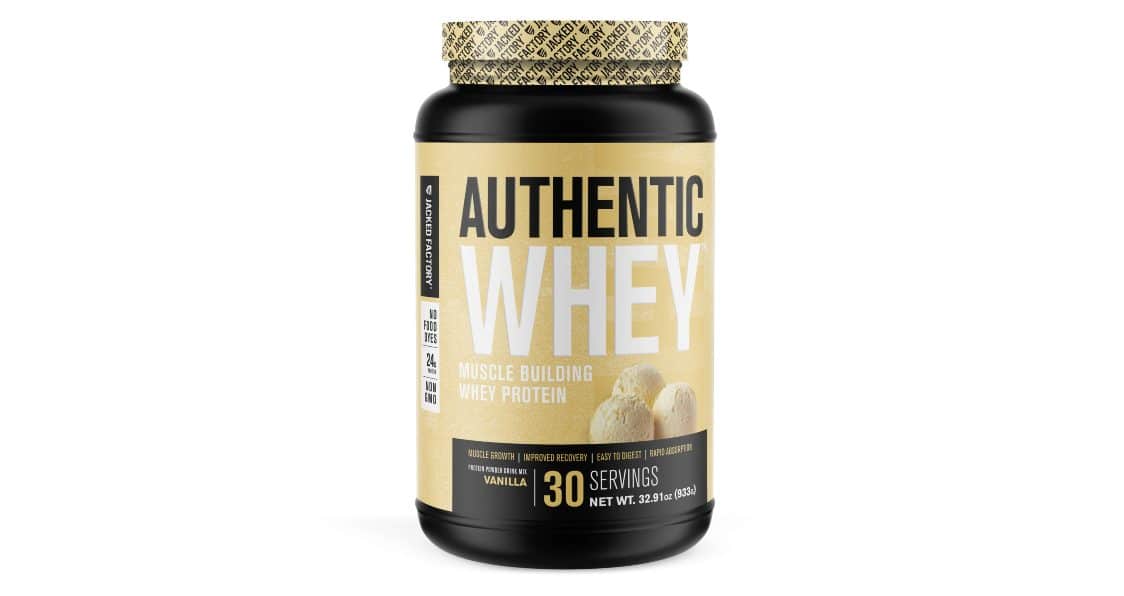 Get the most out of your muscle building with this fast absorbing and great tasting whey protein.
Product Overview
There are so many protein powders out there. It can be overwhelming. Everyone claims that they have the healthiest, or that they have the most effective, and for those more bold folks, that they have the absolute best. But it can be hard to sift through all the nonsense to really find out who is telling the truth. And it may not seem fair, but with a market so saturated, that just means more choices for the consumer. Jacked Factory Authentic Whey is a great choice given its ability to help boost growth and recovery while also being from a reputable company.
A protein powder worth your time and money should be working for you in a number of ways. The most important thing to remember is that you need to make sure the protein is coming from a quality source for this affects both health and performance. Muscle growth, recovery, and weight management are some of the key benefits received from a protein powder, all things we as athletes need to prioritize the most.
Jacked Factory Authentic Whey Protein Powder is a fast absorbing and easily digestible protein powder great for muscle growth and recovery.
Jacked Factory is a great supplement company who fully understands the needs of athletes and what it takes to succeed at the highest level. As a result, they deliver the most premium, hard-hitting, and effective supplements on the planet. With products formulated using science-backed ingredients, all of their products are made with honesty and the idea of fueling your fitness journey. Transparency is key, especially for your gains, and Jacked Factory takes this very seriously.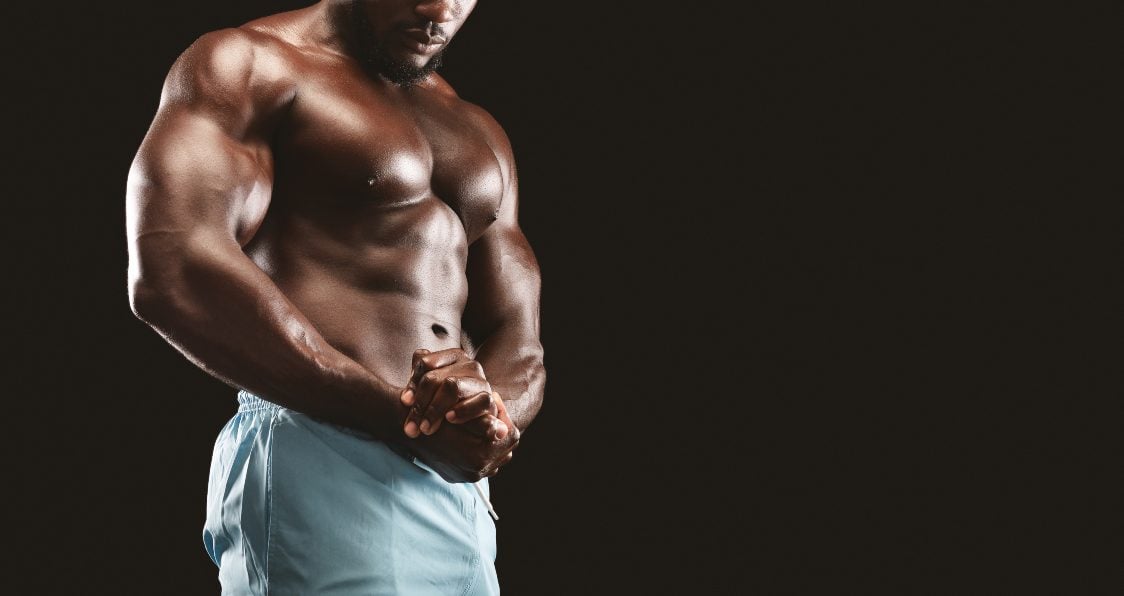 Jacked Factory Authentic Whey Highlights
Jacked Factory Authentic Whey Protein Powder is a great tasting and fast absorbing protein powder that is easily digestible for ease on your stomach. A great mix of whey isolate and whey concentrate, this protein supplement is great for those looking to increase muscle growth for lean muscle mass and enhance recovery. Produced through a state-of-the-art filtration process, this whey protein is low in fat and carbs while being high in protein.
Although it is low in sugar as well, no taste is sacrificed. This protein supplement has great flavors to choose from and settles in at an affordable price of $29.99 for 30 servings. This means that each serving is just under a dollar, giving you a great price per serving.
Ingredients
Whey Protein Concentrate: Great for those looking to bulk and pump themselves with protein. This will enhance muscle growth and recovery and contains some carbs and fat to give you a good intake (1).
Whey Protein Isolate: A more filtered form of whey, this is great for those looking to cut since it filters out the carbs and fat, leaving a high protein supplement. This is also effective for muscle growth, recovery, and weight loss (2,3).
Other Ingredients
Natural & Artificial Flavors, Himalayan Rock Salt, Sucralose, Stevia Extract
| | |
| --- | --- |
| Calories | 120 |
| Protein | 24g |
| Carbs | 1g |
| Fat | 2g |
| Sugar | 1g |
| Flavors | Vanilla, Chocolate, Fruity Cereal Splash, Salted Chocolate Caramel, Orange Ice Cream |
| Number Of Servings | 30 |
Price, Flavors & Effectiveness
Jacked Factory Authentic Whey is a great protein powder for those who want a concentrate and isolate blend that works for building muscle, enhancing recovery, and assisting with those weight management goals. With 30 servings per container, one scoop of this protein powder will deliver a great source of protein so you see effective gains.
Flavors for this protein supplement include Vanilla, Chocolate, Fruity Cereal Splash, Salted Chocolate Caramel, and Orange Ice Cream.
Pros
Mix of whey isolate and concentrate great for a host of benefits
Fast absorbing and easy to digest
Honest and clean process
Low in sugar
Cons
Does contain artificial sweeteners
May lack certain digestive enzymes to make digestion even more smooth
Price: $29.99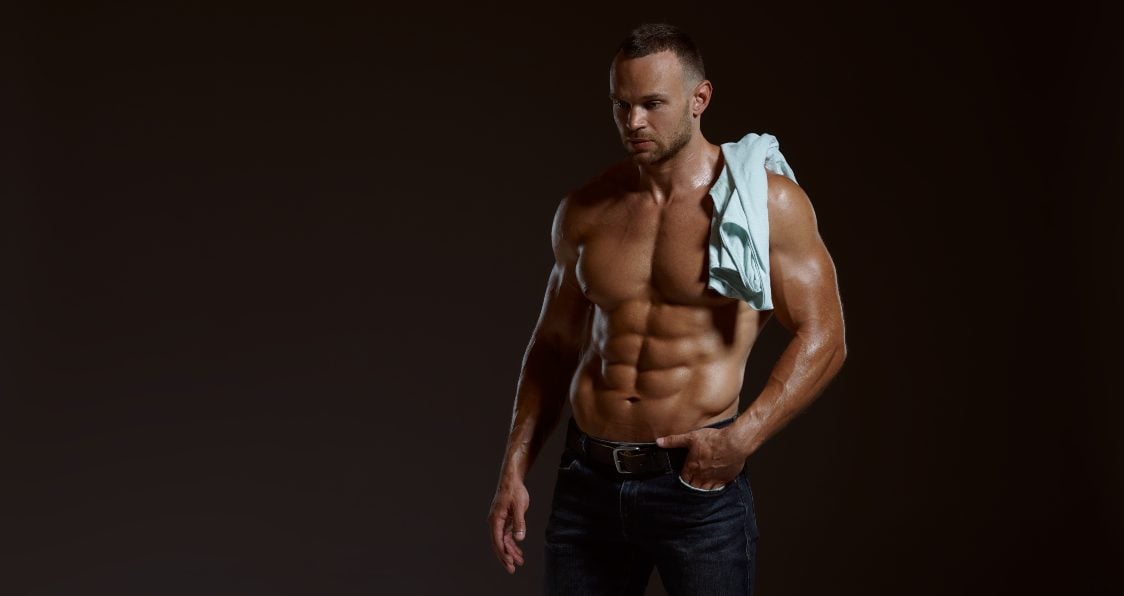 Who Should Use & How Best To Take
People who should buy this protein powder are those who want a great source of protein from a reputable company. Jacked Factory makes supplements great for all and this protein powder is a nice addition to anyone's supplement routine trying to build muscle and ensure more efficient recovery.
Jacked Factory recommends taking one scoop of this protein supplement after working out. They do say as a dietary supplement, it can be consumed 1-4 servings per day to fill your protein intake, however, it is always advised to talk with a doctor or expert if you have further questions or concerns.
---
Check out our list of the Best Protein Powders to see where Jacked Factory Authentic Whey landed!
---
Overall Value
Jacked Factory Authentic Whey is that protein powder you need if you are looking to build muscle and see gains. While the market may be saturated, Jacked Factory knows what athletes need to see real success and works hard to make that a reality. What you are really getting is a great whey isolate and concentrate blend designed to deliver benefits to improve your health and performance. Try Jacked Factory Authentic Whey today and give yourself a chance to see real results.
---
Generation Iron may receive commissions on purchases made through our links. See our disclosure page for more information.
Let us know what you think in the comments below. Also, be sure to follow Generation Iron on Facebook, Twitter, and Instagram. 
*Images courtesy of Jacked Factory and Envato
References
West, D.; et al. (2017). "Whey Protein Supplementation Enhances Whole Body Protein Metabolism and Performance Recovery after Resistance Exercise: A Double-Blind Crossover Study". (source)
Cooke, M.; et al. (2010). "Whey protein isolate attenuates strength decline after eccentrically-induced muscle damage in healthy individuals". (source)
Pal, S.; et al. (2010). "Effects of whey protein isolate on body composition, lipids, insulin and glucose in overweight and obese individuals". (source)