This multi is packed with important vitamins and minerals to boost training, performance, health, and wellness.
Product Overview
It's no secret that a good quality multivitamin can seriously enhance all areas of your health and wellness. Able to pack you with all the essentials you need to thrive, a multivitamin should be included in your daily supplementation routine. With so many on the market, it can be challenging to decide which ones are best for you as many contain ingredients that you just don't want or need. MTS Nutrition Machine Multi is definitely packed with essential nutrients, but the question remains as to if it can hold up next to some of the heavy hitters in the supplement world.
The benefits of a multivitamin are fairly straightforward. For many of us, our diets often neglect the fact that we need certain vitamins and minerals to thrive day in and day out. Especially for those of us always on the go, the meals we grab as a grab-and-go option are often times missing some of those vital nutrients. Filling in the gaps for those potentially missing vitamins and minerals are important to help with our bodily functions so we continue to thrive day in and day out.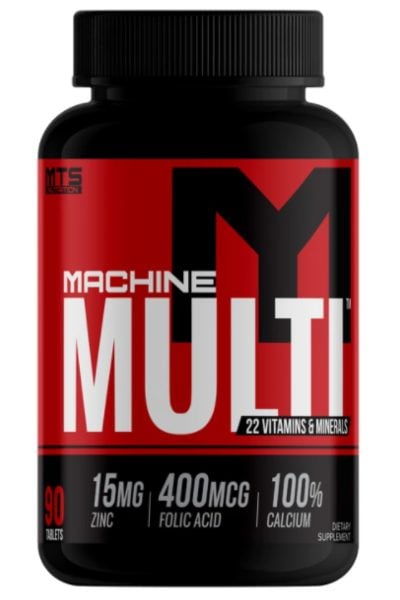 MTS Nutrition is a company seeking to make good quality supplements for their consumers to promote better health and fitness, as well as great gains. With a focus on quality control and transparency, they aim to stand out in the sports supplement industry as an honest company. With products ranging from all kinds of supplements, this super greens was created to promote better health and wellness. With advanced formulas and ingredients, they hope this comes through with their products.
MTS Nutrition Machine Multi Highlights
MTS Nutrition Machine Multi is an okay multivitamin to ensure you get those essential vitamins and minerals into your body. Built by athletes, in theory this multi should be the best for athletes and it is specially engineered to provide all the essentials to support health, wellness, and function.
Since hard training tends to deplete your body of these nutrients, Machine Multi works to improve things like recovery and energy production so you're more durable and resilient. Packed with 20+ vitamins and minerals, this multi works to give you your daily dose while aiding in all areas of training, health, and performance.

Ingredients
Vitamin C: Influences growth and repair, acts as an antioxidant, and boosts immune response for optimal health (1).
Thiamin: Maintain healthy nervous system and improve cardiovascular functioning, while also boosting some cognitive functions (2).
Niacin: Works to balance cholesterol levels and can lower triglycerides.
Biotin: Supports your digestive and nervous system, metabolic functions, and skin and cell health.
Pantothenic Acid: Also known as vitamin B5, it can stimulate hormones, relieve stress, and work on performance like increased stamina.
Calcium: Works to build strong bones and maintain a healthy nervous and cardiovascular system. Also helps with the movement of muscles (3).
Zinc: Helps build immunity, works with hormone production, and promotes good digestion (4).
Manganese: Helps reduce inflammation and has strong antioxidant properties.
Other Ingredients
Vitamin A, vitamin D, vitamin E, vitamin K, riboflavin, vitamin B6, folic acid, vitamin B12, iodine, magnesium, selenium, copper, chromium, molybdenum, stearic acid, microcrystalline cellulose, magnesium stearate, croscarmellose sodium, silicon dioxide, food glaze, microfine wax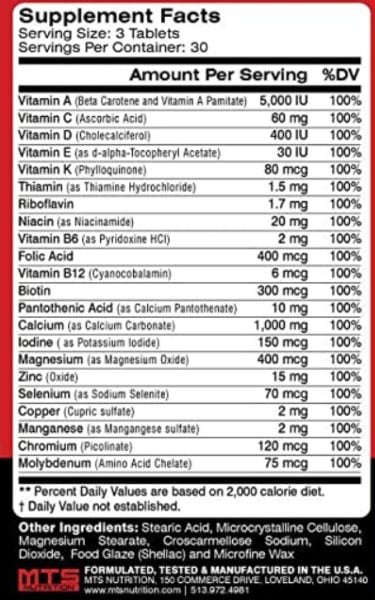 Price & Effectiveness
MTS Nutrition Machine Multi is an okay multivitamin to boost your overall health by packing you with 20+ vitamins and minerals. Able to offer support with energy production and bone health, as well as being a great antioxidant, this multi can offer other benefits to your body. With 30 servings per container and three tablets as a serving size, Machine Multi may be for you.
Pros: Low price and packed with 20+ vitamins and minerals to help with health and training.
Cons: Three tablets is a lot for a serving size. Could have more of some ingredients and less of others, while also including certain ingredients other multivitamins on the market do.
Price: $12.99
---
Check out our list of the Best Multivitamin Supplements for great products to boost your overall health and wellness.
---
Overall Value
MTS Nutrition Machine Multi is a one of those multivitamins that may improve training and your overall health, but it may take some comparing to other multis to get there. With 20+ vitamins and minerals, and 90 tablets at a low price, it is a decent option, but some of those slightly more expensive multis can offer much more. MTS Nutrition tries to bring good supplements to the table and since they are a company of athletes, we would think this to be true. What you are really getting is an okay multivitamin at a low price from a company trying to bring good supplements to the game. Check out MTS Nutrition Machine Multi to try or compare as you look for the best multi for you.
Try MTS Nutrition Machine Multi Today
Generation Iron may receive commissions on purchases made through our links. See our disclosure page for more information.
Let us know what you think in the comments below. Also, be sure to follow Generation Iron on Facebook, Twitter, and Instagram. 
*Images courtesy of MTS Nutrition and Envato
References