A complete protein that may help with those desired gains.
Product Overview
When it comes to building mass and muscle, we all know a good protein powder is essential for aiding in that desired growth and recovery. While it can be tough to find high quality protein supplements, we want to share just what's on the market so you know exactly what you're getting. Also, it's nice to compare the top brands to other not as great products so you get the sense of what to look for. MTS Nutrition Machine Whey Premium Protein Powder is our focus today as we see what works with this supplement and what simply falls flat.
Protein is the building block for all muscle and is essential in guiding our growth and recovery. With BCAAs and EAAs working to your benefit, a good quality whey protein will fill you up, pump you with great nutrients to help with growth, and also aid in recovery so you bounce back faster. With this supplement being a staple in the routines of top bodybuilders and athletes, if you don't already use one, now's your time to start.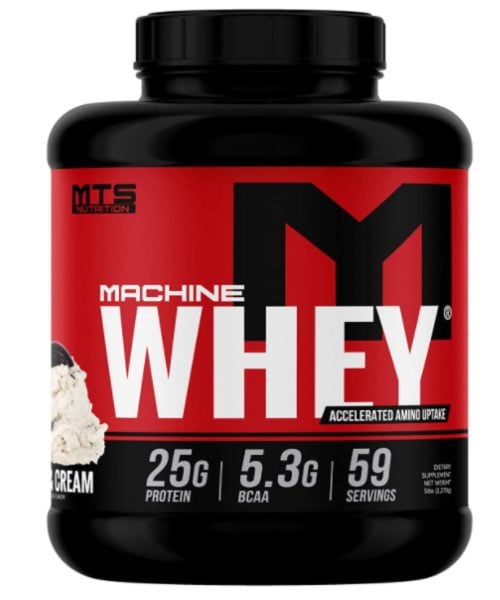 MTS Nutrition is a company seeking to make good quality supplements for their consumers to promote better health and fitness, as well as great gains. With a focus on quality control and transparency, they aim to stand out in the sports supplement industry as an honest company. With products ranging from all kinds of supplements, this super greens was created to promote better health and wellness. With advanced formulas and ingredients, they hope this comes through with their products.
MTS Nutrition Machine Whey Protein Highlights
MTS Nutrition Machine Whey Protein Powder uses a high percentage of whey to pack 25g protein into this supplement to effectively help with muscle growth and recovery for that desired size and more efficient workouts.
This protein powder is a blend of both concentrate and isolate and works to effectively give you the benefits of both by also providing 5.3g BCAAs to assist with your desired gains and recovery needs. With tons of flavors to choose from, MTS Nutrition has tried to offer a decent protein to help you progress with your goals.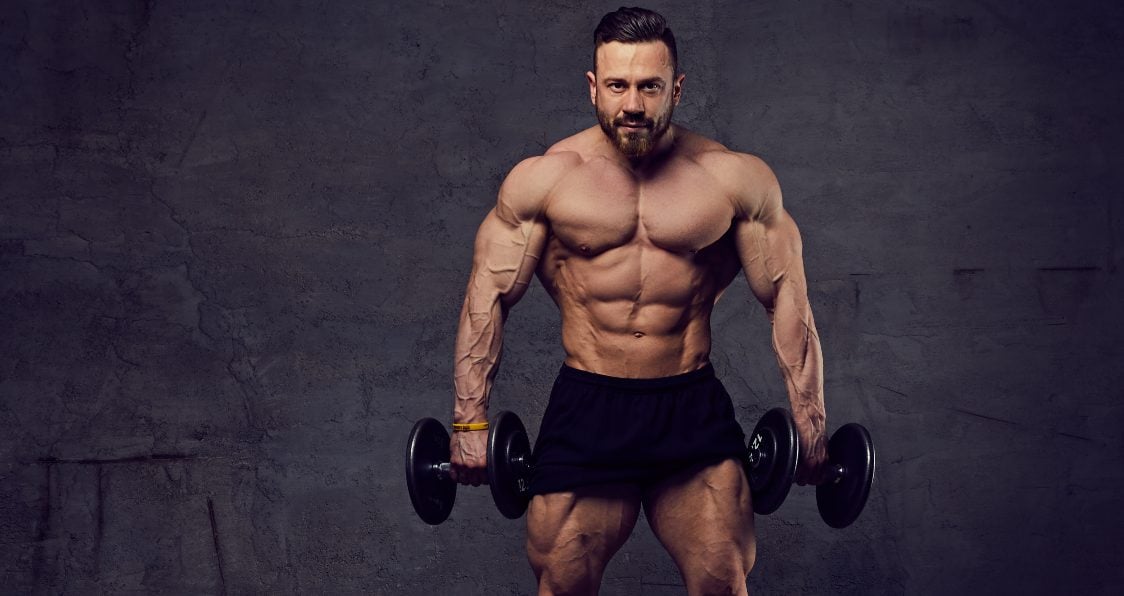 Ingredients
Whey Protein Matrix (Whey Concentrate & Isolate)
Whey concentrate is going to effectively give you a high dose of protein while also feeding you healthy carbs and fats to boost performance and your health. Concentrate contains a variety of bioactive compounds along with antioxidants to give you immune-boosting benefits as well, although this may not be the intended goal overall. A downside to concentrate is that it does have a high amount of lactose so bloating does occur and those sensitive to dairy tend to not do as well with concentrate. This is perfect for those looking to bulk and gain weight, while also putting on muscle mass (1).
Whey isolate is a more filtered form of whey and what you'll find is a more pure form of protein with little to no fats and carbs. As a result of the filtration process, the excess carbs and fats are filtered out leaving you with straight protein to help with any desired gains. This is great for those looking to slim down while still getting protein and little to no carbs and fats is the reason why.
By combining both, you get the benefits of both without suffering through all the drawbacks. From the concentrate, you will get some carbs and fats, as well as protein, to help with those muscle gains and from the isolate, you will have a more bioavailable form for optimal absorption (2).
Other Ingredients
These other ingredients are for the Cookies & Cream flavor, but many are similar for the other flavors available.
Cocoa processed with alkali, xantham gum, natural and artificial flavors, soy and/or sunflower lecithin, salt, sucralose, acesulfame postassium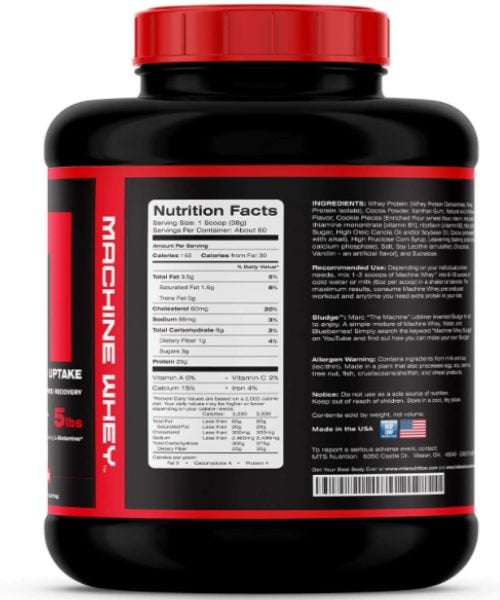 Price, Flavors & Effectiveness
MTS Nutrition Machine Whey is a blend of whey protein concentrate and isolate designed to give you the edge when it comes to growth and recovery after a grueling workout. With 60 servings per container, one scoop of this protein powder is all you need to get your fill.
This supplement comes with many flavors to at least provide for a decent taste.
Flavors include: Cookies & Cream, Peanut Butter Cookies & Cream, Mint Cookies & Cream, Red Velvet Cake, Ice Cream Sandwich, Chocolate, Vanilla, Peanut Butter Fluff, Triple Chocolate Cake, Blueberry Muffin, Apple Pie, Strawberry Cheesecake, Birthday Cake, Banana Cream Pie, Espresso, Pumpkin Pie, Black Raspberry Chocolate Chip
Pros: The blend of both concentrate and isolate is decent and provides for the benefits of both. 25g of protein is a good amount and 5.3g BCAAs is also nice to have included.
Cons: Very expensive compared to others on the market and does contain artificial flavors like sucralose and acesulfame potassium. Seems as though they are more focused on flavors than quality of the product.
Price: $68.99
---
Check out our list of the Best Protein Supplements here!
---
Overall Value
MTS Nutrition Machine Whey Protein Powder is an okay protein supplement to take to increase your gains and help with recovery. When it comes down to it, a good protein supplement can really impact training and performance so finding the right one is absolutely key. What you are getting is a decent protein blend of both whey concentrate and isolate from a company who tries to be transparent with their products. Try MTS Nutrition today and look to compare to other, more top-tier supplement companies.
Try MTS Nutrition Machine Whey Protein Today
Generation Iron may receive commissions on purchases made through our links. See our disclosure page for more information.
Let us know what you think in the comments below. Also, be sure to follow Generation Iron on Facebook, Twitter, and Instagram. 
*Images courtesy of MTS Nutrition and Envato
References
Devries, Michaela C.; Philips, Stuart M. (2015). "Supplemental protein in support of muscle mass and health: advantage whey". (source)
Pal, Sebely; Ellis, Vanessa; Dhaliwal, Satvinder (2010). "Effects of whey protein isolate on body composition, lipids, insulin and glucose in overweight and obese individuals". (source)