Pull-up bars are a great way to get the benefits of pull-ups from the comfort of your own home.
Product Overview
Pull-ups are a great exercise and can be used as a warm-up, mid-workout exercise, or post-workout finisher or stretch. As a great strength builder for the entire upper body, pull-ups should definitely be included in your workout routine. With gyms being closed or reduced to limited capacity, it can be hard to find a good place to perform pull-ups, especially in your home. Thankfully, exercise and sports equipment companies have created high quality pull up bars that can be easily placed in your home and can provide all the benefits of pull-ups you would perform in the gym.
MUSCOACH Pull-Up Bar is one such bar that requires no installation and can really increase your gains from the comfort of your own home. What pull-ups can do and why they are so important to add to your workout routine is that they work to build strength and muscular endurance while also aiding in functional abilities like enhanced grip and better posture (1). By working multiple muscle groups at once, you can really work to target certain areas while building your routine around a great strength-building exercise.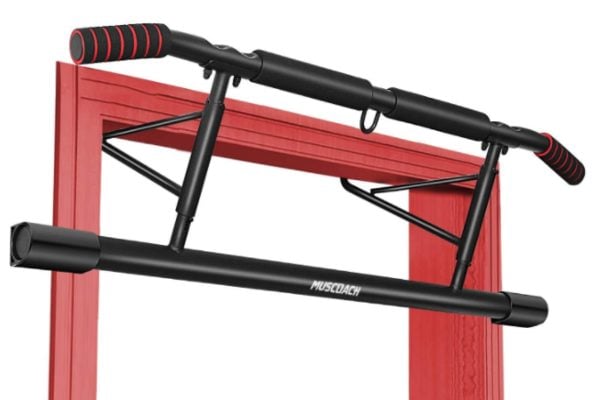 MUSCOACH is a company designing and creating professional technology to offer more balance and support for those much sought after gains while providing a noiseless surrounding for athletes and trainers of all levels. Seeking to better athletes lives with their great products, MUSCOACH works with satisfactory service so you trust their brand and their mission of seeking the best for all their customers.
---
See where MUSCOACH Pull-Up Bar falls on our list of the Best Home Gym Equipment Under $100 here!
---
MUSCOACH Pull-Up Bar Highlights
This pull-up bar has a solid angled grip and ergonomic design for multi-purpose use to maximize muscle engagement and wrist support. The soft and thickened sponge handles allows for enhanced grip and no slippage for safety and optimal effectiveness with your workouts. This bar has four positions to add variety and target certain upper body muscles that may be often overlooked.
The four positions include: normal grip, close grip, wide grip, and hammer grip. The large hook design makes this an easy to assemble bar with no screws or installation needed and will fit in almost any doorway within the measurements of 27.5'' to 36'' wide and 4.72'' to 9.44'' deep.
Product Details
Material & Design
The comfortable angled grip ensures no slippage and is a solid design for maximum placement. It also has a suspension strap design so you can hook up any straps for banded exercise which are great for increasing time under tension, as well as mind-muscle connection, and are great additions to an at-home workout. The large adjustable guard pads can fit in different size doors and fit into any frame to protect your walls while fitting snug for safety. Along with this is a large hook that will increase safety and stability by securing this entire bar into the desired space.
Full Body & Multifunctional Exercises
A great benefit of this no installation pull-up bar is that you can perform a variety of exercises, either with the bar hanging from the door frame or laying on the ground. Any exercise like pull-ups, chin-ups, or hanging leg raises can be done safely with this mounted, but others like push-ups or low dips can be performed with this bar detached and resting alone on the ground. Building strength and functional movements with this pull-up bar design can ensure great gains are made and that every muscle groups gets worked by a solid home workout.
Accessibility & Storage
This pull-up will not impede in any of your rooms and will hang from the door and be out of sight and out of mind. For easy and effective storage, this will fit in a closet or under a bed, and again, no installation makes this very easy and convenient to do.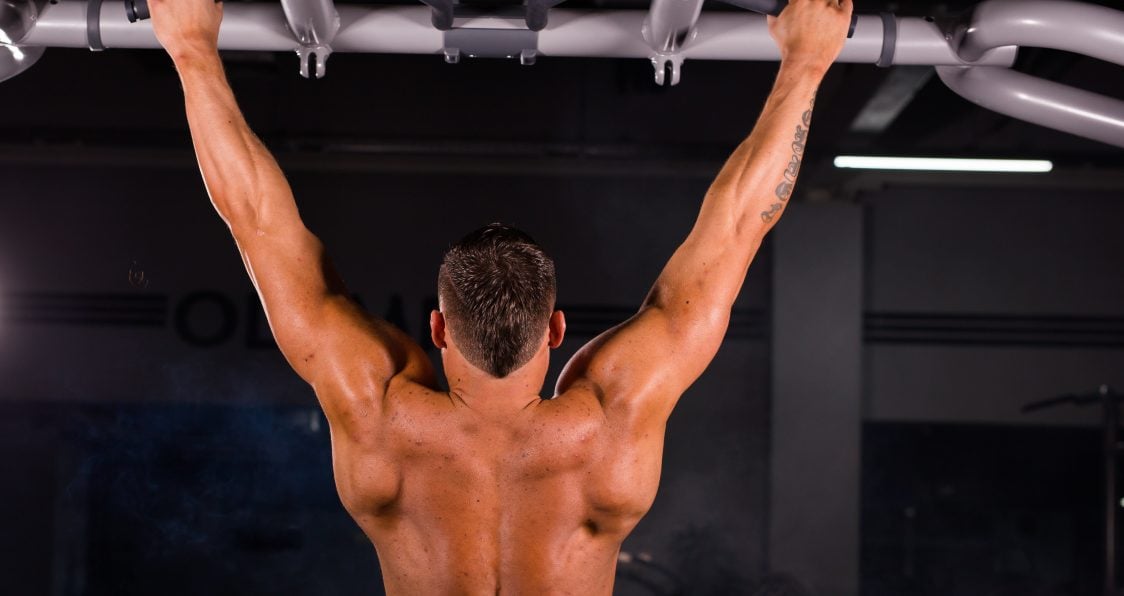 Price & Effectiveness
MUSCOACH Pull-Up Bar is a great tool to enhance your at-home workouts while getting all the benefits of pull-ups in the gym. This no installation needed pull-up bar comes at a price of $24.99.
Pros: Sturdy and can hold a lot of weight. Great for a multitude of exercises for multiple muscle groups and comes at a great price.
Cons: Can leave marks on walls and doors where placed and some safety concerns arise with quality for certain pieces and snapping.
Wrap Up
MUSCOACH Pull-Up Bar is a great fitness tool to give you the benefits of pull-ups from the comfort of your own home. With no installation and easy adjusting, while also providing great support and stability, you can increase growth and muscular endurance with this simple and convenient tool. Easy to use, set-up, and store, this pull-up bar can be out of sight and out of mind and in a matter of minutes you can perform a number of exercises for maximum growth and optimal effectiveness. What you are really getting is a high quality pull-up bar with great benefits form your own home from a company who cares about their customers. Try MUSCOACH Pull-Up Bar today and really see those gains of yours grow right in your own home.
Try MUSCOACH Pull-Up Bar Today
Generation Iron may receive commissions on purchases made through our links. See our disclosure page for more information.
Let us know what you think in the comments below. Also, be sure to follow Generation Iron on Facebook, Twitter, and Instagram. 
*Images courtesy of MUSCOACH and Envato
References
Ronai, Peter (2014). "The Pull-up". (source)