The best heart health supplement?
Nordic Naturals is a company that focuses on nutrients that have proven their effectiveness. They are the go-to choice for clinical studies done by leading medical institutions like UCLA, Stanford, and Cedars-Sinai Medical Center.
Their products have been used by millions of people around the world, and the company has revolutionized omega-3s since 1995. Their product, the Ultimate Omega High-Intensity soft gels, is one of their most popular products to date.
It's not surprising that this is the case, because everyone from regular, average folks to elite athletes all want a healthy heart, strong brain, good eyesight, and healthy joints. And Omega-3 products are said to help with all of these things.
We wanted to see if Nordic Naturals' 25 year history and reputation has really produced an effective heart-health product. This is our in-depth review.
Note: Despite the natural contents of the soft-gels, the claims made by the product maker have not been evaluated by the Food and Drug Administration, and the product is not meant to be a way to diagnose or be a treatment to any disease or ailment.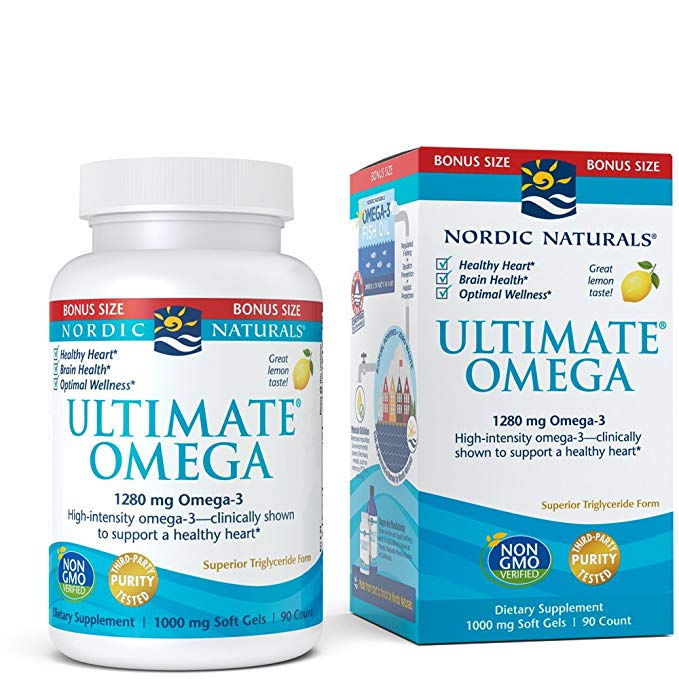 Pros
All-natural ingredients
Burp-free and no fishy aftertaste
Comes in lemon flavor
Reasonable pricing
Cons
Can cause dizziness to some
Needs extra care for storage
Click here for the lowest price on Amazon
Ingredients and Nutritional Information
Nordic Naturals – Ultimate Omega High-Intensity softgel capsules contain a number of natural ingredients designed to keep the heart healthy and working properly.
Here are the ingredients in Nordic Naturals – Ultimate Omega High-Intensity Soft Gels
1280mg Omega 3-s
650mg EPA (Eicosapentaenoic Acid)
450mg DHA (Docosahexaenoic Acid)
180 Other Omega-3s
2g Fat
Other Ingredients:
Purified deep sea fish oil (anchovies and sardines)
Soft gel capsule (made of gelatin, water, natural lemon flavor, glycerin)
Rosemary extract (a natural preservative)
D-alpha tocopherol
Ultimate Omega High-Intensity Omega-3 Benefits
Let's take a look at what each of the ingredients does and how it benefits your body.
Note: The ingredients listed below are not harmful to the body but it's always best to consult a medical expert before consuming any supplements, even if they are said to be all-natural. Even more so if you have a pre-existing condition.
Omega-3 fatty acids
This is the general ingredient of the product. There are three kinds, EPA, DHA, and ALA. EPA and DHA are found in fish, and both are part of the Ultimate Omega High-Intensity Omega-3 softgel. ALA is found in plant sources.
EPA (Eicosapentaenoic Acid)
Used as a supplement, it helps manage heart disease, as well as depression and menopause. It is also used to manage the side-effects of chemotherapy, can aid in recovery from surgery, and enhance mental prowess such as memory retention and recall as well as critical thinking.
The scientific evidence for these claims though are varied.
What is known is that EPA can prevent the clotting of blood, can reduce swelling, and temper pain.
There is a study that showed that EPA can lower triglyceride levels in people that have high levels of triglycerides. This can help reduce the risk of a critical heart-related event by as much as 25%. (1)
DHA (Docosahexaenoic Acid)
This is another omega-3 fatty acid contained in the product, and is found in the meat of various cold-water fish like tuna, cod liver, seal and whale blubber, herring, salmon, halibut, mackerel, and so on. Just like EPA, DHA is used to treat high cholesterol levels and manage heart disease.
It too is said to boost mental capacity like memory retention and recall, as well as critical thinking, and is even said to be able to treat certain eye disorders. But the scientific evidence proving this is spotty at best.
The DHA's main role is to help in the growth and development of tissues found in the nerves and eyes, and can make the blood thinner, thus help in lowering the risk of circulatory disease and heart disease. Just like EPA, it also lowers the levels of triglycerides.
One study has shown that DHA can help pregnant women with allergy risks reduce their infants manifesting similar allergy symptoms like stuffy and runny noses and phlegm by 18 months old. (2)
Another benefit of DHA is that it can help improve high cholesterol levels in children. This in turn helps lower one risk factor when it comes to heart problems and diseases. A study has shown that taking up to 4 grams of DHA daily reduces triglyceride levels of people that have very high cholesterol. (3)
How Much Should I Take?
The manufacturer, Nordic Naturals, suggests that you should take two soft gels every day with food. However, if you have a physician or another medical professional like a pharmacist, they can help give you a dosage plan that will maximize the benefits.
Nordic Supplements suggests taking two soft gels, with food, twice a day, for maximum benefit.
However, while there is little to no risk and side-effects for omega-3 fatty acid consumption, its source might cause some mild reactions such as dizziness, drowsiness, and others. So it is always best to take a reasonable dosage at the start and slowly scale up from there.
Best Time To Take Ultimate Omega High-Intensity Omega-3
It is best to take Ultimate Omega High-Intensity on your first full meal of the day. For most people, this means breakfast. If you don't eat breakfast, you can take your dose for the day in a much later time when you take your first full meal.
You can also take Ultimate Omega at night, on your last full meal. Some research has shown that taking omega-3 fatty acids at night can help people sleep better. (4)
Why Nordic Naturals?
Nordic Naturals is a reputable and popular company that has its roots in Arctic Norway, where founder and CEO Joar Opheim hails from. His main focus when he came to California for his MBA is to change the way fish oil, which has an awful taste, is offered to the market. The company has been specializing in omega-3 nutrients' amazing benefits since 1995.
For 25 years they have developed their process that produces fresh, pure fish oil products that contain a high omega-3 numbers, and these products have changed the perception of Americans when it comes to fish oil. These days everyone from regular people, to elite athletes, to seniors, and even pet animals all benefit from Nordic Naturals' products.
Drawbacks
One drawback is that if stored incorrectly or with less care than is needed, the soft-gel capsules can melt and fuse together, or can burst and leak out the fish oil. When this happens, the contents will slowly go bad and will smell very fishy, literally. This is why it is important to get the product from reputable sources and suppliers.
How Much Does It Cost?
Each bottle with 90 capsules costs $35.75. With a recommendation of one dose of two capsules with a full meal at least, per day, this amounts to $0.80 per day, lasting 45 days.
For full supplementation dosage, the Nordic Naturals suggests taking two doses of two capsules with a full meal, per day. This will amount to $1.60 per day and each bottle will last 22 days.
This is quite reasonable, considering all the benefits one can get from the products.
Review Rating Of Nordic Naturals – Ultimate Omega High-Intensity Omega-3
Effectiveness – 9/10 Stars
Ingredients – 9/10 Stars
Taste – 10/10 (capsules)
Price – 9/10 Stars
Final Thoughts
Nordic Naturals has been in the business of making effective and high-quality omega-3 health supplements for 25 years, and has been a reputable brand during that time. And their product, Ultimate Omega High-Intensity Omega-3, is a testament to that.
It will help keep your heart running in good condition, help you with your cholesterol levels, lower the risk of heart disease, and even give other benefits like mental focus and better sleep. Best of all, it has no fishy aftertaste and doesn't cause the awful fish burps most fish oil products have. It's definitely worth a place in your daily health and supplement schedule.
References:
1 – Bays HE, Ballantyne CM, Kastelein JJ, Isaacsohn JL, Braeckman RA, Soni PN. Eicosapentaenoic acid ethyl ester (AMR101) therapy in patients with very high triglyceride levels (from the Multi-center, plAcebo-controlled, Randomized, double-blINd, 12-week study with an open-label Extension [MARINE] trial). Am J Cardiol. 2011 Sep 1;108(5):682-90.
2 – Helland, I. B., Saugstad, O. D., Smith, L., Saarem, K., Solvoll, K., Ganes, T., and Drevon, C. A. Similar effects on infants of n-3 and n-6 fatty acids supplementation to pregnant and lactating women. Pediatrics 2001;108(5):E82.
3 – Jude, S., Martel, E., Vincent, F., Besson, P., Couet, C., Ogilvie, G. K., Pinault, M., De, Chalendar C., Bougnoux, P., Richard, S., Champeroux, P., Crozatier, B., and Le Guennec, J. Y. Dietary long-chain n-3 fatty acids modify blood and cardiac phospholipids and reduce protein kinase-C-delta and protein kinase-C-epsilon translocation. Br J Nutr 2007;98(6):1143-1151.
4 – Cheruku SR, Montgomery-Downs HE, Farkas SL, et al. Higher maternal plasma docosahexaenoic acid during pregnancy is associated with more mature neonatal sleep-state patterning. Am J Clin Nutr 2002;76:608-13. View abstract.