Durable with great support, this weightlifting belt is perfect for all of your lifting goals.
Product Overview
When lifting big weight, it is important to take into consideration the safety and care of what you're actually doing. It can be easy for us to want to bend down and deadlift an ungodly amount of weight, but taking the right precautions can save you from an injury you just can't afford to have. Weightlifting belts are a great fitness tool to have in your gym bag to keep your back healthy and to leave you out of a vulnerable position. Perfect for any big lift, they will provide a snug fit while still giving you the versatility to get the job done. Pioneer 13mm Stock Pioneer Cut Belt is a great option when looking for a durable and worthwhile product.
Designed to support your lower back, a lifting belt will work to compress your core muscles and keep your spine neutral to avoid any unwanted pain and potential injuries. With a lifting belt, you will start to pack on more weight, promote better technique, and see the gains you want to see all while doing so safely and effectively. With benefits including back support and reduced stress, increased strength and power, better form, and reduced injury, it would be a mistake to not have a lifting belt in your gym bag for when the time comes (1).
Pioneer is a division of General Leathercraft Manufacturing, Inc., a premiere company creating high-quality leather products including weightlifting belts and other exercise accessories and aids. With a great product line dedicated to assisting the needs of athletes everywhere, Pioneer has made it their mission to keep active individuals healthy and safe, especially as they lift big weight. Along with an amazing line of lifting belts, Pioneer also produces top tier knee wraps, wrist wraps, elbow wraps, and other equipment to keep athletes safe overall. Their mission is to provide great customer service and a product you will love to have and use. A company full of integrity and quality, Pioneer is a standout in the exercise equipment community.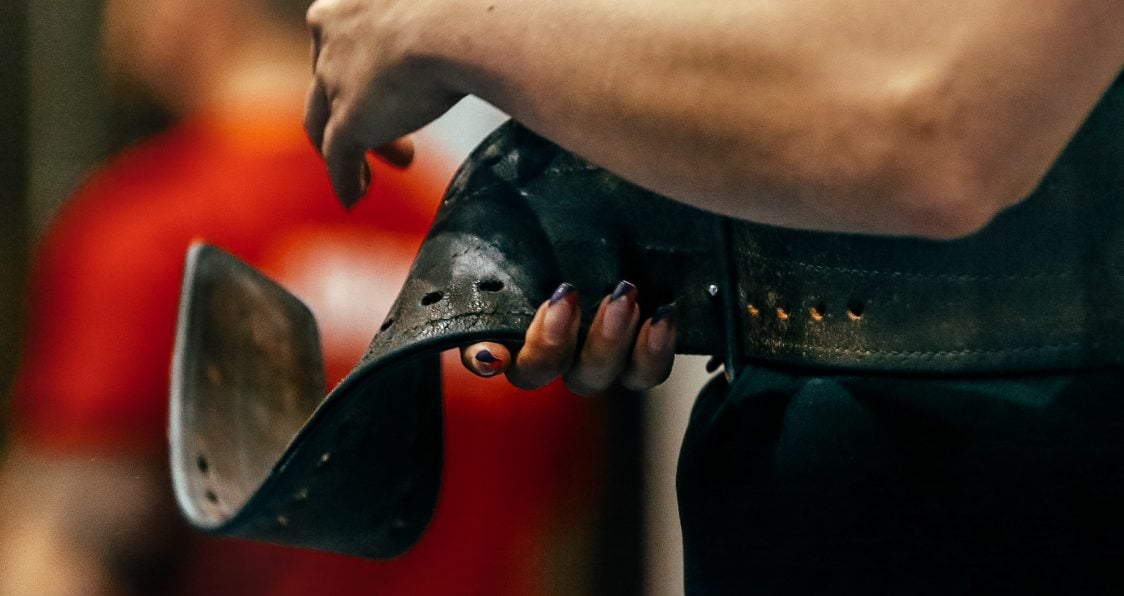 Pioneer Cut 13MM Weightlifting Belt Highlights
Pioneer has created this great weightlifting belt to help tackle all of your needs when seeking to lift big and put up those big numbers. These belts are made from natural untreated leather and are 13mm thick for optimal support, yet versatility for whatever lift you seek to accomplish. Providing a snug fit, this belt is comfortable but won't restrict any necessary movement needed to complete a full lift.
Black stitching, a black buckle, and black edging give this belt a sleek look while providing great durability for repeated use and long-lasting wear so you can be comfortable in knowing this belt has the longevity to keep you grinding in the gym. While the option to customize on stock belts is not an option, you won't be disappointed with the look of the Pioneer logo embossed across the belt and the all black look to keep you looking good and feeling great in the gym.
Pioneer Cut Design & Benefits
The Pioneer Cut is a patent pending design that Pioneer seeks to bring exclusively to the market. In sticking with the traditional idea of the prong buckle system, the Pioneer Cut takes charge with more customization when it comes to sizing. Instead of sticking with the normal 1'' increments that most belts have, this cut offers the chance to tighten every ½''. While some may be wondering why this matters, this innovative change allows you to adjust at smaller increments to maximize your comfort and find the correct tightness to lift safer, be smarter, and keep you going in the gym for much longer. With this subtle yet highly impactful change, Pioneer has placed themselves a cut above the rest and offers you the chance to maximize growth while also keeping your health and safety in mind. This is just one more reason to consider Pioneer weightlifting belts for your workouts.
Price & Effectiveness
Pioneer 13mm Stock Pioneer Cut Weightlifting Belt is a 13mm thick and 4'' wide belt designed to provide maximum comfort and effectiveness for whatever lifting challenge comes your way. A sleek look will also make you look good as those in the gym will have something to envy.
Pros: The Pioneer Cut design is perfect for maximizing comfortability and versatility while still providing a snug fit. Durable and highly effective when it comes to lifting big and promoting longevity for you and the belt itself. From a great company in Pioneer who cares about their customers and products.
Cons: N/A
Price: $111.95
---
Also, check out the great selection of Pioneer Weightlifting Belts for more great Pioneer products!
---
Overall Value
Pioneer 13mm Stock Pioneer Cut Weightlifting Belt is a great option when it comes to choosing the perfect weightlifting belt for you. Designed to support your back and keep you stable with monster lifts, a good quality weightlifting belt as the ability to transform your gains while keeping you going longer and more efficiently. Pioneer is an amazing company with the pride and passion to create great products that athletes will love to use. What you are really getting is a high quality lifting belt that is durable and comfortable from a reputable and honest company in Pioneer. Check out this belt today and see just what a top tier lifting belt can do for your gains.
Check Out Pioneer 13MM Stock Pioneer Cut Weightlifting Belt Here
Generation Iron may receive commissions on purchases made through our links. See our disclosure page for more information.
Let us know what you think in the comments below. Also, be sure to follow Generation Iron on Facebook, Twitter, and Instagram. 
*Images courtesy of Pioneer and Envato
References
Finnie, S. B.; Wheeldon, T. J.; Hensrud, D. D.; Dahm, D. L.; Smith, J. (2002). "Weight Lifting Belts: Motivations For Use". (source)