Can a ProFitness Workout Belt Make your Weight Lifting Sessions Easier and Interesting!!
Are you a gym rat? Do you spend a lot of time in the gym? Some people spend their time on cardio and aerobics. Some people like to lift weights and build up muscles. Are you into weight lifting? It requires the correct technique to do it correctly! A lifting belt can be beneficial as supportive equipment. When you choose a good belt like the ProFitness Workout Belt, you reach your goals in a healthier and better way. However, you should fully understand how, when, and why you should use it!!
Advantages and disadvantages of a workout belt
Before you decide to use a strap first, you should understand that every user will be different and have different needs. People have different body types, and their bodies react in very different ways!! It will also depend on the skill level and training goals.
Advantages
Increase Pressure: we need to have good pressure in our torsos to have safe postures while lifting. A belt will help you with this process.
Prevents Injuries: they provide a layer that protects the lumbar spine(1). This is important because if you injure your spine while flexing, it may lead to long term injuries.
Body Postures: while deadlifting, a belt can help in maintaining a set-back, and while snatch and clean & jerk, it can help you with an upright torso.
Confidence: lifting weights is not purely physical. It also requires mental strength, and a belt can give that confidence and mental strength to you.
Disadvantages
False Security & Crutch: by using a belt too much, you can build up a false sense of security and start using it as a crutch.
Change Body Mechanics: some coaches don't approve of a belt because it can slightly alter the body's postures and mechanics.
Slower Rate of Growth: if you are new to training, then wearing a belt may cause slower muscular development.
ProFitness Workout Belt
By using ProFitness Workout Belt, you can raise your workout standards to higher levels. It is a 100% genuine leather weightlifting belt. You can use it while doing any heavy lifting and many other exercises. Your training and exercise are essential for both physical as well as mental health. Having the right and most suitable equipment will make things easy for you.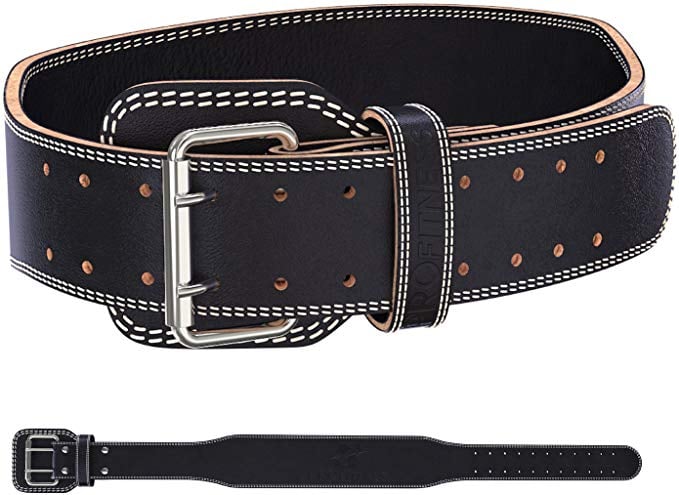 Pros 
High-Quality leather
The leather comes pre-broken-in and is 100 % genuine. You can use it immediately after taking it out of the packing. It is comfortable and soft even when new. There are many belts in the market, but many of them end up doing more harm than benefiting!! Some may cause rashes or also harm your spine. If the fit is not right, it can cause grave problems. It is available in 3 great colors too!!
Optimize Lactic Acid Training
Lactic acid is crucial for the body and muscles to work well, but if it is in excess, it can cause soreness and pain. It is notably even more important for bodybuilders, cross trainers, and lifters. The lactic acid build-up is usually temporary during and after exercise, but it can cause discomfort. The ProFitnelactic acid tolerancess Workout Belt is perfect at lactic acid tolerance. You can gain more muscle mass and endurance.
Prevents Injuries
For all weightlifters and bodybuilders, proper form is most important (3). This belt allows you to have a good way while lifting. While lifting, there is tremendous pressure on the abdominal muscles and back. ProFitness Workout Belt is 4" in width and gives ample support. The leather is almost 7 inches thick, so there is protection for your spine and core.
Durable & Strong
When you use a belt while lifting, you want it to be strong enough to give excellent support and last long as well. ProFitness Workout Belt combines strength and softness in a significant way. There is a top grain 100 % genuine leather on the outside, which is durable and long-lasting. On the inside, there is a lining of suede, which is super soft and very comfortable. The stitching is strong and reinforced with durable rivets. The Ultra Strong Double Prong Belt feature will help you to perform better.
Customer Service
When you buy any product, you want to be sure that it is a right product and that in case of any problems the company will stand by its product and help you! ProFitness Workout Belt is one such product. The company puts its customers first and foremost! They have a reputation for their high-quality products and excellent service to the customers. They respond very fast and will solve any and every issue that you may have.
High-Quality Standard
Everything about this belt is of a very high standard. The material, stitching, design, all parts, etc. are of high quality. The design is a result of a lot of research and trials, and it shows in the way it works! A great product at a great price!!
Cons
Some people complain about the sizes not being correct. It is better to try it and then buy it.
Click here for the lowest price on Amazon
Is It a Safe Option?
Yes, it is a safe option! There are many pros and cons of wearing a workout belt. When it comes to ProFitness Workout Belt, it is more of the advantages. It is a well-crafted belt and supports all the needs of any weightlifter or bodybuilder. You will find that your form gets better when you use this belt. You will be able to achieve much more with it.
Injuries and bad form are two of the biggest worries of users. This belt gives outstanding support and in the right places. Your spine, lumbar, and core will get maximum protection and that too, without any discomfort.
When and what type of belt should you choose? 
There are basically two types of belts:
Power-lifting Belts: these are for people who frequently lift heavy weights in power-lifting exercises. Squats and dead-lifts are the frequent moves that need a power-lifting belt. It is approximately 4 inches in width all around.
Weight-lifting Belts: these are for people who do the snatch, clean & jerk lifts, cross-fit, and bodybuilding. It is approx. 4 inches in the back but tapers off in the front.
Apart from this, you can choose a belt based on these factors:
Thickness
Material
Comfort
Fit
Single or Double prong secured
My Take on ProFitness Workout Belt
When it comes to exercising, I am really passionate about weight-lifting. I started lifting small weights when I wanted to increase my core strength and muscle quality. Soon, I found that I was lifting more and more weight and enjoying the process as well as the results. In my enthusiasm, I was doing more than I should have! Luckily, there was an experienced lifter and bodybuilder who saw me struggling with heavy weights one day! He corrected my posture and also told me about the workout belts.
I tried a couple of belts but was not happy with the fit or comfort levels. Then I found ProFitness Workout Belt, which completely changed my game!! The material is superb and durable, which will not break easily. It is supple and soft yet firm and supportive!
I could feel the difference in my form and posture! Now, I can lift heavier weights without straining my spine or abdominal muscles. Earlier, I always felt tired and sore after a heavy workout session, but now, I recover faster because there is no soreness, and I am ready for the next session. I would recommend to anyone who is looking for an excellent weight-lifting belt. One thing you should be careful about is, understanding your needs first. Ask for an expert's advice or take help from professionals before you decide.
What is the Price?
For a high-quality product, the ProFitness Workout Belt is surprisingly very reasonably priced. Its price is 27.95 dollars only. When you look at what you are getting in return, it is worth every penny and more! The quality of leather, stitching, and design are all top class. When compared with many other products in its class, you will realize its real value. It is available in different sizes, and the price varies from 27.95 to 28.95 dollars.
Overall Rating
Quality – 8/10
Fit & Comfort- 9/10
Design-8/10
Price- 9/10
 Final Word
A weight-lifting belt (3)can be handy if you use it in the right way. If you are new to lifting, it is better to hold off on wearing a belt immediately. Always look for an expert or a professional to give you the right advice and help you on your weight-lifting journey. Understand the pros and cons fully before you choose a belt and before you start using it. Your body type and your goals will be the primary markers. Safety and injury-free weight lifting should be your goal. ProFitness Workout Belt will give you this and much more. It is of exceptional quality, and you can definitely improve your performance. It will provide you with a lot of support and be comfortable as well. Choose it to further your fitness journey.
Reference:
"Do you need a weightlifting belt?". Mayo Clinic.
Zablocki, Elaine. "Weight Training Basics". WebMD.
Dan Abraham. " Weight Lifting Belt Use Patterns Among A Population of Health Club Members".