Does RSP CLA 1000 provide efficient weight management?
 Started by a bunch of athletes, RSP Nutrition is a brand that offers organic supplements like RSP CLA 1000. Performance training becomes so much simpler when you choose the right type of supplement.
This review is going to give you a brief overview of what this CLA supplement is all about. CLA- conjugated linoleic acid is a type of fatty acid that falls in the good fat's category. If you are looking for natural sources, then dairy products and meat are your options. For effective weight management, RSP CLA supplement comes in the form of easy to swallow softgels. With a few additional ingredients to catalyse the reaction, does this supplement work as promised?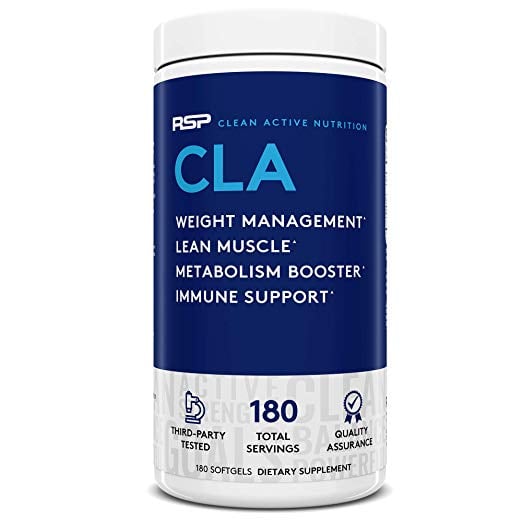 Pros
Increases metabolism
A great option for stacking
Doesn't leave an aftertaste
Maintains healthy levels of cholesterol in the body
Cons
Some experience mild diarrhea or indigestion problems
Results are slow to appear
Click here for the lowest price on Amazon
Ingredients and nutrition information
RSP has maximized the potency of this supplement with 1000mg CLA per softgel. As a product free from fillers, dyes, and harmful artificial ingredients, this one is safe on the stomach.
The GMP certified formula comprises of a scientific blend of CLA and safflower oil. The other ingredients in this supplement are purified water, natural colours, gelatine, and glycerine.
Benefits of CLA supplements
CLA is a natural trans-fat that comes in 28 forms based on the structure. The following are some of the prominent benefits that this RSP CLA supplement offers-
Metabolism boost
Not everyone is blessed with rapid metabolism. The metabolic rate in the cells speeds up naturally on consuming this CLA supplement. Therefore, you would be able to eat healthy food and also digest them efficiently. A faster metabolism means that the body doesn't store too much fat. When you compliment this supplement with a good diet and fitness routine, then the enhanced metabolism helps you maintain weight. Those who easily gain weight or struggle to keep it in a healthy range, find this supplement to be a great choice.
Weight loss by burning fat
To lose fats, you would have to give your body a healthy dose of good fats. CLA is one such good fat that helps in weight loss. Complementing the enhanced metabolism, this CLA supplement also helps burn fat. As a result, even the seemingly impossible weight loss plan works better and faster. By melting away fat deposits, this supplement speeds things up for those trying to lose weight. CLA keeps the body fat levels low. This is possible as CLA can cause fat storage and also the production of fat cells. It also improves the efficiency of weight loss by boosting the effects of your weight loss exercises.
Increased lean muscle tone
Losing weight is not enough. You would also need toned muscles to look trim and fit. Lean muscle support comes from RSP CLA supplements without weight gain. You gain muscles, and they appear tight and toned without raising your bodyweight. With this supplement, you get to obtain that chiseled silhouette from your workouts easily.
Better immunity
CLA is known to contain anti-inflammatory properties. In the long run, it can significantly boost the activity of the immune system and maintain it at a healthy level. The immune response of your body remains at a healthy level. This RSP CLA supplement can help your body fight infections. With physical strength added to the healthy immunity, you feel strong inside out. Regulated immunity with the anti-inflammatory properties together helps people with asthma and other health conditions caused by the hyperactive immune system. To some extent, this supplement also has a role to play in improving liver health. Therefore, you would find this to be a good option to flush out the toxins in your body.
Maintains cholesterol levels
Unhealthy cholesterol levels are bad for the heart. RSP CLA helps keep a check on the cholesterol level by burning fats from the consumed food. It also prevents the accumulation of fat reserves, which can increase cholesterol levels in the body.
Is this a safe supplement?
The brand's decision to exclude all types of synthetic fillers, artificial dyes, and artificial flavours is a good one. Therefore, you get a product that doesn't come with too many harsh ingredients to worry about. CLA, in general, is known to be healthy when taken in the right dosages. The consumption of RSP CLA is no different.
Clear dosage instructions come along with each jar of these softgels. As long as you use them to supplement your exercise and diet, you would obtain safe results. The speed at which you notice the effects one by one might vary from one person to another. However, it does hasten the process of weight loss promoted by weight loss exercises. It also makes your weight loss diet work harder.
On the whole, yes, this is a safe supplement for most users. Pregnant and breastfeeding women, as well as people with chronic health conditions, should take their physician's opinion before choosing this supplement. RSP CLA supplement is often used in place of diet pills for weight loss. It depends mainly on the use of CLA, which resembles the natural component in meat and other ingredients.
Side effects of CLA
Though this is a natural fatty acid, you should also know about the possible side effects. These are the side effects associated with CLA in general, and there is not much to do with this supplement in particular:
Too much CLA can lead to increased fat deposition in the liver
Excess CLA is also responsible for insulin resistance in a few
Exceeding the dosage can lead to a fall in the level of good cholesterol which the body needs
All these effects only occur in two cases-
You increase the dosage of CLA supplement beyond the recommended levels
You choose a supplement that contains artificially derived chemically treated CLA. RSP CLA doesn't fall in this category, and therefore, you do not have to worry about harsh side effects in this case.
When and how should you take this CLA supplement?
Safe and efficient results from CLA come from consuming 3-4 grams of CLA per day. It is also the optimal amount that your body needs actually to benefit from the fatty acid. Sticking with this recommended level, the brand offers softgels with 1000mg CLA each. One softgel 3 times a day gives the intended results in most cases. If you plan to increase the dosage at any time, it is a good idea to speak with your physician. Remember that your body might also be getting its dose of CLA from other food items. Low-calorie diet and weight loss exercises should ideally be combined with this supplement for the best results.
My take on RSP CLA 1000
Before I tell you about the effects of this supplement, I should make one thing clear- I follow a balanced weight loss diet and also a dependable weight loss exercise routine. This supplement is only designed to boost the effects of your fitness regime. Do not expect it to work like magic without taking any efforts from your end.
These softgels are easy to swallow. So even when it comes to taking 3 per day, I did not face any problem. There is no after taste in my mouth after swallowing one. This is something that I particularly like. One of the most favourable factors that made me choose this supplement is that it doesn't contain stimulants. Therefore, you get to experience a jitter-free boost in energy levels and a significant improvement in weight loss.
I did notice a visible improvement in my muscle tone within a few days. In terms of the effects on immunity, I can still not give an opinion. But there has been a good improvement in my weight loss curve ever since I started taking this supplement. I also noticed a subtle suppression of my appetite. I feel full with smaller portions, and it stops me from adding more calories even after an intense workout session.
What is the price of this supplement?
The 90 softgels jar is priced at $10.97, which is pretty reasonable considering the effectiveness of this supplement. It does make your weight loss routines more productive at a great value price tag.
Overall rating
Effectiveness – 8.5/10
Ingredients – 8.75/10
Taste – 8/10
Price – 8.5/10
Final Word
Better immunity and better support for my weight loss workouts are benefits that I definitely would love to try. Given the results I have noticed, I would try this supplement again. As this one doesn't cause side effects in most cases, you can safely add it to your diet plan if you wish to spice things up a bit. It is also a great choice if you are looking for stacking supplements.
RSP CLA doesn't interfere with many supplements and can easily work its benefits as long as you support it with a good diet. An increase in metabolism and fat burning happens in the background. But if you wish to experience the change in muscle tone, you really should choose appropriate exercises to complement this. Easy to consume, free from fillers, this is one of the safest alternatives that I could find to harsh weight loss pills.