Watch Bodybuilders The Buff Dudes take on one of the toughest fitness challenges that they have faced.
Bodybuilding superstars The Buff Dudes have become extremely popular thanks to their YouTube channel showcasing different athletic challenges. From insane 30 day-run workouts to the world's deadliest dumbbells, brothers Hudson and Brandon White have pushed themselves to the limit many times. The Buff Dudes might have found their "toughest fitness challenge on Earth."
In their recent video, The Buff Dudes take on The Hotshot 500.
What Is The Hotshot 500?
We have seen some intense workouts that challenge the body in everyday possible. Liver King has introduced his Barbarian workout where you wear a 70-pound backpack and 20-pound ankle weights, hold 70-pound kettlebells, and pull a 120 pound sled for one mile.
The Hotshot 500 was created by the Interagency Hotshot Crew, which is a group of woodland firefighters who work in some of the most remote parts of the nation.
View this post on Instagram
The workout is a six-mile hillside hike that features 100 push-ups, 100 squats, 100 flutter kicks, 100 shoulder presses, 50 rows, 50 biceps curls, and 50 burpees. If this is not enough, you must complete all of this while wearing a 50-pound backpack.
"You can take the Buff Dudes out of the gym but you can't take the gym out of the Buff Dudes," Brandon White said.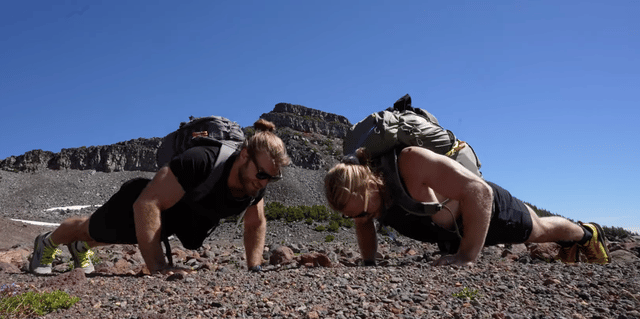 The Buff Dudes Take On The Hotshot 500
The Buff Dudes begin their journey with a half-mile hike before hitting 50 push-ups. After another half mile, they bang out the 100 squats and continue on. The White brothers went into this mission with strategy as they know it is going to be one of the most difficult things they have done while exercising.
"I've done heights. I've done elevation. Of course, I've done squats but I've never done both at the same time," Hudson White said.
The hike continues as the brothers take down the final 50 push-ups, along with the flutter kicks and shoulder presses. Once they reach the peak, The Buff Dudes take a short break to look out at the view before knocking out the 50 burpees. Finally, they begin heading back down to the bottom.
View this post on Instagram
"This is taxing, man. I am hitting muscle fatigue. My muscles are burning, they're failing. It really pushes you to the limit. My chest feels like it is tearing in half," Hudson White said.
The Buff Dudes have built impressive physiques and endurance thanks to a lot of training in unique ways. After watching them take down the Hotshot 500, it is clear that this is no ordinary workout.
For more news and updates, follow Generation Iron on Facebook, Twitter, and Instagram.