Mixed martial arts. As a vocation it's not for the faint of heart. To live the life of a warrior is one that can be filled with supreme glory or endless pain. Training in multiple disciplines, hardening yourself for battle, it takes a tremendous amount of dedication to turn your body into a weapon.
Dedicating your life to combat no doubt offers its fair share of stress. It's a complicated life that fighters lead to say the least. But at their core, every fighter is a human, no more, no less.
That's exactly what the documentary The Hurt Business captured.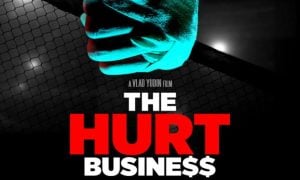 From the producers of 'Bowling for Columbine', 'Fahrenheit 9/11' and 'Generation Iron', 'The Hurt Business' details the lives of martial arts superstars, including Ronda Rousey and Jon Jones, competing in one of the fastest growing sports in the world and the struggles and triumphs that accompany all careers in cage fighting.
Besides featuring legends, such as Georges St-Pierre, and up-and-comers in the sport the film covers the history of mixed martial arts fighting, from the coliseums of ancient Greece to modern day venues such as the MGM Grand in Las Vegas, all expertly narrated by Kevin Costner. Themes of injury both mental and physical are explored and the question is raised; is it worth it to sacrifice one's mind and body for sport?
Ultimately it's a question that every individual has to answer for themselves. Each fighter will have their own reasoning behind their dedication to the game. Each fighter will have their own interpretation of why sacrificing their bodies for the sport they love is well worth it.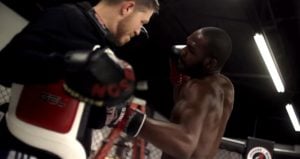 Leigh Paatsch of The Herald Sun gave favorable reviews for the documentary in their review.
"The Hurt Business is a refreshingly comprehensive, demystifying documentary look at the sport of mixed martial arts (MMA)."
One of the biggest MMA news outlets on the net, MMAJunkie had this to say about The Hurt Business.
"Director Vlad Yudin's offering does manage to touch on the emotional core of the sport."
With one of the film's main focuses Jon Jones once again falling on hard times, now more than ever The Hurt Business demonstrates the struggles of being a professional MMA fighter. While so many of these figures are held in high regard, they're no infallible. They all have their own unique struggles they deal with. None of these humans are perfect, something that is important to not despite their incredible success.
Whether you're a fan of MMA or if you simply want to get a in-depth look into lives of professional athletes operating at the highest level of their sport, The Hurt Business is definitely a must-see documentary.
For more news and updates, follow Generation Iron on Facebook, Twitter, and Instagram.
---
Managing Editor at Generation Iron, Jonathan Salmon is a writer, martial arts instructor, and geek culture enthusiast. Check out his YouTube, Instagram, Twitter, Facebook, and Sound Cloud for in-depth MMA analysis.