Awesome Ab Roller For Home Gym
VINSGUIR is one of Amazon's top rated sellers and currently holds a near-perfect 4.9 online rating given their quality products and excellent customer service.  Their business started on Amazon.com in 2019 selling various items that range from sports accessories to fitness equipment.  I gravitated towards their ab toning device, which is the VINSGUIR ab roller.  It has a wider wheel than the ones I've seen in stores and it looks sturdy enough because it can accommodate up to 440 pounds.
Let's learn more about this piece of equipment.
This is not the first product of its kind – ab rollers have been around for quite some time now.  An ab roller is basically a device that targets the all-important core that practically everyone feels insecure about.  It consists of a wheel with 2 handles, and a mechanism which allows you to roll in and out.  The rolling motion applies tension when in a crouched position to where you want it to be, which is in the abdominal area.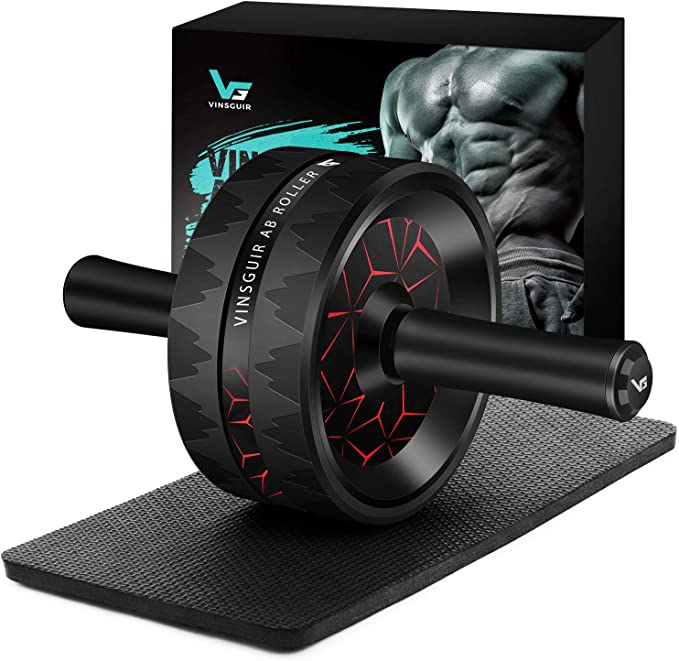 Click Here For The Lowest Price On Amazon
The VINSGUIR ab roller comes with a 3.1-inch wide wheel which should give it better stability when in use.  The stainless steel handles are covered in EVA rubber and cotton in order to avoid slippage.  It has a fairly compact size yet it can support a maximum weight of 440 pounds!
Back then, I was already doing basic crunches to have some sort of core foundation.  So when I used the VINSGUIR AB ROLLER for the first time, I tried not to get too excited to do a full extension.  Instead, I began just by rolling out to a minimum distance.  This way, I'm breaking in my abs to this type of routine.  Then I gradually increased my distance forward, which increases the tension in your core.  I saw results soon after.  The ergonomic rubberized handles provided extra comfort, but not on the abs where you must get that "discomfort".  It seemed a simple routine, but you can definitely feel your abs being carved up with every rolling extension you initiate.
The ample wheel width helps you keep a perfect balance so you don't go in wayward directions as you roll out.  Its thickness also has something to do with it, which prevents you from tipping over.  And because of this, I like that it doesn't have that annoying squeak, which can be distracting.
This product does not arrive assembled – you have to do it yourself.  You simply connect the handle to the tube on one side and slide in the wheel.  Close it in by attaching the remaining handle on the opposite end. This assembly process takes only under a minute, not a hassle by any means.
I'm in my third month of usage yet I'm still feeling the burn every time I'm on it, but I am not sure if you can outgrow this device after some time.  It says that the wheel has a carbon steel spring for resistance in case you prefer to take your ab workouts to the next level.  As such, I'll probably wait it out to see if this is the case.
And because it is small, storage is a breeze.  The detachable handles make them easy to transport, which is a plus.  However, some users would prefer it to be bigger in size.
Works on different muscles in one go
Given the way this works by going down on your knees, which is cushioned with the accompanying knee pad, you are doing a repetitive rolling in and out motion with the VINSGUIR AB ROLLER.  In doing so, you are not only targeting the all-important core according to this study, but you are also building strength in your upper body with your arms and shoulders as well.  It definitely makes sense because you obliques and hip flexors are engaged while using the device.  At the same time though, you still have to consciously contract not just the muscles in your midsection, but also your butt to actually see visible gains.
You don't just build a strong core
According to the American Council on Fitness (ACE), sit-ups create more strain on your back than using ab equipment such as the ab roller.  Please remember though that if you have a weak back or experience pain in that area to begin with, it is not advisable for you to use the ab roller as it might aggravate your situation.
You can improve your back condition, however, by strengthening your core first through other ab exercises.  Once your back has improved, you can strengthen your core further with the help of the VINSGUIR AB ROLLER, which can even reduce back pain in the process.  This will also enhance your posture for that added confidence.
There are several ways to use your VINSGUIR AB ROLLER other than the usual moving plank position such as knee tucks, single-arm rollouts, and wheel pikes.  As such, it can provide you with a total body workout that can also target other major muscles on your back and legs.
I did mention earlier about having that discomfort in your abs as you work it with the VINSGUIR AB ROLLER, which sounds like you are a glutton for punishment.
Ab rollers can provide you with a challenging exercise that does not only require upper body strength, but also synchronized control.  You always have to keep both lower and upper abs engaged- and that can be quite a task!
As the cliche goes, no pain, no gain.  But you don't have to endure it to an excruciating degree, there are things you can do to manage that aspect.  That is why I think the handles have been constructed to be comfortable to the user.  You also have pad support so you don't have to go hard on your knees.
Enjoy other health advantages, too
We all know that our main goal in using this type of device is to flatten the stomach while some even aim for the elusive 6-pack.   But did you know that with a stronger midsection, you can also improve your breathing and vice-versa? It's true, based on a study on the impact of breathing techniques.  In addition, you can achieve overall stamina, stronger immunity, enhanced body balance also because you have core strength.
VINSGUIR AB ROLLER Cost
The best part about the VINSGUIR AB ROLLER is the cost – it's only under 30 dollars!  I say with all its features and benefits, that's excellent bang for your buck.  If you are satisfied with the results that it gives you, you probably don't have to enroll in a gym, thereby saving you hundreds of dollars worth of membership fees.
VINSGUIR AB ROLLER
FEATURES – 7/10
BENEFITS – 8/10
COST – 8/10
REASONS TO LIKE THE PRODUCT
wider wheel
load bearing of up to 440 pounds
ergonomic handle
compact size
works different muscles in one motion
reduces back pain
improves breathing
affordable price
REASONS NOT TO LIKE THE PRODUCT
not for those with existing back pain
others find it too small
Conclusion
The VINSGUIR AB ROLLER is one of the most effective ab tools which you shouldn't think twice about adding to your personal gym.  It does isolate your core and forces it to contract given the rolling movements controlled by your arms.  However, proper use is key, otherwise it can put a strain on your back regardless of how it seems to work on achieving your ab goals.  Also, it might not be for you if you have tight flexors, too.  If you have any of these issues after using the product, best to stop and consult your physician.  The pros of this product far outweigh its cons.  I've seen results with my much slimmer midsection- still waiting for my 6-pack, though.