This fish oil is triple strength omega-3s that can support all areas of your body for optimal training, performance, and everyday activities.
Product Overview
Looking at our overall health and wellness objectively, it would seem that we would do anything to stay on top of our game. Omega-3 fatty acids, and subsequently their supplements, come in the forms of fish oil or krill oil, both unique in their respective rights. Taking these as a dietary supplement can prove to be great in the long run when looking to boost our overall health and Viva Naturals Omega-3 Fish Oil is just one of those supplements.
Fish oil is a popular supplement used to help fight anxiety and depression, improve eye and heart health, promote bone and joint health, reduce inflammation, and keep us in overall great shape as we look to capitalize on all our training and performance gains. When it comes to omega-3 fatty acids, there are three kinds to take note of. The two most popular are eicosapentaenoic acid (EPA) and docosahexaenoic acid (DHA). Both of these are found in certain types of fish. Alpha-linolenic acid (ALA), found in different plant sources, is a third kind not as popular as EPA or DHA.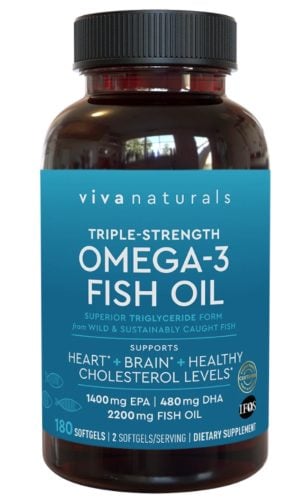 Viva Naturals is a great supplements company who believes wellness is living a life of balance. For this to truly work, they believe having a happy and healthy life is dependent on have high quality products you can rely on. Their ingredients are all-natural and certified-organic with third party tested formulas and no artificial colors, fillers, or dyes. Their ingredients are sustainable and ethically sourced in order to support health and local economies, while their mission is to make the world a better place by treating everyone fairly and respectfully. Viva Naturals looks out for the consumer first and foremost which is reassuring when it translates to their products.
Viva Naturals Omega-3 Fish Oil Highlights
Viva Naturals Omega-3 Fish Oil is a fish oil that your body uses better and faster than most others on the market. By taking just two softgels, you're working to get more nutrients into your body to improve brain function, eyesight, heart health, and maintain healthy levels of cholesterol. They take small, wild-caught fish like anchovies, sardines, and mackerel and purify the oil for optimal effectiveness and minimal odor and aftertaste. Using EPA and DHA omega-3 fatty acids, they are easier to digest and your body can then use them faster for better support. Viva Naturals can seriously enhance your overall health and wellness so you feel better both inside and out of the gym.
This fish oil supplement delivers 1400mg EPA and 480mg DHA per serving with no fishy odor or aftertaste. These more absorbable omega-3s are great for digestion and making sure all of these nutrients hit you harder. Available with 90 softgels or 180 softgels, the ability of this fish oil to really benefit you is too great to ignore.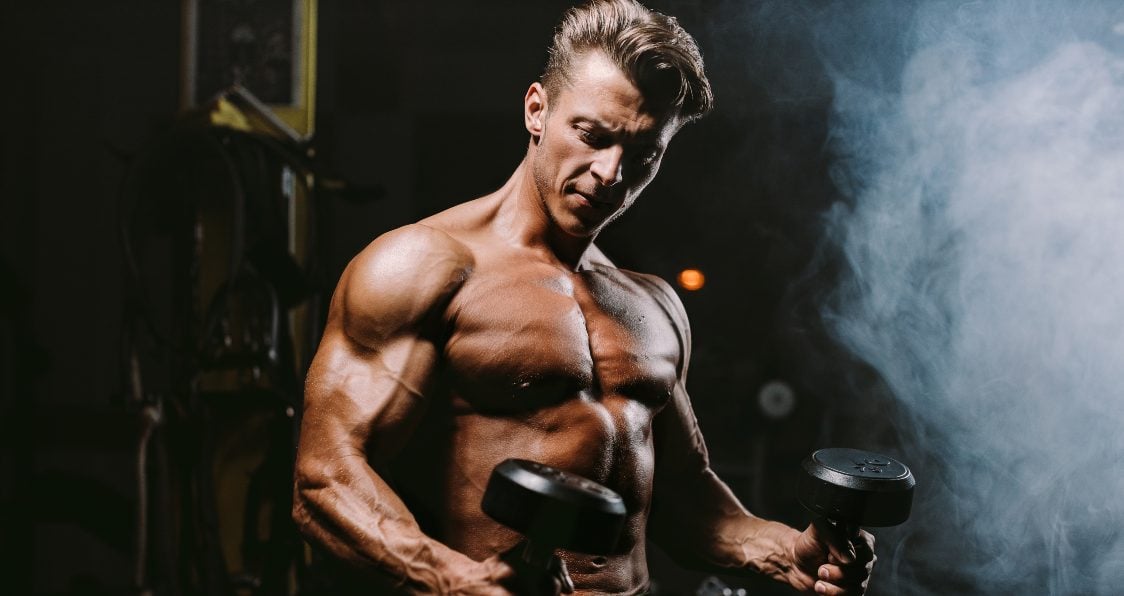 Ingredients
Eicosapentaenoic Acid (EPA): One of the two primary omega-3 fatty acids found in fish oil, a key benefit is its ability to reduce inflammation. Reducing inflammation is important for those who work out regularly and for those who suffer from the constant wear and tear of their bodies throughout the day. EPA also works to reduce symptoms of depression and help women during menopause (1).
Docosahexaenoic Acid (DHA): The second omega-3 found in fish oil, DHA is great for cognitive development and brain health. Working to support brain development, improve cardiovascular health and support eye health and vision, DHA is the perfect pairing to cover all the needs that EPA doesn't (2).
Other Ingredients: Fish oil (anchovy, sardine, mackerel), gelatin, glycerin purified water, mixed tocopherols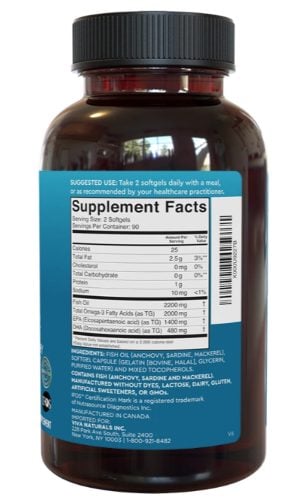 Price & Effectiveness
Viva Naturals Omega-3 Fish Oil is one of those fish oil supplements to really enhance many aspects of your daily life. Depending on the amount of softgels per container (either 90 or 180), you get 45 or 90 servings per container respectively. With 2 softgels as the serving size, you can take these with a complete meal for optimal effectiveness.
Pros: Great ratio of EPA and DHA and able to offer really nice benefits for inflammation and brain function. At a great price from a reputable company in Viva Naturals.
Cons: Some concerns with digestion and the breakdown of the capsules. Third party testing didn't test for heavy metal in some cases.
Price: $22.99 (90 softgels) or $38.95 (180 softgels)
Wrap Up
Viva Naturals Omega-3 Fish Oil is a great fish oil supplement designed to enhance all areas of your training, performance, and everyday activities by aiding in our overall health and wellness. A great product to aid in brain function, eyesight, heart health, and a host of other benefits, Viva Naturals has made an affordable product able to enhance all of that. Their mission is to provide people with the opportunity to live their best life so they can thrive in the gym, out of the gym, and work to better the lives of others around them. What you are really getting is a high quality fish oil product from a great company at an affordable price. Try Viva Naturals Omega-3 Fish Oil today and see what this fish oil supplement can do for you.
Try Viva Naturals Omega-3 Fish Oil Here
Generation Iron may receive commissions on purchases made through our links. See our disclosure page for more information.
Let us know what you think in the comments below. Also, be sure to follow Generation Iron on Facebook, Twitter, and Instagram. 
*Images courtesy of Viva Naturals and Envato
References
Swanson, Danielle; Block, Robert; Mousa, Shaker A. (2012). "Omega-3 Fatty Acids EPA and DHA: Health Benefits Throughout Life". (source)
Fard, Samaneh G.; Wang, Fenglei; Sinclair, Andrew J.; Elliott, Glenn; Turchini, Giovanni M. (2019). "How does high DHA fish oil affect health? A systematic review of evidence". (source)