Yukihiro Yuasa wins Men's Physique at the 2021 Japan Pro!
Yukihiro Yuasa stole the show during the 2021 Japan Pro by winning gold in Men's Physique. Tokyo was the site of the event where Men's Physique and Bikini athletes took the stage hoping to earn qualification to the 2022 Olympia.
Yuasa is no stranger to the biggest competition of the year. He was present in Orlando back in October and finished 16th. Yuasa earned qualification after winning the 2021 Tokyo Supershow Pro just one month before the Olympia. Yuasa has emerged as one of the best bodybuilders in Japan and now he is making moves around the world. This will continue as he improves and continues to rack up some victories.
Sally Ann Kato was the winner in the Bikini division. Kato earned a victory in an NPC competition in 2020 by winning the Worldwide Iris & Hide Classic. She is an up-and-coming competitor who has a bright future. It has already begun with a victory in Tokyo.
The 2021 Japan Pro is now in the books and the full results have been announced. Check out the full breakdown of the show, including official score cards, below!
2021 Japan Pro: All Division Results
Men's Physique: Yukihiro Yuasa
Bikini: Sally Ann Kato
2021 Japan Pro Breakdown
Men's Physique
First Place – Yukihiro Yuasa
Second Place – Farouq Ishimoto
Third Place – Shogo Sato
Fourth Place – Hirokawa Shoichi
Fifth Place – Steven Pettis
Sixth Place – Hong Son
Seventh Place – Hasegam Hirohisa
Bikini
First Place – Sally Ann Kato
Second Place – Elizaveta Shmukler
Third Place – Marie Isobe
Fourth Place – Yume Kurokawa
Fifth Place – Miho Shibutani
Sixth Place – Asaka Kimura
Seventh Place – Noriko Ohara
Official Score Cards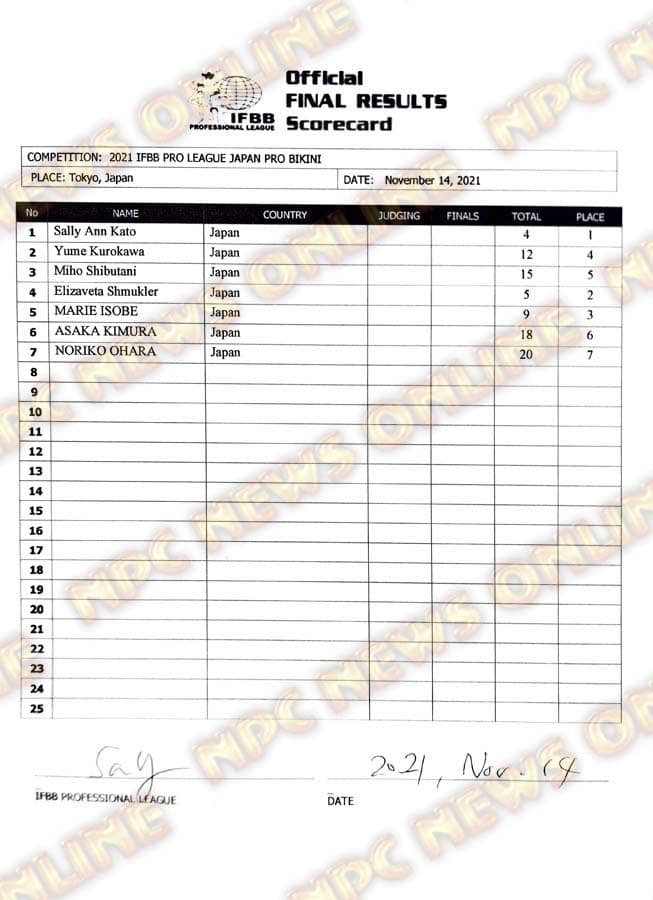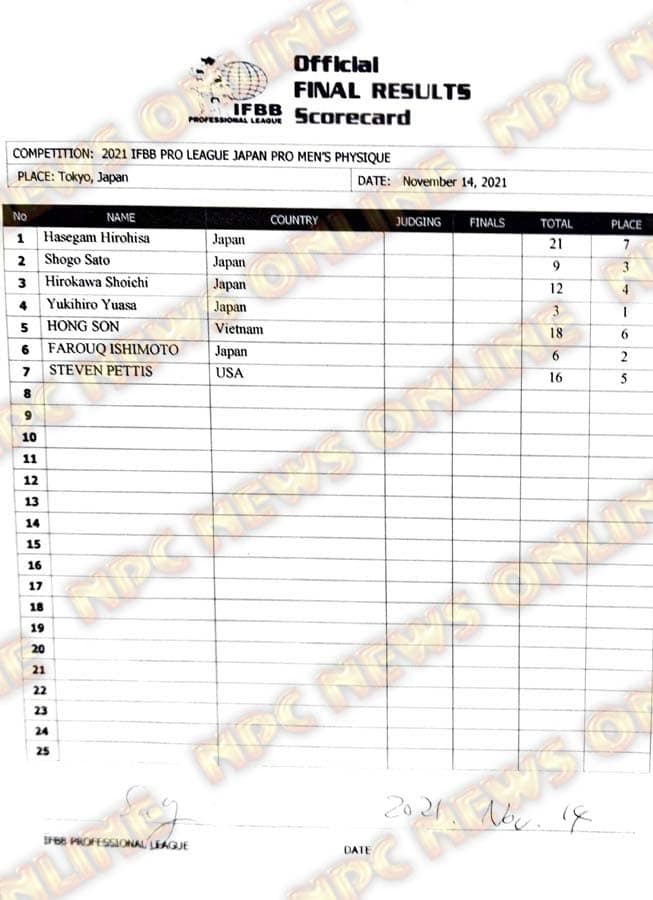 Generation Iron wishes to congratulate all the great athletes who earned a win at the 2021 Japan Pro. Make sure to check out our full IFBB Pro results page from this year and previous years right here to catch up on any action you may have missed!
For more news and updates, follow Generation Iron on Facebook, Twitter, and Instagram.