Lauralie Chapados wins Bikini International at the Arnold Classic 2022.
The Bikini International division is one that has been growing year to year. It was part of the Arnold Classic last year and has become extremely popular at the biggest events of the season. During this year's competition, it was Lauralie Chapados who impressed during prejudging and was able to turn that into a victory during the finals.
The prejudging round saw Chapados take control, along with Maureen Blanquisco and Ashley Kaltwasser. Blanquisco was able to gain an extra advantage and finish as the runner-up. This was not an easy division to judge heading into the finals on Saturday night. It came down to the final action on stage and that is when Chapados was able to pull ahead in the standings. Former Arnold Classic champion Elisa Pecini rounded out the top four.
With Jennifer Dorie preparing for the Olympia, there was a new champion crowned and there could be some more fireworks come December. This is especially true since Chapados was the runner-up at the event in 2021.
The full results have been announced. Check out our full breakdown of the Bikini International division of the Arnold Classic 2022 results below.
Arnold Classic 2022 Bikini Results
First Place – Lauralie Chapados ($10,000)
Second Place – Maureen Blanquisco ($6,000)
Third Place – Ashley Kaltwasser ($4,000)
Fourth Place – Elisa Pecini ($3,000)
Fifth Place – Jourdanne Lee
Sixth Place – Alessia Facchin
Seventh Place – Lucia Malavaze
Eighth Place – Lauren Dannenmiller
Ninth Place – Phoebe Hagan
Tenth Place – Allison Testu
Bikini Highlights
View this post on Instagram
View this post on Instagram
View this post on Instagram
Previous Winners
2021: Jennifer Dorie
2020: Elisa Pecini
2019: Janet Layug
2018: Angelica Teixeira
2017: Angelica Teixeira
Official Score Card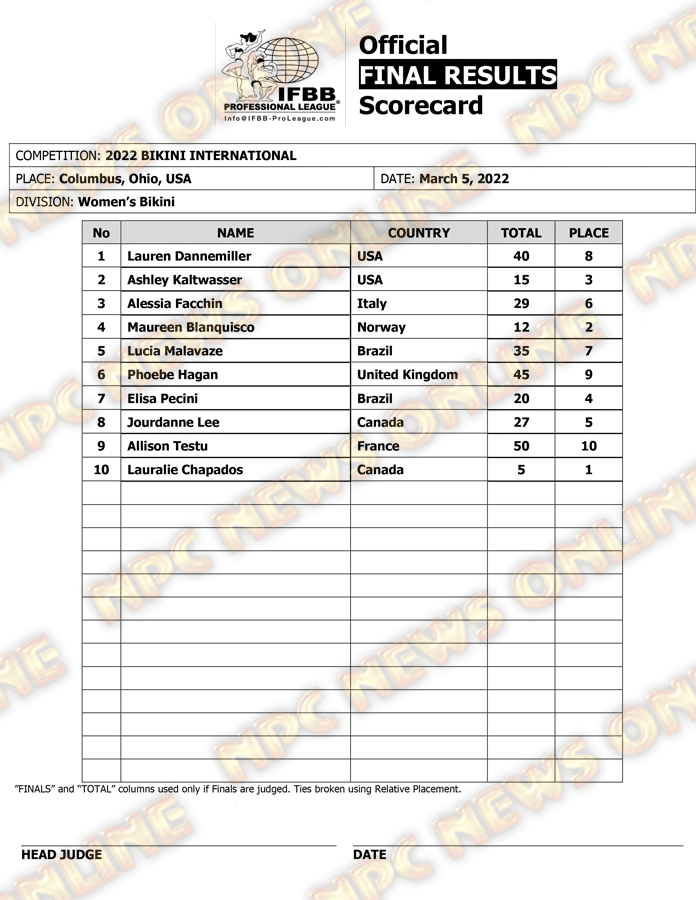 Generation Iron Fitness Network will provide coverage of the full Arnold Classic 2022 event including pre-judging reports, analysis, and results updates. Stay tuned to Generation Iron and visit our official Arnold Classic 2021 coverage hub right here!