Cydney Gillon wins Figure International at the Arnold Classic 2022.
The Arnold Sports Festival was back to normal this year with the event taking place over the course of the first weekend in March. The Figure International division returned to the Arnold Classic this year and it was also the return of Cydney Gillon, who did not compete in 2020 at this event. She made up for it with her second career Arnold Classic victory.
Gillon is the reigning five-time Olympia champion. She was a big favorite coming into the event and did not disappoint. During prejudging, it was clear Gillon was the competitor to beat but some other elite athletes made it close. 
Jessica Reyes Padilla and Lola Montez impressed during prejudging and put themselves in position to make a move. In the end, Gillon was just a bit too strong.
The full results have been announced. Check out our full breakdown of the Classic Physique division of the Arnold Classic 2022 results below.
Arnold Classic 2022 Figure International Results
First Place – Cydney Gillon ($16,000)
Second Place – Jessica Reyes Padilla ($10,000)
Third Place – Lola Montez ($8,000)
Fourth Place – Nicole Zenobia Graham ($5,000)
Fifth Place – Natalia Soltero ($3,000)
Sixth Place – Bojana Vasiljevic ($2,000)
Seventh Place – Latoya Farley
Eighth Place – Larhannah Robinson
Ninth Place – An Da-Jong
Tenth Place – Wendy Fortino
Figure Highlights
View this post on Instagram
View this post on Instagram
Previous Winners
2020: Natalia Soltero
2019: Cydney Gillon
2018: Candice Lewis-Carter
2017: Candice Lewis-Carter
2016: Latorya Watts
2015: Camala Rodriguez-McClure
2014: Candice Keene
2013: Candice Keene
2012: Nicole Wilkins
2011: Nicole Wilkins
2010: Nicole Wilkins
2009: Zivile Raudoniene
2008: Gina Aliotti
2007: Mary Elizabeth Lado
2006: Mary Elizabeth Lado
2005: Jenny Lynn
2004: Jenny Lynn
2003: Jenny Lynn
Official Score Card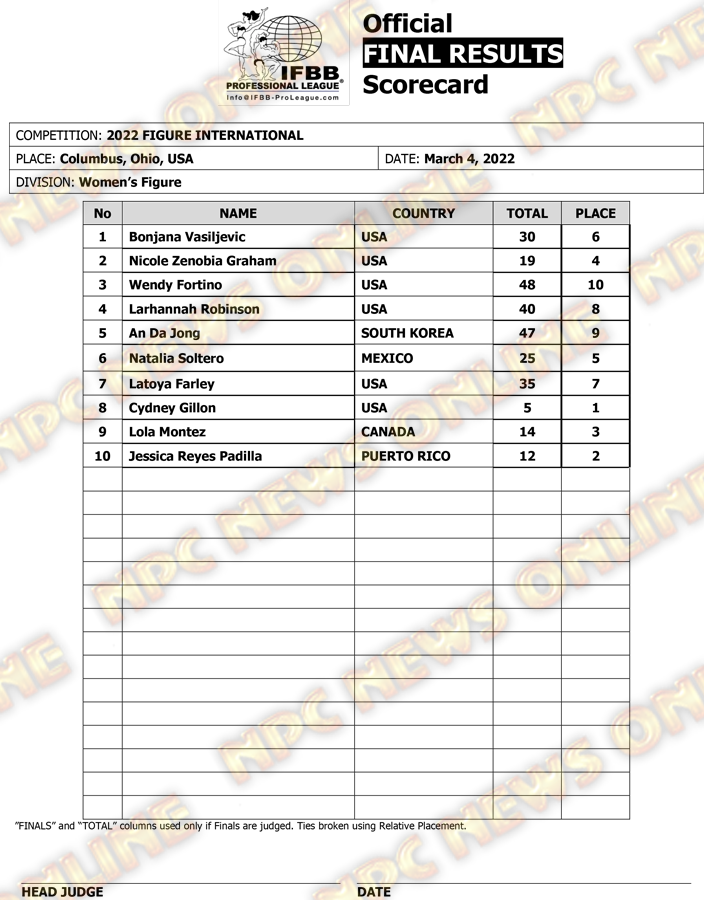 Generation Iron Fitness Network will provide coverage of the full Arnold Classic 2022 event including pre-judging reports, analysis, and results updates. Stay tuned to Generation Iron and visit our official Arnold Classic 2021 coverage hub right here!