Ariel Khadr wins Fitness International at the Arnold Classic 2022.
The Arnold Sports Festival was back to normal this year with the event taking place over the course of the first weekend in March. This has been a competition dominated by Missy Truscott. This time around, Ariel Khadr took home the title during the finals on Friday night.
For the second consecutive year, Truscott and Khadr were highlighted in the final callout during prejudging. As we have seen in the past, results can change come the finals. Jaclyn Baker also impressed during prejudging and gave herself a chance to jump in the final results. The finals were set up well and it did not disappoint during the nightcap.
The full results have been announced. Check out our full breakdown of the Classic Physique division of the Arnold Classic 2022 results below.
Arnold Classic 2022 Fitness International Results
First Place – Ariel Khadr ($25,000)
Second Place – Missy Truscott ($13,000)
Third Place – Jaclyn Baker ($8,000)
Fourth Place – Kate Errington ($5,000)
Fifth Place – Tamara Vahn ($3,000)
Sixth Place – Allison Kramer ($2,000)
Seventh Place – Minna Pajulahti
Eighth Place – Aurika Tyrgale
Ninth Place – Sara Kovach
Tenth Place – Amanda Ciani
Fitness Highlights
View this post on Instagram
View this post on Instagram
View this post on Instagram
Previous Winners
2021: Missy Truscott
2020: Missy Truscott
2019: Ryall Graber
2018: Whitney Jones
2017: Oksana Grishina
2016: Oksana Grishina
2015: Oksana Grishina
2014: Oksana Grishina
2013: Tanji Johnson
2012: Adela Garcia
2011: Adela Garcia
2010: Adela Garcia
2009: Jen Hendershott
2008: Kimberley Klein
2007: Kimberley Klein
2006: Adela Garcia
2005: Jen Hendershott
2004: Adela Garcia
2003: Susie Curry
Official Score Card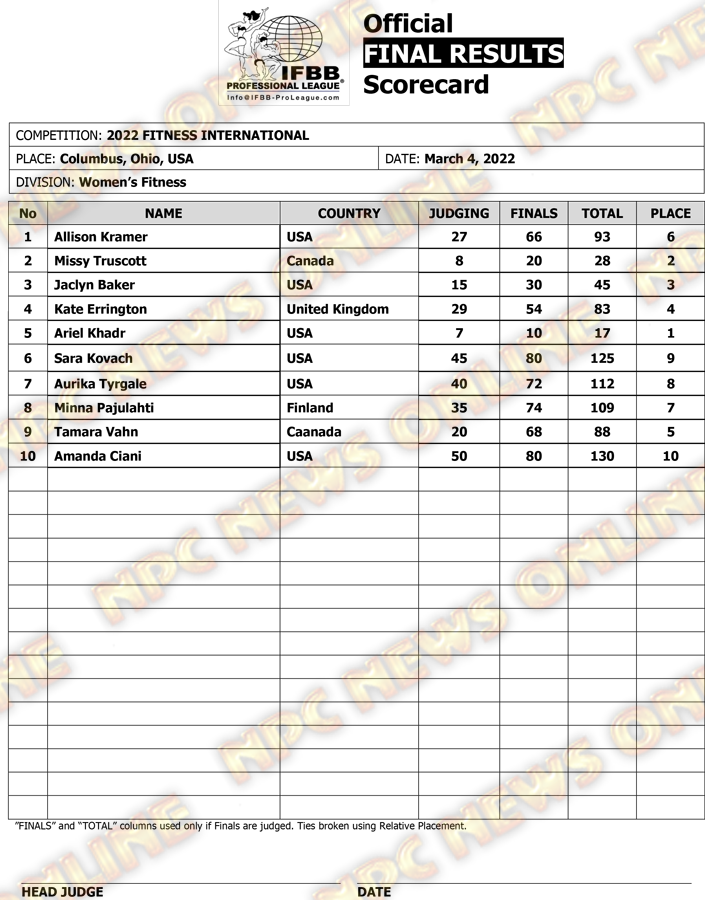 Generation Iron Fitness Network will provide coverage of the full Arnold Classic 2022 event including pre-judging reports, analysis, and results updates. Stay tuned to Generation Iron and visit our official Arnold Classic 2021 coverage hub right here!