Erin Banks wins Men's Physique at the Arnold Classic 2022.
The Arnold Sports Festival was back to normal this year with the event taking place over the course of the first weekend in March. During the bodybuilding portion, Men's Physique turned out to be one of the top divisions. On Saturday night, Erin Banks was crowned champion at the Arnold Classic 2022 in the Men's Physique division.
During prejudging, Banks displayed a presence on stage that was difficult to match. He showed incredible conditioning and size, especially his back and lats. Diogo Montenegro came in as a seriouscohtender while Emmanuel Hunter emerged during prejudging as well and showed enough to take over second place. Antoine Weatherspoon rounded out the top four as part of the first callout from prejudging.
The full results have been announced. Check out our full breakdown of the Men's Physique division of the Arnold Classic 2022 results below.
Arnold Classic 2022 Men's Physique Results
First Place – Erin Banks ($10,000)
Second Place – Emmanuel Hunter ($6,000)
Third Place – Diogo Montenegro ($4,000)
Fourth Place – Antoine Weatherspoon ($3,000)
Fifth Place – Choi Bong-Seok ($2,000)
Sixth Place – Terrence Teo Kok Hua ($1,500)
Seventh Place – Riccardo Croci
Eighth Place – Daniel Leone
Ninth Place – Drelyn Hunt
Men's Physique Highlights
View this post on Instagram
View this post on Instagram
View this post on Instagram
Previous Winners
2020: Andre Ferguson
2019: Andre Ferguson
2018: Andre Ferguson
2017: Ryan Terry
2016: Brandon Hendrickson
2015: Sadik Hadzovic
Official Score Card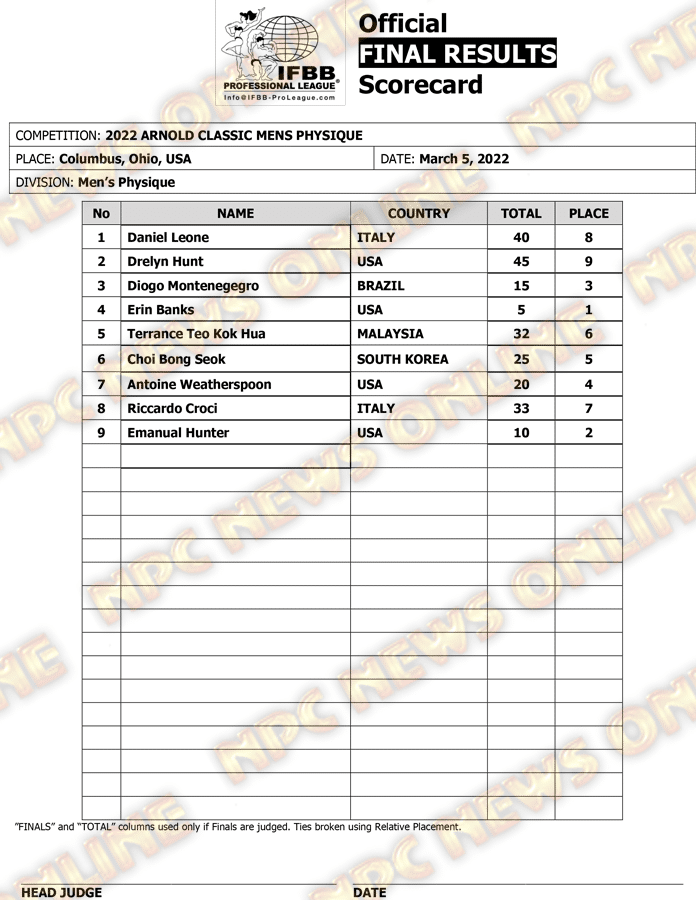 Generation Iron Fitness Network will provide coverage of the full Arnold Classic 2022 event including pre-judging reports, analysis, and results updates. Stay tuned to Generation Iron and visit our official Arnold Classic 2021 coverage hub right here!