Gabriele Andriulli wins Pro Wheelchair at the Arnold Classic 2022!
The Pro Wheelchair division in bodybuilding continues to grow each year and it has become staples at the two biggest bodybuilding shows of the season over the years. The Olympia and Arnold Classic have featured Pro Wheelchair and this has helped grow popularity in the division. After missing out on the action in 2021, the division returned this time around and saw Gabriele Andriulli pull off an upset over Harold Kelley.
This is the sixth year that Pro Wheelchair has been featured in the Arnold Classic and Kelley has won the first five competitions. Kelly has also dominated the Olympia but Andriulli has been creeping closer and closer each competition. He was finally able to reach the pinnacle.
Andruilli has victories on multiple occasions at the Toronto Pro SuperShow. This was his third Arnold Classic competition. He finished third in 2016 and 2018 with a second place finish sandwiched between in 2017. Andriuilli has also finished as the runner-up to Kelley in the Olympia in 2019 and 2021.
This weekend held the Arnold Classic 2022 Pro Wheelchair competition, showcasing the best wheelchair bodybuilders in the world. All fighting for the title of number one. The full results have finally been announced. You can check them out below:
Arnold Classic 2022 Pro Wheel Chair Results
First Place – Gabriele Andriulli
Second Place – Harold Kelley
Third Place – Bradley Betts
Fourth Place – Chad McCrary
View this post on Instagram
Previous Winners
2016: Harold Kelley
2017: Harold Kelley
2018: Harold Kelley
2019: Harold Kelley
2020: Harold Kelley
Official Score Card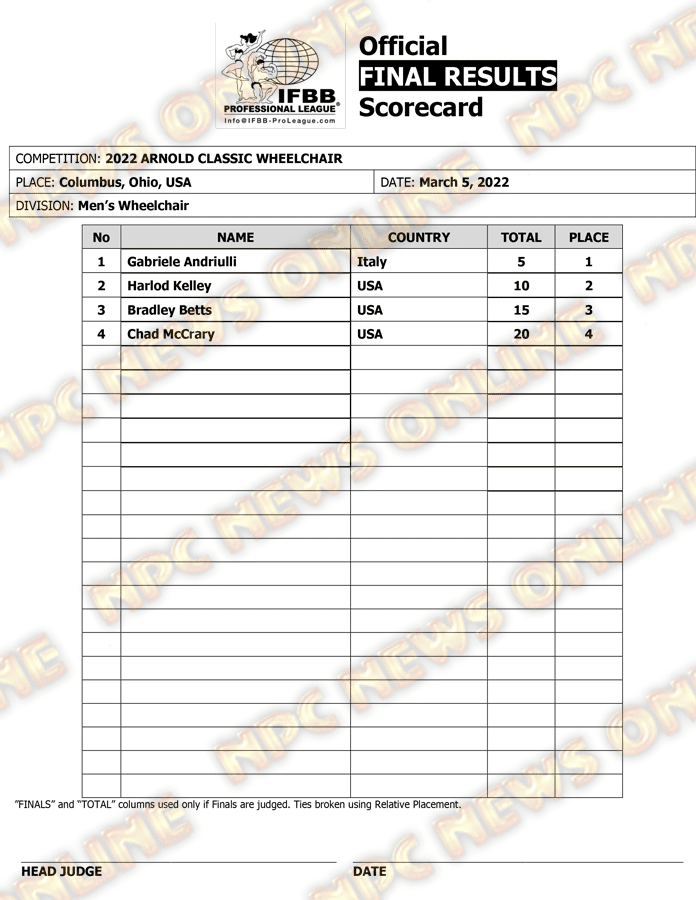 Generation Iron Fitness Network will provide full coverage of the Arnold Classic 2022 event including pre-judging reports, analysis, and results updates. Stay tuned to Generation Iron and visit our official Arnold Classic 2022 coverage hub right here!