Isabelle Nunes wins Wellness International at the Arnold Classic 2022.
The Wellness International division has officially made its way to the biggest bodybuilding shows of the season. After makings its debut at the Olympia in October, Wellness appeared at the Arnold Classic for the first time over the weekend. In the end, it was Isabelle Nunes who took home the inaugural title at the event.
Nunes stood out immediately in prejudging from a group that appeared on the Olympia stage months ago. Angela Borges and Sunny Andrews also made an impression and this was a difficult division to judge. Heading into the final portion of the night, it seemed to come down to Borges or Nunes and that is how it played out.
It came down to the final on Saturday night for a decision to be made on the winner. When looking at the talent in Wellness, there is no doubt that it is going to continue to grow and gain exposure moving forward.
The full results have been announced. Check out our full breakdown of the Wellness International division of the Arnold Classic 2022 results below.
Arnold Classic 2022 Wellness Results
First Place – Isabelle Nunes ($7,000)
Second Place – Angela Borges ($4,000)
Third Place – Sunny Andrews ($3,000)
Fourth Place – Julia Chitarra ($2,000)
Fifth Place – Yarishna Ayala ($1,500)
Sixth Place – Kassandra Gillis ($1,000)
Seventh Place – Barbara Cesar
Eighth Place – Lorena Ragusa
Ninth Place – Devyn Cambre
Tenth Place – Casey DeLong
Wellness Highlights
View this post on Instagram
View this post on Instagram
Official Score Card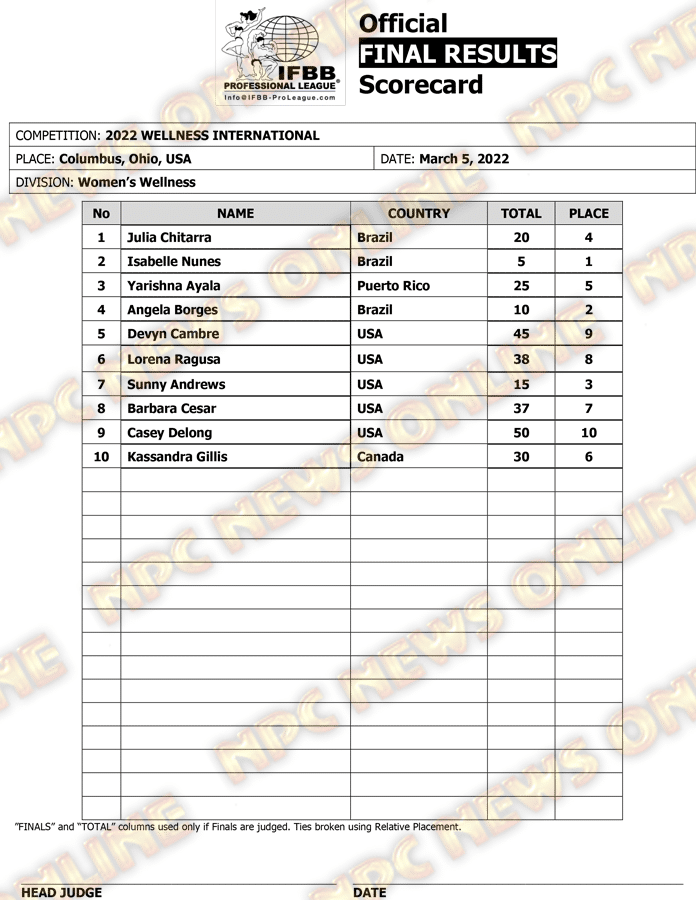 Generation Iron Fitness Network will provide coverage of the full Arnold Classic 2022 event including pre-judging reports, analysis, and results updates. Stay tuned to Generation Iron and visit our official Arnold Classic 2021 coverage hub right here!