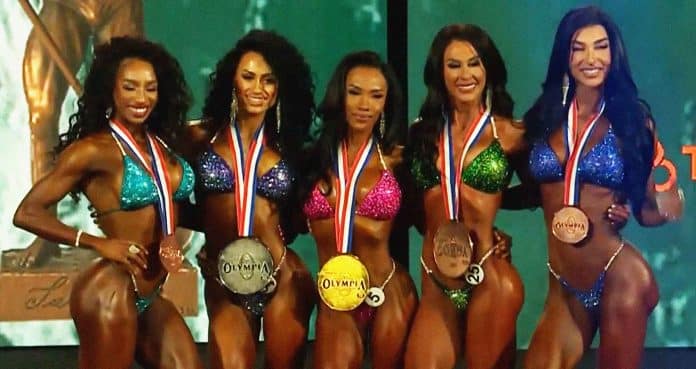 Maureen Blanquisco was crowned champion of Bikini Olympia in 2022!
The Bikini division wrapped up on Saturday night by crowning a champion in 2022. This was a group that featured many former champions and a new one has been named as Maureen Blanquisco won the Bikini Olympia title.
Blanquisco and Jennifer Dorie, who finished as the runner-up, separated themselves during prejudging and it stood firm during the finals. Ashley Kaltwasser rounded out the top three.
The prejudging portion of the event took place on Saturday morning and there was many competitors in the mix. Heading into the weekend, there have been different champions crowned in each of the last four years — three of which were on stage tonight.
Dorie returned to defend her title while Janet Layug made her return to the Olympia stage. Elisa Pecini and Kaltwasser, who is a three-time champ, also know what it takes to win on the biggest stage. Lauralie Chapados won the Arnold Classic back in March and remained in the top five at the Olympia.
The full results from the Bikini division have been announced. Check out a breakdown of the results and an official score card from the event below.
Olympia 2022 Bikini Results
First Place – Maureen Blanquisco ($50,000)
Second Place – Jennifer Dorie ($20,000)
Third Place – Ashley Kaltwasser ($12,000)
Fourth Place – Daraja Hill ($7,000)
Fifth Place – Lauralie Chapados ($6,000)
Sixth Place – Aimee Leann Delgado
Seventh Place – Phoebe Hagan
Eighth Place – Janet Layug
Ninth Place – Elisa Pecini
Tenth Place – Romina Basualdo
Official 2022 Olympia Bikini Scorecard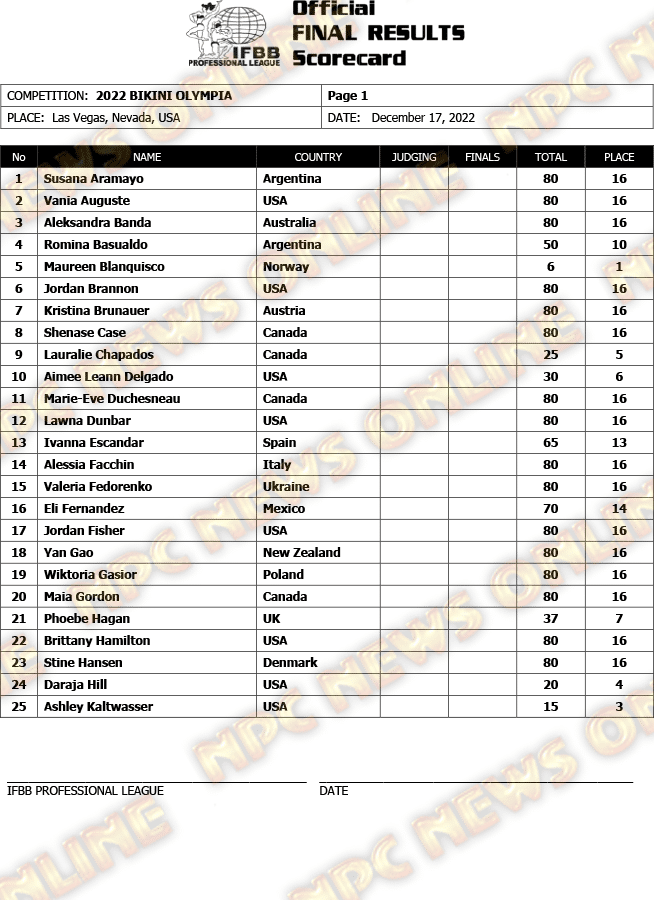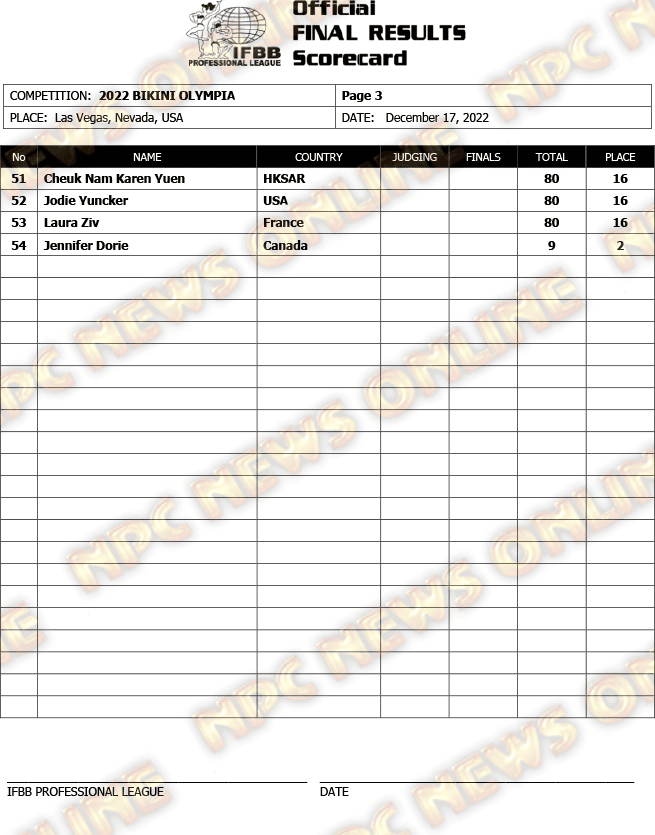 Previous Olympia Bikini Winners
2021: Jennifer Dorie
2020: Janet Layug
2019: Elisa Pecini
2018: Angelica Teixeira
2017: Angelica Teixeira
2016: Courtney King
2015: Ashley Kaltwasser
2014: Ashley Kaltwasser
2013: Ashley Kaltwasser
2012: Nathalia Melo
2011: Nicole Nagrani
2010: Sonia Gonzalez
More 2022 Mr. Olympia Coverage:
For more news and updates, follow Generation Iron on Facebook, Twitter, and Instagram.