A complete guide on how to watch the 2022 Olympia. All events including Men's Open and expo.
The biggest event in all of bodybuilding is finally here, the Mr. Olympia contest. This is when the best of the best in all 11 divisions come together to compete for the Olympia title, the most prestigious award in the sport. It is a weekend full of competition, a full expo, and so much more.
Last year due to the pandemic, the event was held at the Orange County Convention Center in Orlando, Florida. However, this year it is returning to Vegas! How and where can you watch it? What is the order of events? Who is qualified? Don't worry, we've got you covered.
How To Watch The Olympia 2022

So how exactly can you watch the Mr. Olympia? The promoters are offering a pay-per-view stream on olympiaproductions.com. By signing up on the official site you'll be able to choose from a few different packages to buy. Then you'll be able to stream the show from anywhere, so you don't miss any of the excitement.
Olympia 2022 Premium Package
With this package, you get coverage of all Olympia Pre-Judging & Finals (Both the Friday and Saturday evening Shows). The event is held December 15-18 in Las Vegas, NV. What exactly does this package include? 
Men's 212 

Men's Physique 

Women's Physique

Classic Physique

Wheelchair

Fitness

Figure

Bikini

Wellness

Ms. Olympia

Mr. Olympia 

Pre and post-event interviews 

Sunday coverage of the Superstar Seminar

Does not include the Amateur Olympia package
Amateur Olympia 2022 Package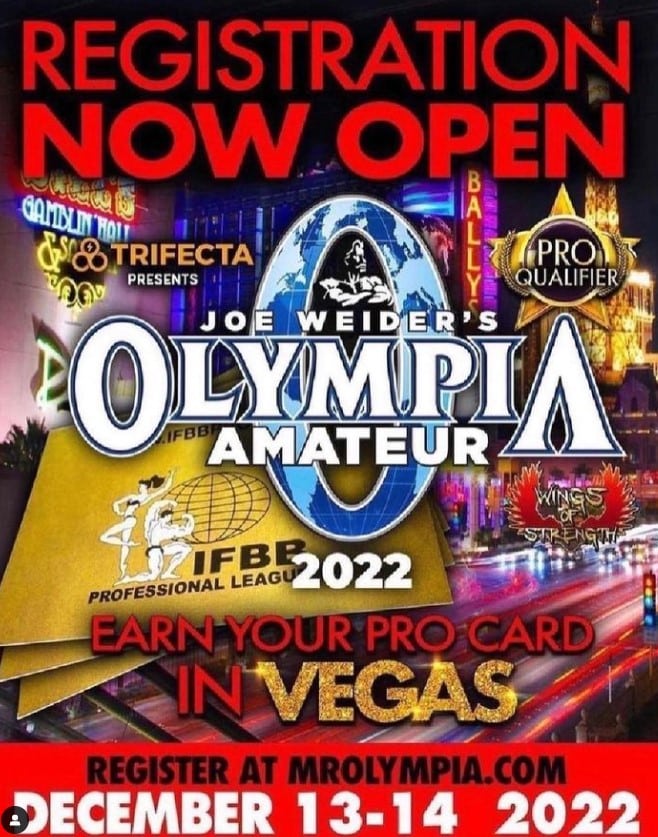 Coverage of all 2022 Amateur Olympia events from the Criss Angel Theater, Planet Hollywood in Las Vegas, Nevada. The Amateur Olympia is held December 13-14, 2022, and the package Includes:
Open Bodybuilding

Classic Physique

Men's Physique,

Women's Physique

Figure

Bikini

Wellness

Does not include the Olympia Premium Package
The Fan Channel
FREE and Premium streams will bring you the world of Olympia, where you can see legends walk among mortals! Hear predictions and witness rivalries at the Olympia Press Conference, see the stars of fitness up close at Meet the Olympians.
FREE content includes:
2022 Olympia Press Conference

2022 Meet the Olympians

Coverage from the Olympia World Fitness Expo – Two days of coverage when fans mingle with athletes, celebrities and fitness industry pros.

Shows and clips from the Olympia Archives
The Fan Channel also includes past events and direct links to purchase Premium and Amateur streams.
Olympia 2022 Breakdown
Men's Open Preview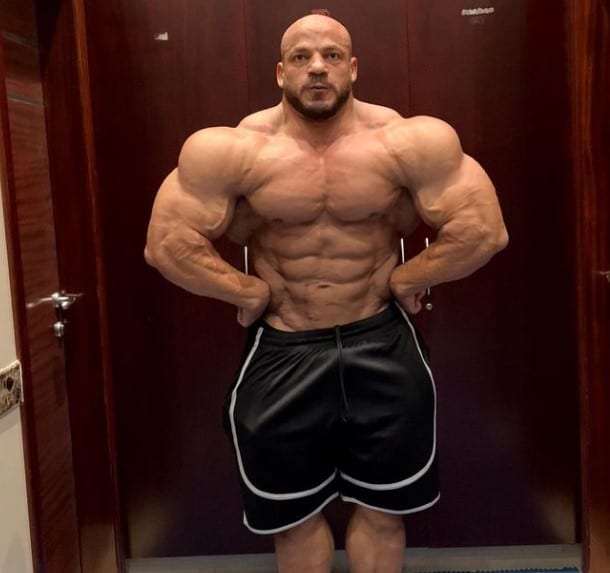 The main event of the weekend is the Mr. Olympia Men's Open competition. Featuring the best competitors from across the world, it is the battle for the biggest title in bodybuilding. This year's lineup proves to be as competitive as ever. A clash solidifying a new generation and iconic veterans.
The reigning champ Big Ramy is the one to beat this year. If he can bring a package similar or better than last year, he will be near unstoppable from a repeat victory. But he'll have plenty of talented bodybuilders biting at his heels. Some big names are Nick Walker, Derek Lunsford, Hadi Choopan, and many others that have looked nothing short of phenomenal in their updates leading up to this point. 
2022 Olympia Men's Open List of Qualified Competitors
Classic Physique Overview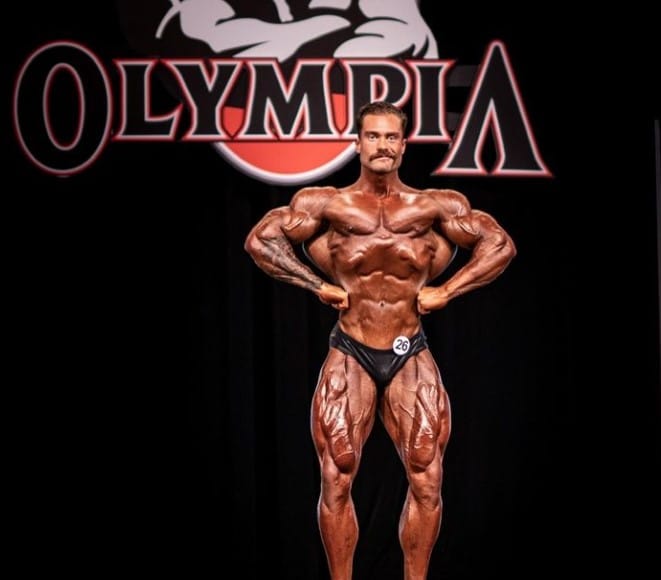 Growing in popularity each year, Classic Physique is something you do not want to miss. Reigning champ Chris Bumstead is coming for his fourth title. He's in a class that has become more stacked with fantastic competitors each year. Some big names are former champ Breon Ansley, Chen Kang, and Logan Franklin. It is definitely going to be quite the event!
2022 List of Qualified Classic Physique Olympia Competitors 
Brady Barnes (USA)
Darren Farrell (Ireland)

Terrence Ruffin

(USA)
Georgian Andrei Birica Anghel (Romania)
Robert Wichman (USA)
Michael Daboul (Syria)

Chris Bumstead

(Canada)

Breon Ansley

(USA)
Peter Molnar (Hungary)

Alex Cambronero

(Costa Rica)
Mike Sommerfeld (Germany)
Jorge Herrera (USA)
Jose Maria Mete Bueriberi (Spain)
Ruben Lopez Reyes (Spain)
Mehdi Larijani (USA)
Lenny Wicks (USA)
Ahmed El Halawani (Egypt)
Logan Franklin (USA)
Ramon Rocha Querioz (Brazil)
Anthony Casado (Canada)
Kyrylo Khudaiev (Ukraine)
Mateo Vaihu (New Zealand)
Mohamed Amine Fakhfakh (Tunisia)
Urs Kalecinski (Germany)
Junior Javorski (Brazil)
Tony Duong (USA)
Vahid Badpei (Iran)
Darwin Andres Uribe Aristizabal (Colombia)
Lamar Shaw (USA)
Alexander Westermeier (Germany)
Carlos Dommar (USA
Neil Currey (UK)
Camilo Diaz (Colombia)
Tyler Johnson (Canada)
Emanuele Ricotti (Italy)
Jaehun Park (South Korea)
Marco Ruz (France)
Ali Poladvand (Iran)
Fabian Mayr (Austria)
Jonathan Pelkey (USA)
Jaepil Song (South Korea)
Chen Kang (China)
Gabriel Zancanelli (Brazil)
Josh Eastham (UK)
Courage Opara (USA)
Valentin Petrov (Bulgaria)
Blake Course (Canada)
Giuseppe Zagarella (Italy)
Denis Romanov (Russia)
Fabio Junior (Brazil)
Christopher Hunte (USA)
Wesley Vissers (Netherlands)
Grant Pieterse (New Zealand)
Jeff Hallenbeck (USA)
Julian Castano (Colombia)
Jesus Rodriguez Sendra (Spain)
Marcus Perry (USA)
Patrik Herczik (Czech Republic)
Abdullah Al Sharafi (Kuwait)
Dancovea Anderson (USA)
Woilid Baatout (France)
Adam Bomert (Poland)
Anthony Barbera III (USA)
212 Olympia Preview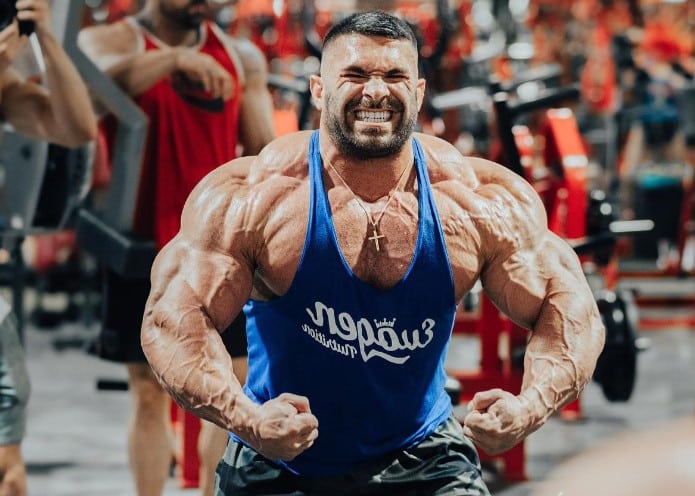 The requirements for this class, just as the name implies, is that the athlete needs to weigh up to and under 212 Lb (i.e., 96.6 kg) and they must be less than 166cm or 5'5 of height. However, with current 212 champ Derek Lunsford competing in Men's Open, this title is up for grabs!
Qualified List of 212 Olympia Competitors
Shaun Clarida (USA)
Kamal Elgargni (Libya)
Mohamed El Azim (Egypt)
Ahmad Ashkanani (Kuwait)
Angel Calderon Frias (Spain)
Felipe Moraes (Brazil)
Oleh Kryvyi (Ukraine)
Douglas Connor (USA)
David Henry (USA)
Anwar Al Balushi (Oman)
Yunlong Ping (China)
Bryan Balzano (US)
Robert Taylor (UK)
Lucas Silva Coelho (Brazil)
Noel Adame (USA)
Hossein Kalateh (Canada)
Oswaldo Gonzalez (USA
Ahmed Fawzi (Iraq)
Jafar Ghaffarnezhad Azizi (Iran)
Ayat Baghri (Iran)
Dean White (UK)
Dectric Lewis (USA)
Keone Pearson (USA)
Kerrith Baijjo (USA)
Naser Mohamed (Kuwait)
Romain Ramassamy (Canada)
Mazin Al Rahbi (Oman)
Peter Molnar (Hungary)
Hamed Juma (Bahrain)
Eduardo Correa (Brazil)
Radoslav Angelov (Bulgaria)
Sung Yeop Jang (South Korea)
Other Olympia Divisions To Watch
We sadly can't cover every single division preview in one super-sized article. But there are far many more exciting competitions in store for this weekend at the Olympia 2022. Ms. Olympia returns, as well as the always entertaining routines of the Fitness division.
Men's and Women's Physique will also be present alongside Figure, Bikini, and Wellness, and we cannot forget the Wheelchair Division. All in all the event makes for a massive 11 divisions present during the weekend event. That means more drama, excitement, and champions to stand in the spotlight.
You can check out the remaining division qualified competitor lists by clicking on the links below!
When to Watch the Olympia
Now you've seen how to watch the Olympia, and who all is qualified, but when do the events occur? Specifically the bodybuilding related events, like the press conference, pre-judging, and finals. Let's cover this!
The Press Conference: Thursday 12/15 at 12:00PM (11:30 VIP entry)
Meet The Olympians: Thursday 12/15 at 8:00PM (7PM VIP entry)
Friday Prejudging: 12/16 at 9:00AM, Pre-judging for: Fitness Olympia, 212 Olympia, Figure Olympia, Women's Physique, Ms. Olympia, and Wellness Olympia
Friday Finals: 12/16 at 6:00PM, Finals for 212 Olympia, Fitness Olympia, Figure Olympia, Women's Physique, Ms. Olympia Finals, Wellness, and Mr. Olympia Pre-Judging
Saturday Prejudging: 12/17 at 9:00AM, Pre-judging for Classic Physique, Men's Physique, Bikini, and then Wheelchair Olympia Pre-Judging & Finals
Saturday Finals: 12/17 at 7:00PM, finals for Mr. Olympia, Men's Physique, Bikini, and Classic Physique
Sunday Seminar: 12/18 at 11AM
Wrap Up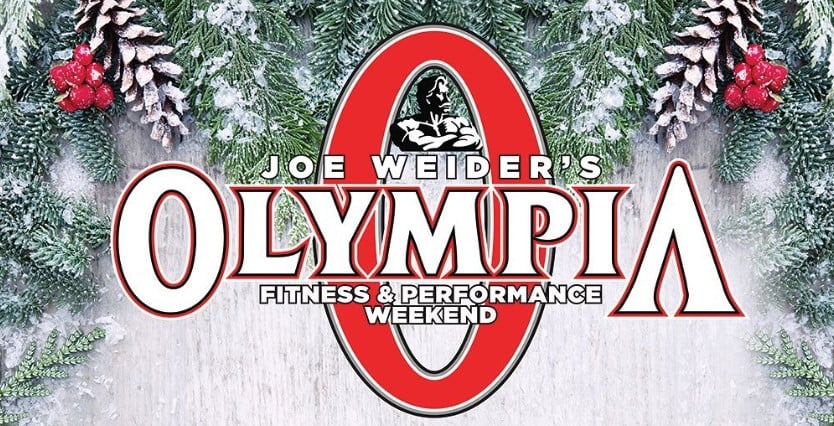 Overall, there are a lot of events to see during the Mr. Olympia weekend! A lot of hard work, dedication, blood, sweat, and tears went into prep for this. Watch these amazing athletes showcase what they've been working toward all year, and see which one will take the crown!
Which events are you most excited to see?