Andrew Jacked wins the 2022 Texas Pro!
The 2022 Texas Pro took place over the course of the weekend at the Irving Convention Center in Irving, TX. Some of the top competitors from bodybuilding over eight divisions were present in Texas competing for qualification to the 2022 Olympia. In the end, it was Andrew Jacked who took the Men's Open prize and proved dominant on stage.
Jacked had been training with some of the all-time greats in bodybuilding leading up to his professional debut. He earned his Pro Card by winning the 2022 Arnold Classic Amateur and will now have a chance to compete on the biggest stage in the sport.
The Men's Open divisions returned four of the top six finishers from the Tampa Pro last weekend. This is headlined by Kamal Elgargni, who made his debut in Open Bodybuilding last week and was able to finish as the runner-up.
Joseph Mackey and Phil Clahar also returned to the stage after top-five finishes in Tampa. Heading into the show, Elgargni was considered the favorite but there was plenty of talent on display over the course of the weekend.
The full results of the show have been announced. The Texas Pro handed out over $60,000 in prize money to winners, along with a ticket to the biggest show of the year. Checkout the full breakdown from the event, along with official score cards, below!
2022 Texas Pro: All Division Winners
Men's Open: Andrew Jacked
Men's 212: Kerrith Bajjo
Classic Physique: Courage Opara
Men's Physique: Daniel Ammons
Figure: Jessica Reyes Padilla
Bikini: Daraja Hill
Wellness: Devyn Cambre
Women's Physique: Melissa Teich
2022 Texas Pro Breakdown
Men's Open
Winner – Andrew Jacked
Second Place – Martin Fitzwater
Third Place – Steve Kuclo
Fourth Place – Kamal Elgargni
Fifth Place – Quinton Eriya
Sixth Place – Jephte Cherenfant
View this post on Instagram
Men's 212
Winner – Kerrith Bajjo
Second Place – Cody Drobot
Third Place – Jordan Janowitz
Fourth Place – Ricky Moten Jr.
Fifth Place – Martin Gomez
Sixth Place – Ahmed Elwardany
Classic Physique
Winner – Courage Opara
Second Place – Valentin Petrov
Third Place – Jorge Luis Guerrero Gallegos
Fourth Place – John Le
Fifth Place – Florian Poirson
Sixth Place – Ashwin Lucas
Men's Physique
Winner – Daniel Ammons
Second Place – Andrei Lincan
Third Place – Charjo Grant
Fourth Place – Jeremiah Maxey
Fifth Place – Jeremy Coleman
Sixth Place – Stan Morrison
Women's Physique
Winner – Melissa Teich
Second Place – Pamela Canfield
Third Place – Ana Harias
Fourth Place – Ashley Jones
Fifth Place – Gessica Campbell
Sixth Place – DeSunka Dawson
Bikini
Winner – Daraja Hill
Second Place – Jodie Yuncker
Third Place – Roxana Marguez
Fourth Place – Jordan Brannon
Fifth Place – Shelby Pierce
Sixth Place – Anya Nicholson
Figure
Winner – Jessica Reyes Padilla
Second Place – Autumn Cleveland
Third Place – Tamera Barrett
Fourth Place – Felisha Livezey
Fifth Place – Jennier Zienert
Sixth Place – Jessica L. Kendrick
Wellness
Winner – Devyn Cambre
Second Place – Lili Dong
Third Place – Amanda Burnett
Fourth Place – Diana Laura Verduzco Carreno
Fifth Place – Jen Scarborough Zollars
Sixth Place – Priscilla Lynd
2022 Texas Pro Official Score Cards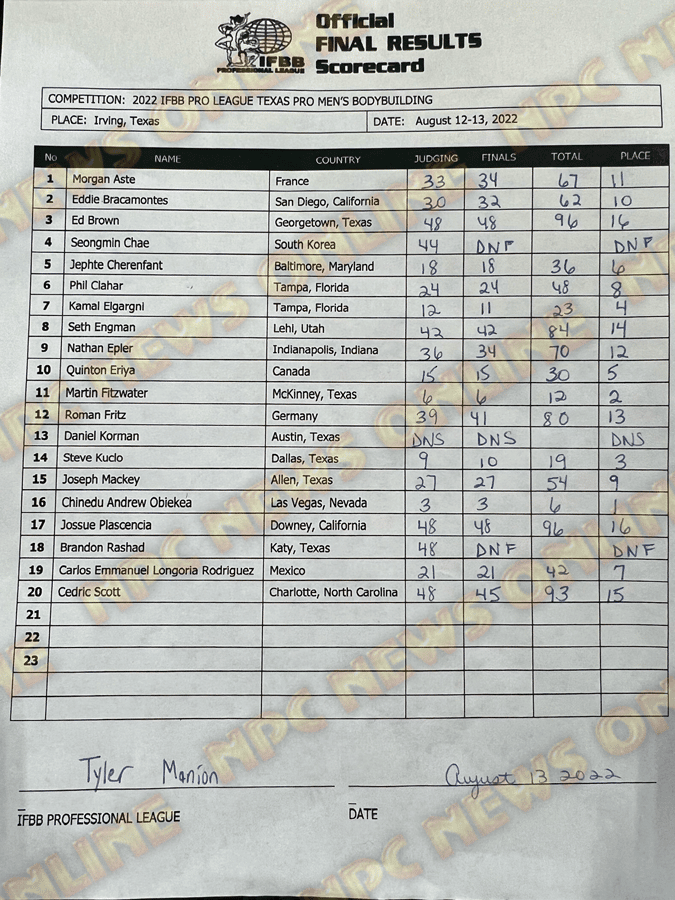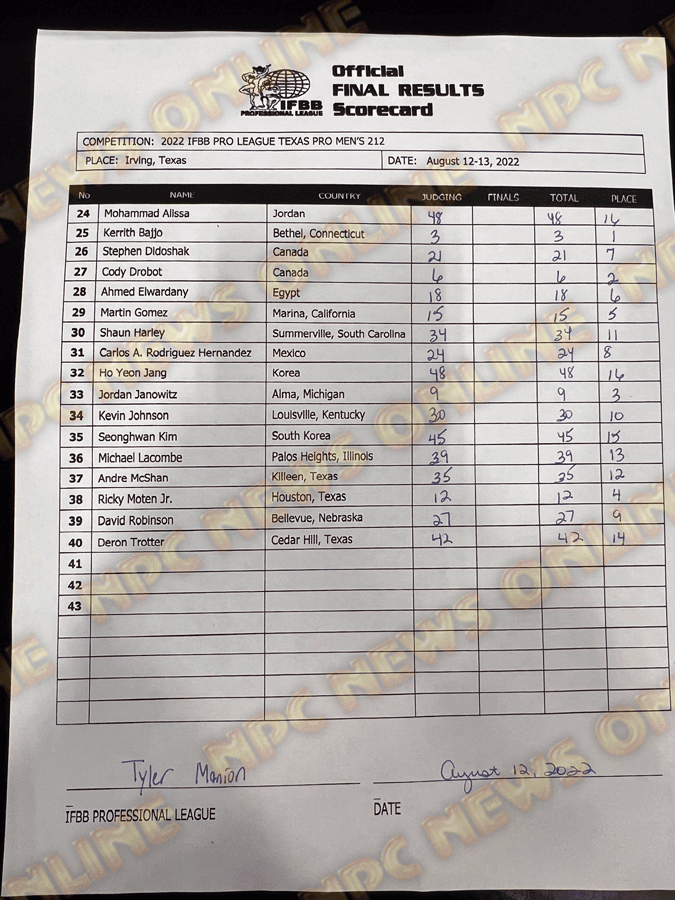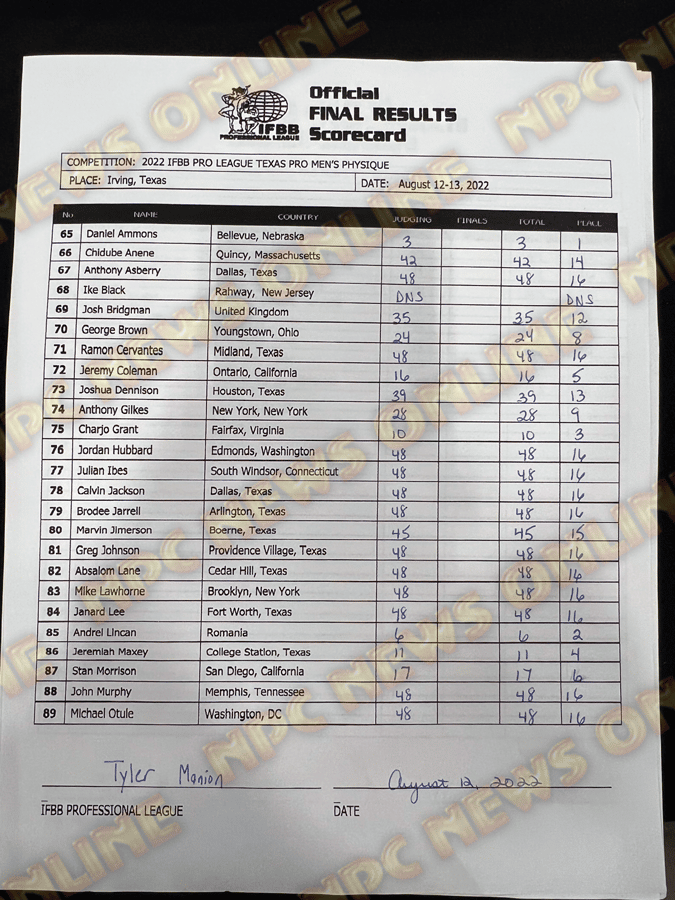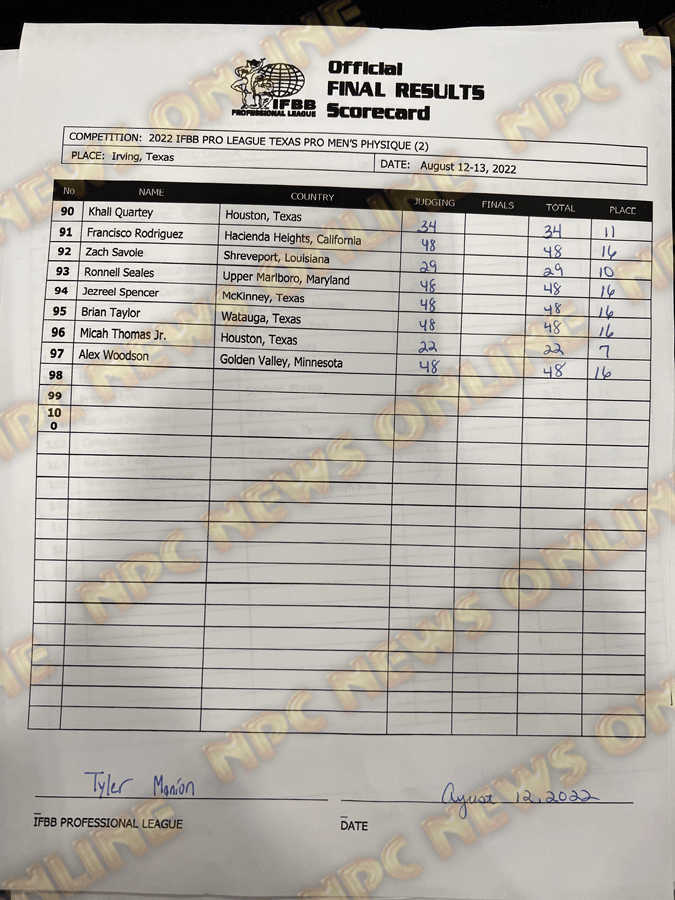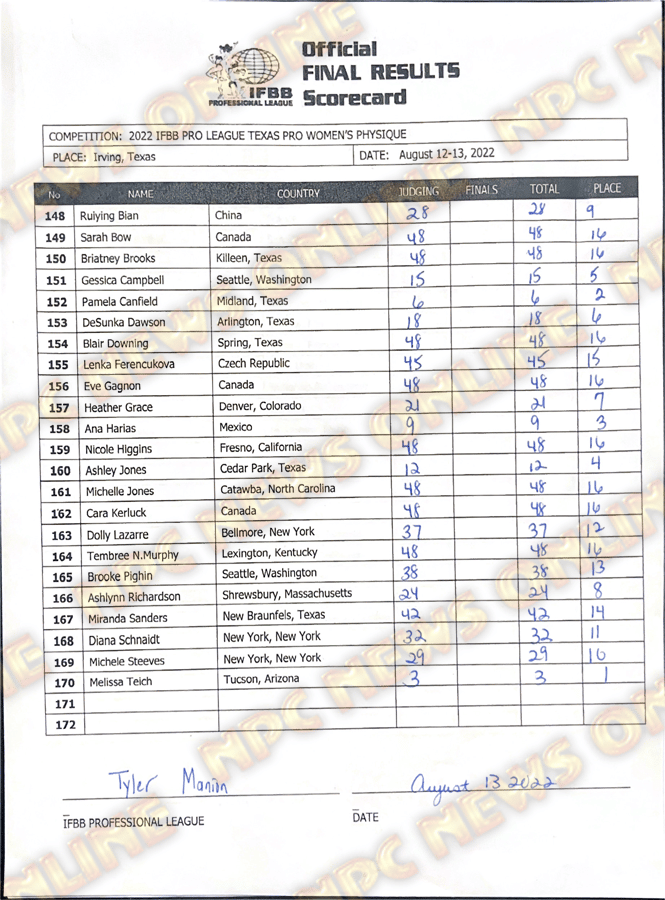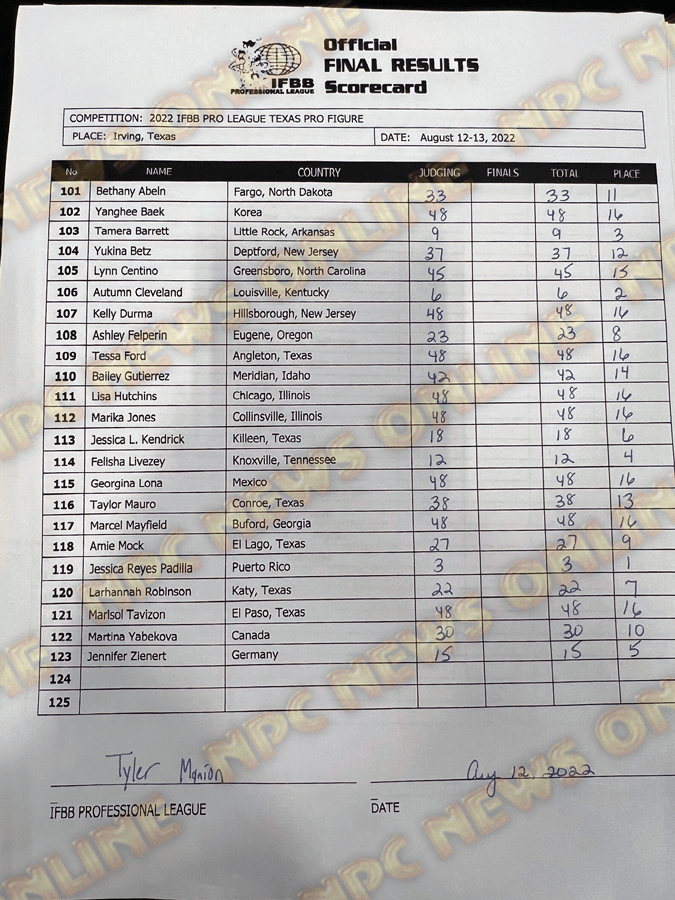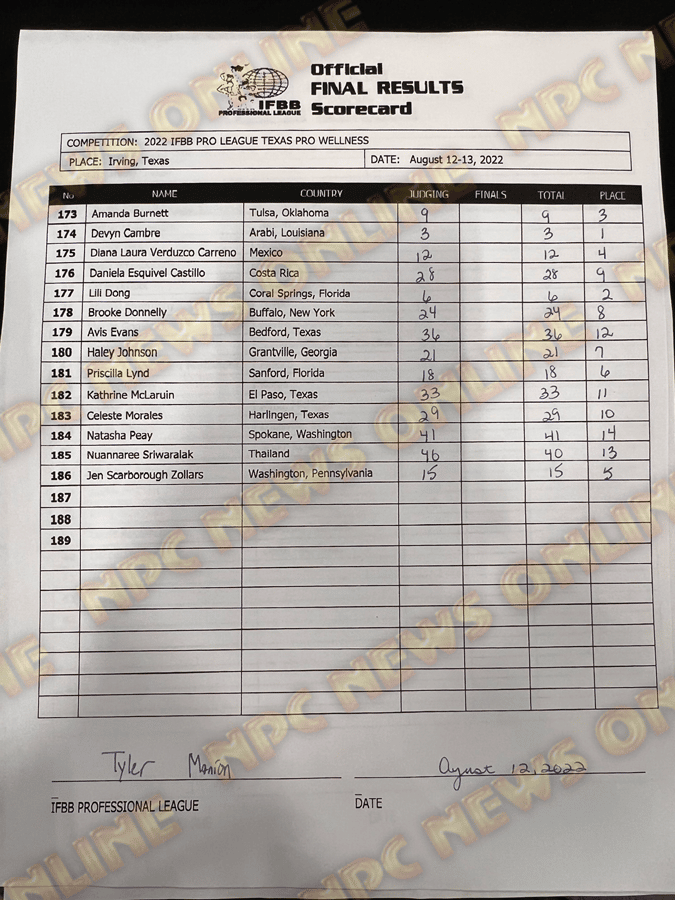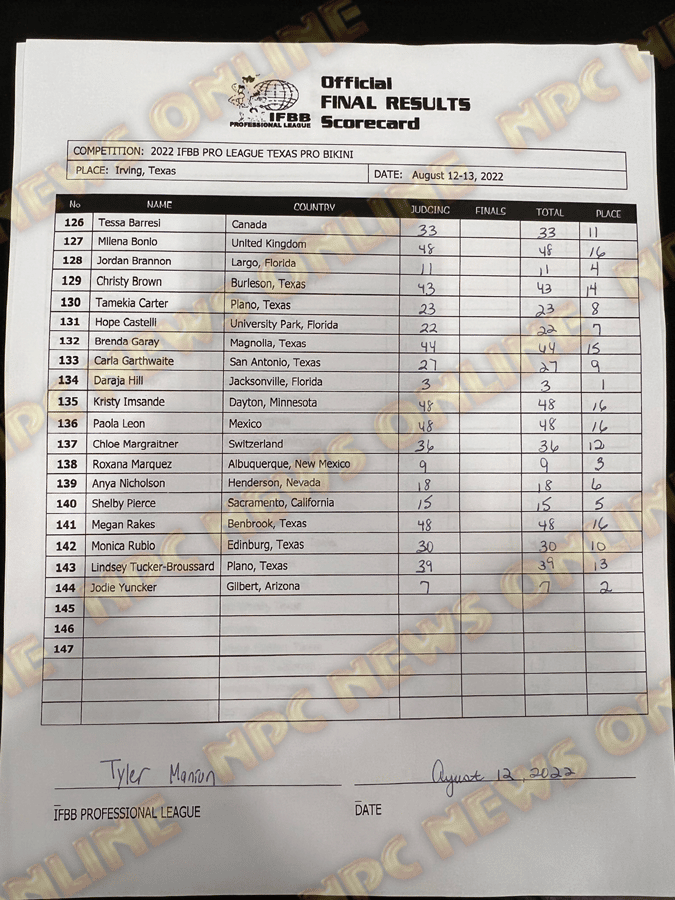 Generation Iron wishes to congratulate all the great athletes who earned a win at the 2022 IFBB Texas Pro. Make sure to check out our full IFBB Pro results page from this year and previous years right here to catch up on any action you may have missed!