Kamal Elgargni will take a step up in divisions when he competes as an Open bodybuilder.
Kamal Elgargni is just three years removed from his Olympia 212 title back in 2019. Now, he has announced that he will take a step up in divisions and compete in Men's Open. Elgargni will try his luck during the 2022 Tampa Pro and 2022 Texas Pro to qualify for the 2022 Olympia.
Elgargni made the official announcement on Tuesday during an interview on a live video on the BP Sports Instagram account. 
"I feel really, really good and I'm excited with what I'm going to bring to the stage at both contests," Elgargni said.
The 2022 Tampa Pro is scheduled to take place in Tampa on Aug. 6. The 2022 Texas Pro will take place one week later in Irving, TX on Aug. 12-13th 2022.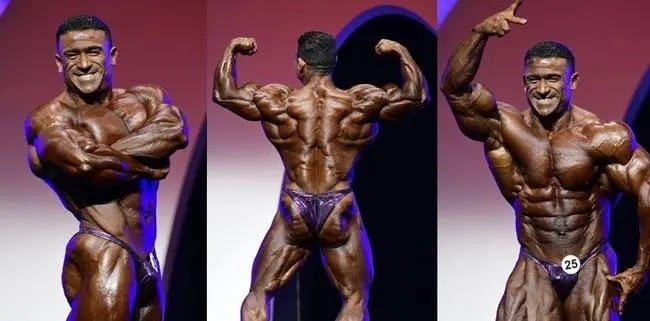 Can Kamal Elgargni Win In Men's Open?
Kamal Elgargni shared that he currently weighs 224 pounds. There is not much time before the competitions begin and he did not reveal what weight he plans to enter. The full rosters for these events have not been released but they are usually shows with some elite competition.
This would not be the first time that a 212 competitor attempts to make the jump to Men's Open. Of course, Shaun Clarida was able to make the switch and win the Legion Sports Fest back in October. He will now have a chance to compete at the Olympia as an Open bodybuilder. Clarida is also qualified in 212 but will not have the option to compete in both.
Derek Lunsford is looking like the next athlete that will officially make the jump. He is the reigning 212 Olympia champion but has put on tremendous size this offseason. It is unlikely he will make it back down to 212 and could be training for Men's Open. Elgargni is another former 212 Olympia champion looking to find success at the next level.
Kamal Elgargni is qualified for the Olympia for the duration of his career since he is a past champion. It is unclear if he will attempt to make it back down to this eight before December — or if he plans to show up at the Olympia at all. Either way, he will have a chance to show what he can do at 50 years old.
Iain Valliere is the reigning champion at both the 2021 Texas Pro and 2021 Tampa Pro, having won both shows on back-to-back weekends. This is what Elgargni would be trying to accomplish with his return to the stage.
For more news and updates, follow Generation Iron on Facebook, Twitter, and Instagram.