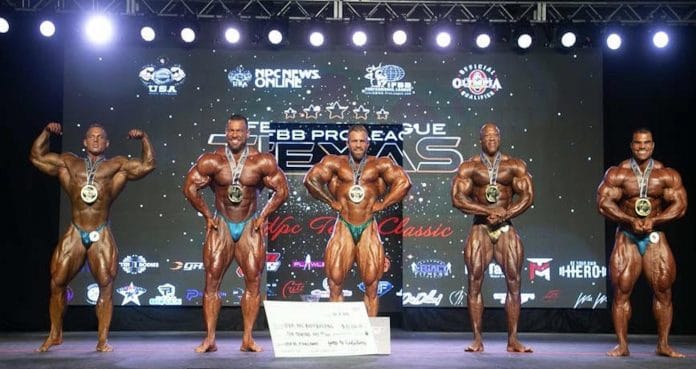 Iain Valliere Wins The 2021 Texas Pro Men's Open Bodybuilding Show.
The 2021 IFBB Texas Pro has begun and there will be some more Olympia qualifications handed out August 13th – 14th. The Irving Convention Center in Irving, TX is the host of what is destined to be a weekend full of great competition featuring some of the biggest names in bodybuilding. Iain Valliere returned to win the Texas Pro show in Men's Open Bodybuilding contest. His victory at the 2021 Tampa Pro already cemented a qualification to the 2021 Olympia, but he continued to compete and build momentum deep into the 2021 bodybuilding season.
The Texas Pro handed out ten athletes an invitation to the 2021 Mr. Olympia coming this October. A total grand prize of over $40,000 was paid out across the bodybuilders this weekend. This contest is broken down into two days of events. The Friday competition featured prejudging and finals for Men's Physique, Women's Physique, Classic Physique, and Bikini. Then on Saturday, with the Men's Open and 212 Divisions.
It begins with Steve Kuclo. The Dallas native will look to top the competition in his home state and earn a spot to compete at the biggest event of the year. Kuclo is viewed as one of the favorites to win the Men's Bodybuilding category but it will not be easy.
Phillip Clahar, who finished second to Valliere in Tampa, also came back to action. He has a chance to finish at the top of the field this time around. All three competitors are at peak physical condition which means the Texas Pro has a chance to be extremely entertaining.
Hassan Mostafa will also look to keep pace. He has not earned a bid just yet but he is in line too in the standings. Mostafa has competed in many qualifiers and has placed quite well recently.
There were a total of six divisions at the Texas Pro with winners vying for a qualification to the Olympia. Day one of the competition included prejudging and finals for the Classic Physique, Women's Physique, Men's Physique, and Bikini. The full results from Day Two have also been announced. Check out our full breakdown of the 2021 IFBB Texas Pro results below.
2021 Texas Pro: All Division Winners
A quick breakdown of the winners in each division from the Texas Pro 2021. All winners are now automatically qualified to compete in the Olympia 2021.
Men's Bodybuilding: Iain Valliere
Men's 212: Ahmed Elsadany
Classic Physique: Robert Timms
Men's Physique: Joseph Lee
Bikini: Ashley Kaltwasser
Women's Physique: Ashley Jones
2021 Texas Pro Breakdown
Men's Bodybuilding Results
First Place – Iain Valliere ($10,000)
Second Place – Steve Kuclo ($4,000)
Third Place – Phillip Clahar
Fourth Place – Martin Fitzwater
Fifth Place – Hassan Mostafa
View this post on Instagram
Men's 212
First Place – Ahmed Elsadany 
Second Place – Austin Karr
Third Place – Martin Gomez
Fourth Place – Jason Hebert
Fifth Place – Charles Curtis
View this post on Instagram
Men's Physique
First Place – Joseph Lee
Second Place – Nick Koeu
Third Place – Anthony Chinakwe
Fourth Place – John Sarmiento
Fifth Place – Antoine Weatherspoon
View this post on Instagram
Classic Physique
First Place – Robert Timms
Second Place – Logan Franklin
Third Place – Steve Laureus
Fourth Place – Brandon Williams
Fifth Place – Ashwin Lucas
View this post on Instagram
Women's Physique
First Place – Ashley Jones
Second Place – Lenka Ferencukova
Third Place – Elizabeth Bradshaw
Fourth Place – Jeannie Feldman
Fifth Place – Priscila Cavilha
View this post on Instagram
Bikini
First Place – Ashley Kaltwasser
Second Place – Reijuana Harley
Third Place – Carla Garthwaite
Fourth Place – Francesca Stoico
Fifth Place – Ivanna Escandar Fernandez
View this post on Instagram
Official Score Cards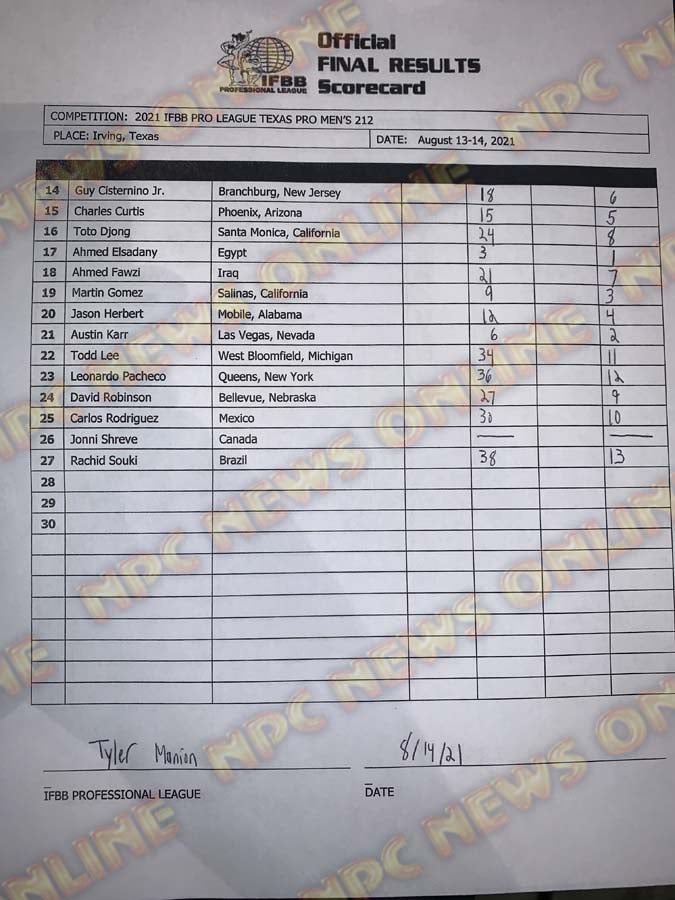 Generation Iron wishes to congratulate all the great athletes who earned a win at the 2021 IFBB Texas Pro. Make sure to check out our full IFBB Pro results page from this year and previous years right here to catch up on any action you may have missed!