Here are the full results from the 2023 Sasquatch Pro!
The 2023 Sasquatch Pro took place on Saturday in Federal Way, WA with three divisions battling for a spot in the 2023 Olympia.
The Olympia qualification system has changed this year. If an athlete did not finish in the top three in the previous year, or top five in Men's Open, they will have to win a show to qualify. The points qualification system is no more. Also, former winners of an Olympia title have lifetime eligibility.
The full results from the show have been announced. Below, check out the full breakdown, along with an official scorecard. 
2023 Sasquatch Pro: All Division Winners
Men's Physique: Edvan Palmeira
Figure: Wendy Fortino
Bikini: Tamekia Carter
2023 Sasquatch Pro Breakdown
Men's Physique
First Place – Edvan Palmeira
Second Place – Alexander Toplyn
Third Place – Joshua Guidry
Fourth Place – Reuben Glass
Fifth Place – Kevin Brown
Sixth Place – Serge Victor
Seventh Place – Suraqah Shabazz
Eighth Place – Wagner Abreu
Ninth Place – Dajuan Freeman
Tenth Place – Jordan Hubbard
View this post on Instagram
Figure
First Place – Wendy Fortino
Second Place – Nicole Zenobia Graham
Third Place – Paula Rojo
Fourth Place – Nikki McGuire
Fifth Place – Amie Mock
Sixth Place – Ashley Howells
Seventh Place – Julia Monroe
Eighth Place – Shanice Abrams
Ninth Place – Mayra Rocha Hernandez
Tenth Place – Mandy Umer
View this post on Instagram
Bikini
First Place – Tamekia Carter
Second Place – Malu Duarte
Third Place – Yurika Shigemoto
Fourth Place – Jackie Cheney
Fifth Place – Maya Astabie
Sixth Place – Iulia Baba
Seventh Place – Jessica Nicole Dolias
Eighth Place – Ashley Hampton
Ninth Place – Chantel Hall
Tenth Place – Tianna Weymouth
View this post on Instagram
2023 Sasquatch Pro Official Scorecards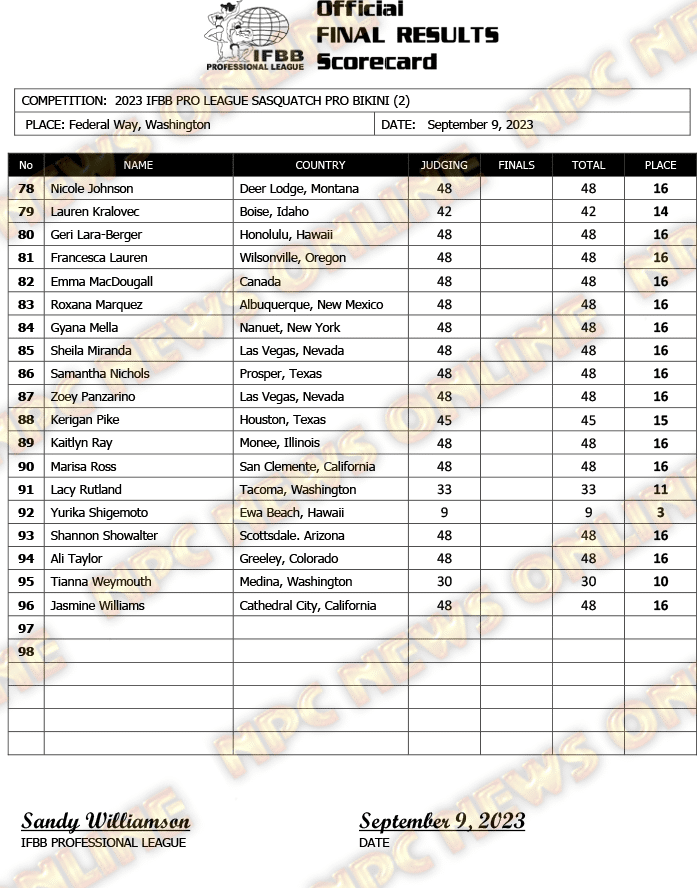 For more news and updates, follow Generation Iron on Facebook, Twitter, and Instagram.