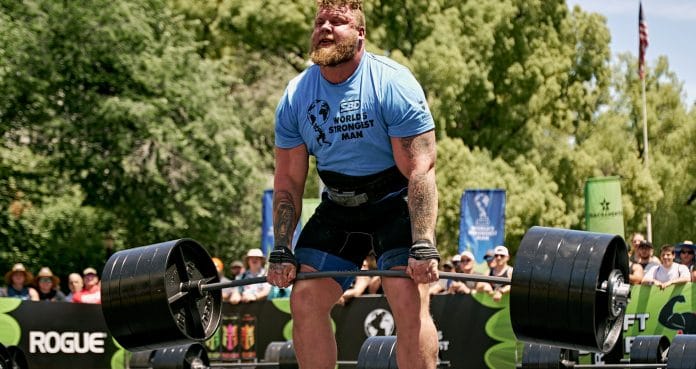 A complete guide to the 2023 World's Strongest Man competition – including athlete previews, events schedule, & how to watch
The 2023 World's Strongest Man competition is less than a week away and the strongest athletes in the world have prepared all year for their chance to win the title. This year's event will take place from April 19th-23rd at Burroughs & Chapin Pavilion Place in Mrytle Beach, SC.
Tom Stoltman will be returning to defend his title in effort to become a 3x World's Strongest Man champion. But he will also have a strong lineup of competitors to overcome in order to pull of another big victory.
This includes the likes of his older brother Luke Stoltman as well as former WSM champions such as Oleksii Novikov and Brian Shaw. In total, there will be 30 of the world's best strongman all fighting for the trophy and right to be considered 2023 World's Strongest Man. With the event also taking place in a milder climate compared to last year's burning hot Sacramento, California – it will also be interesting to see how these athletes perform.
The 2023 World's Strongest Man full event coverage will not become available until later this summer when it airs on the CBS Sports Network. But there are alternatives to watch and receive updates on the score and results this week as the event commences.

2023 World's Strongest Man: How To Watch
If you are not able to travel to Myrtle Beach to watch the competition (free to the public by the way), there are some alternatives to get some quick clips and updates on the results of the 2023 World's Strongest Man.
Once again there will be a behind-the-scenes coverage of the WSM event on the official World's Strongest Man social media channels. This includes on the ground reporting and interviews by 15x WSM competitor Terry Hollands.
In years past, this live stream coverage, while limited in visuals of the competition itself, provide updates on the results and standings – while also offering analysis of the key moments and performances of the athletes.
For those wanting to get live coverage and not wait for the eventual CBS Sports airing – this is your best bet to receive on-the-minute updates from the 2023 World's Strongest Man.
2023 World's Strongest Man Roster & Breakdown
The 2023 World's Strongest Man will have 30 of the best athletes in the sport face off in two days of qualifiers followed by two days of finals (after a rest day in between).
Strongman Tom Stoltman will once again be returning to defend his title after two back to back victories alongside his older brother, Luke Stoltman. While they have competed against each other in previous strongman competitions – this year will mark the first time two brothers have made it to the World's Strongest Man. Luke has some incredible credentials including winning Europe's Strongest Man – so this storyline is ripe for drama as these two brothers battle over the course of this week.
While many have eyes on Tom Stoltman to see if he can bring home a third trophy, there are also other big names making a return to the 2023 World's Strongest Man worth highlighting including previous WSM champions Brian Shaw and Oleksii Novikov as well as other notable elite strongmen competitors such as Evan Singleton, Bobby Thompson, Try Mitchell, and Mark Felix.
Unfortunately there are also two athletes who earned qualification that will not be able to compete at the 2023 World's Strongest Man. Both  Pavlo Nakonechnyy and Maxime Boudreault have previously announced their withdrawal from the competition.
Below is the official roster for the 2023 WSM:
Tom Stoltman (UK) — Returning champion
Pavlo Kordiyaka (Ukraine)
Evan Singleton (USA)
Mitchell Hooper (Canada)
Trey Mitchell (USA)
Adam Bishop (UK)
Aivars Šmaukstelis (Latvia)
Kevin Faires (USA)
Eythor Ingolfsson Melsted (Iceland)
Paul Smith (UK)
Rauno Heinla (Estonia)
Bobby Thompson (USA)
Mateusz Kieliszkowski (Poland)
Gavin Bilton (UK)
Spenser Remick (USA)
Eddie Williams (Australia)
Konstantine Janashia (Georgia)
Graham Hicks (UK)
Luke Stoltman (UK)
Mathew Ragg (New Zealand)
Gabriel Rhéaume (Canada)
Brian Shaw (USA)
Fadi El Masri (Australia)
Jaco Schoonwinkel (South Africa)
Oleksii Novikov (Ukraine)
Jean-Stephen Coraboeuf (Australia)
Mark Felix (UK)
Pa O'Dwyer (Ireland)
Cheick "Iron Biby" Sanou (Burkina Faso)
Thomas Evans (USA)
Pavlo Nakonechnyy (Ukraine) — withdrawn
Maxime Boudreault (Canada) — withdrawn
2023 World's Strongest Man Event Schedule
Qualifier Day One
Event One: Loading Race
Event Two: Deadlift Machine
Event Three: Log Ladder
Qualifier Day Two
Event Four: Conan's Wheel
Event Five: Kettlebell Toss
Event Six: Stone Off
NOTE: Rest Day — April 21, 2023
Finals Day One
Event One: Fingal's Fingers
Event Two: KNAACK Deadlift
Event Three: Reign Shield Carry
Finals Day Two
Event Four: Max Dumbbell
Event Five: Vehicle Pull
Event Six: Atlas Stones
For more news and updates, follow Generation Iron on Facebook, Twitter, and Instagram.