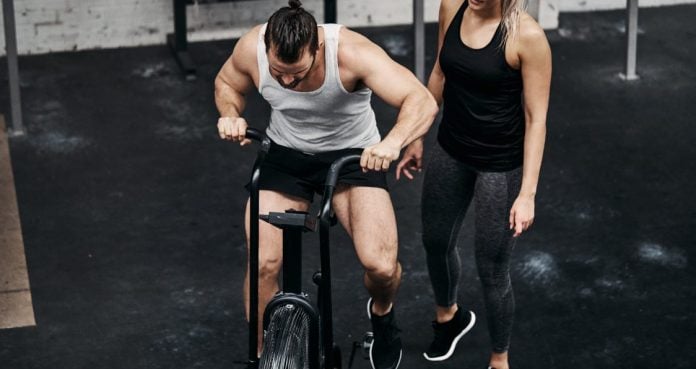 Cardio is definitely one of the building blocks when it comes to exercise.
Unfortunately, not everybody can tolerate long jogs. In fact, for those of us who prefer going to the gym to lift weights or use the equipment, running on the treadmill can become a huge chore. Unfortunately, however much you might hate running, there's no running from the truth: cardio is an essential component of bodybuilding and fitness that needs to incorporated into your workouts if you're looking to maximize results.
But for those of us who truly dread going for a run, here are five easy ways you can add cardio into your workout without running.
1. Indoor Rock Climbing
If the monotony of running bores you, say no more. This isn't a staple at most gyms but Google if there's an indoor rock climbing gym near you; they're around. Rock climbing requires the upper body to be in a state of constant exertion, which gets your heart rate up and keeps it up at an intensity equal to or better than going for a jog. So, if you find yourself avoiding the chore of more conventional cardio workouts, this might be a fun one for you to try out.
2. Boxing
All forms of boxing are another great source of cardio. If you go to the gym with a spotting buddy, try turning him into your sparring body and go for a couple rounds of boxing, kickboxing, Muay Thai — anything works. If you're more of a lone wolf type in the gym you can try just punching the bag for a solid twenty or thirty minutes; that'll get your blood pumping better than a relaxing jog in the park.
3. Try the rowing machine.
The rowing machine is a great piece of workout equipment available in almost any standard gym across the country that doesn't get a lot of love. The truth is, the rowing machine has so much to offer: it's a great source of cardio because of the adjustable tension in the bands, and it also gives you a great workout in your upper arms and back that you wouldn't simultaneously be getting if you just go for a jog. What's not to love?
4. Biking or stationary bike
This is a pick-your-poison type scenario. If the reason you hate jogging is because you don't like being outdoors, than biking isn't likely to help you get more cardio in. A stationary bike might be a good fit for you since they're also available at almost any gym and can be knocked out in tandem with whatever workout you happen to be doing there.
However, if you're looking to get some fresh air or be in nature, a long bike ride — try challenging yourself with an incline if you're really looking to get your heart rate up — might be just what you're looking for.
5. Jump squats or burpees
Finally, if you're a fan of HIIT, this type of cardio infusion is more your speed. Jump squats and burpees, when done rapidly and in small amounts, can really increase your cardio and overall gains from your workouts. If biking or rock climbing seem like too much of a new time investment, this is an easy way to take whatever existing workout you're working with and inject some cardio inside.
The next time you're strength training, challenge yourself by doing 20 seconds of jump squats or burpees alternating with 20 seconds of rest for about 5 minutes — you'll be amazed at how fast it gets your blood pumping.