Craig Golias has had enough of the haters.
When it comes to hardcore bodybuilders training to obtain the ultimate physical form. To a bodybuilder of true resolve there's nothing worse than an individual who utilizes substances like synthol oil to earn some kind of adulation and respect. Being a cheat has never stood well with many bodybuilders yet the idea of using steroids tends to be treated with kid gloves. Perhaps it's the realization that some of the men at the top of the sport, athletes that are idolized by these same average Joe bodybuilders, couldn't get to that size without the aide of anabolic substances. But does that leeway give rise to the same synthol users that so many bodybuilders hate?
[wptouch target="mobile"]
[/wptouch]
[wptouch target="non-mobile"] [/wptouch]
Craig Golias has been labeled as a synthol cheat, though there isn't any concrete evidence to prove the fact. He has a massive frame, one that he claims to be all natural. But many are unwilling to believe that a man could get so massive through simply dieting and training hard. Well for all those who doubted Golias before, the man has a few words he wants to say to all his detractors.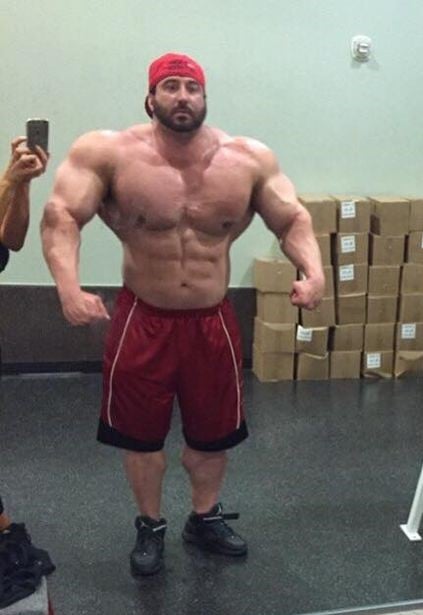 "I find it amazing how drastic the human body can change with hard work and dedication. Can't believe the arm in the left picture can actually turn into the arm in the right picture. Everyone wants to point finger and say "I can look like that if I took juice too" the question is…then why don't you? Because you don't have the dedication or genetics? Or maybe your just a hater? Either or it takes a lot of time and effort to be a bodybuilder so instead of bashing someone or saying they don't look to your caliber of physiques why don't you give support? Or encouragement to keep on going! The smart people on here know it's a lot of hard work and discipline. I try my best to encourage everyone to keep going and remind them that there doing great! Let's keep it positive! And motivate each other to follow there dreams! We're all busting out asses here! We're all eating our asses off and we're all training hard as hell! Let's keep it going and never give up till we are where we all want to be!"
Could it be possible that Craig Golias isn't utilizing synthol? Really, until there's evidence to prove otherwise it's hard to say. Simply labeling him as a synthol cheat won't truly bring to light anything. For now his reputation may be tarnished in the court of public opinion, but that still isn't enough to fully condemn the man for now.
[wptouch target="mobile"]
[/wptouch]
[wptouch target="non-mobile"][/wptouch]
[wptouch target="mobile"][/wptouch]
[wptouch target="non-mobile"][/wptouch]
What's your thoughts on Craig Golias?
Let us know in the comments and follow Generation Iron on Facebook and Twitter. Also, be sure to share, like, and comment to show your support.