This hex bar can provide options to switch up traditional deadlift training for less stress and bigger gains.
Product Overview
While a traditional barbell is great for many exercises to see huge growth and performance, a hex bar is something to be used as a great variation to change up your workouts. Perfect for a home gym, since no full Olympic set or rack is needed, these exercise tools are great for your at-home use to keep you moving. With gyms closed or still at limited capacity, building up a nice home gym is a great way to stay fit from the comfort of your own home.
American Barbell Hex Bar is one such bar perfect for all of these benefits. An excellent option to switch up your workouts and provide support, especially with deadlifts, this hex bar will surely help you see great gains. Providing comfort and a change in your setup, this will put less stress on you and provide opportunities to improve upper body and grip strength.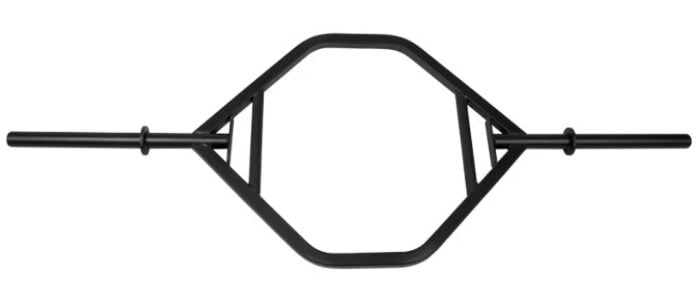 American Barbell is a company with 40+ years of experience in the commercial fitness industry. Supplying big name gyms with excellent equipment, they seek to offer the same benefits to people who want this kind of quality in their home gyms. Their mission is to provide premium products and service with the purpose of giving all of their customers the opportunities to succeed in their strength training goals. Using domestic and international manufacturing and sourcing solutions, you can be sure you are getting the best quality around with American Barbell.
---
See where American Barbell Hex Bar fell on our list of the Best Barbells!
---
American Barbell Hex Bar Highlights
American Barbell Hex Bar is great for switching up the traditional deadlift exercise while also allowing versatility in a number of workouts. By working to reduce stress on your lower back and having the ability to keep the bar close to you, you engage different muscle groups from this effective and high quality workout tool.
While you don't need a rack, this bar is fully rackable and fits all Olympic plates. This hex bar is 85'' long with a 16'' loadable sleeve and weighs 40 lbs. The loadable sleeve length is 16'' and the knurled handles are great for enhancing grip.
Benefits Of A Hex Bar
The benefits of a hex bar offer versatility and a change in many facets of your lifts. A hex bar is a great partner to the traditional barbell so all of your different needs are met.
Benefits of a hex bar include:
Reduced back stress: With your hips in the center of the bar, the weight is closer to your center of gravity.
Deadlift heavier: With less stress and the ability to load more , your deadlifts will grow exponentially.
Great alternative: Use similar muscle groups while aiding in other exercises.
Great for beginners: Easy to learn and simple to use, this is perfect for those just starting out.
Enhance growth and grip strength: Really target the upper and lower body while working on solid grip strength (1).
Price & Effectiveness
American Barbell Hex Bar is an effective and worthwhile lifting tool to seriously enhance growth and work for functional strength.
Pros: Great durability and can withstand heavy weight. Bar and handle size work well for all levels and all athletes. From a reputable company in American Barbell.
Cons: Doesn't accept a standard Olympic collar and there is an option for a collar to buy from them directly. The ends are hollow and are not protective against cutting you.
Price: $295.00
Showcased Athlete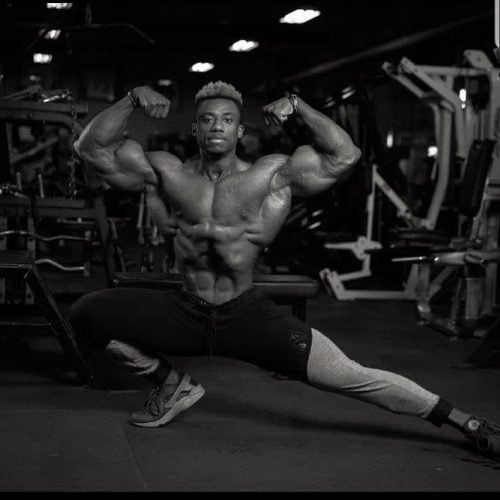 Steve Laureus is an IFBB pro bodybuilder competing in the Men's 212 Division against some of the top athletes in the world. Always striving to stay on top of his game, Laureus uses American Barbell for his fitness equipment to really get a pump and allow this versatile equipment to do the work for him. Laureus has walked the stages at the Arnold Classic, New York Pro, and Mr. Olympia, chasing down the title of being the best in the world. With the help of American Barbell and their mission to allow athletes to succeed with the help of great equipment, Laureus is well on his way to taking down fellow competitors in his quest for the coveted title of best in the world.
Overall Value
American Barbell Hex Bar is a great fitness tool to really get you to where you need to be. A hex bar and the benefits it provides are perfect for enhancing growth, working on full body functionality, enhancing grip strength, and really getting your workouts to a safe and efficient place. American Barbell is committed to giving you the best products around so your lifts never stop growing. What you are really getting is a high quality and durable product at a good price from a reputable company. Try American Barbell Hex Bar today and add that much needed versatility to your workouts.
Try American Barbell Hex Bar Here
Generation Iron may receive commissions on purchases made through our links. See our disclosure page for more information.
Let us know what you think in the comments below. Also, be sure to follow Generation Iron on Facebook, Twitter, and Instagram. 
*Images courtesy of American Barbell and Steve Laureus Instagram
References
Lockie, Robert G.; Lazar, Adrina (2017). "Exercise Technique: Applying the Hexagonal Bar to Strength and Power Training". (source)