Terrence Ruffin wins Classic Physique at the Arnold Classic 2022.
The Arnold Sports Festival was back to normal this year with the event taking place over the course of the first weekend in March. During the bodybuilding portion, Classic Physique attempted to steal the show. On Friday night, Terrence Ruffin was crowned champion at the Arnold Classic 2022 in the Classic Physique division for the second consecutive year.
This was a very top-heavy division and it showed during prejudging. Ruffin headlined the callouts, along with Ramon Rocha Queiroz and Breon Ansley. Urs Kalecinski rounded out a group of four competitors who were all top-five finishers at the 2021 Olympia. This competition was wide open this year but it was Ruffin  who quickly took control on Friday night.
The best poser award was introduced to the Classic Physique division last year with Logan Franklin winning the inaugural award. This year, it was Ruffin who earned the honor and swept the night.
The full results have been announced. Check out our full breakdown of the Classic Physique division of the Arnold Classic 2022 results below.
Arnold Classic 2022 Classic Physique Results
First Place – Terrence Ruffin ($60,000)
Second Place – Ramon Rocha Queiroz ($30,000)
Third Place – Urs Kalecinski ($20,000)
Fourth Place – Breon Ansley ($7,000)
Fifth Place – Michael Daboul ($4,000)
Sixth Place – Peter Molnar ($2,000)
Seventh Place – Divine Wilson
Eighth Place – Darwin Uribe
Ninth Place – Lenny Wicks
Classic Physique Highlights
View this post on Instagram
View this post on Instagram
View this post on Instagram
View this post on Instagram
View this post on Instagram
Previous Winners
2021: Terrence Ruffin
2020: Alex Cambronero
2019: George Peterson
2018: Breon Ansley
Official Score Card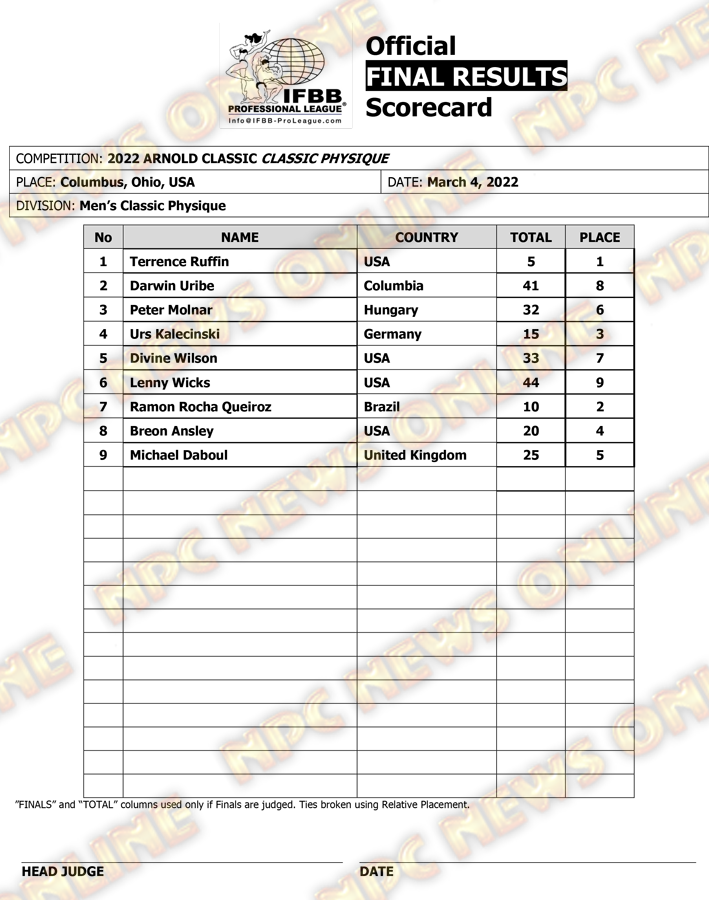 Generation Iron Fitness Network will provide coverage of the full Arnold Classic 2022 event including pre-judging reports, analysis, and results updates. Stay tuned to Generation Iron and visit our official Arnold Classic 2021 coverage hub right here!