Is Arnold Schwarzenegger passing the torch?
Ever since he won seven Mr. Olympia titles, fans have often wondered and speculated as to who the next Arnold Schwarzenegger would be. The truth is that Arnold is one of a kind and is likely to never be replaced by anyone who chooses to hit the gym, hop up on stage, and hit a pose. Arnold was more than just a bodybuilder. It was his mentality, his charisma, and intelligence that set him apart from other competitors in the sport. But on a purely genetic level it seems that we may have the answer to that much asked question.
[wptouch target="mobile"]
[/wptouch]
[wptouch target="non-mobile"]

[/wptouch]
.
Joseph Baena, Arnold's eighteen year old son, is the spitting image of his father during his younger years. This has led many to speculate that Joseph may have the tools to become like his father before him. When your father is Arnold Schwarzenegger it's hard to imagine that you wouldn't take well to weight training. There may not be a confirmation on how far Joseph is planning to go with his training, but it at least appears that he has one of the finest trainers out there in his corner. TMZ was able to catch a glimpse of Joseph Baena training with Arnold Schwarzenegger at the Mecca of bodybuilding, Gold's Gym.
"Arnold Schwarzenegger worked it out with the son who has become his spitting image.

Arnold showed Joseph Baena the ropes Saturday at Gold's Gym in Venice.  The 18-year-old is jacked like an up-and-coming Mr. Universe, but the Pepperdine business major has other aspirations.

Arnold was bragging in the gym … Joseph's pulling straight A's.

We haven't seen a single pic of the Arnold and Joseph together since he was a small boy, although we know the 2 were always in contact."
For more information vistit TMZ.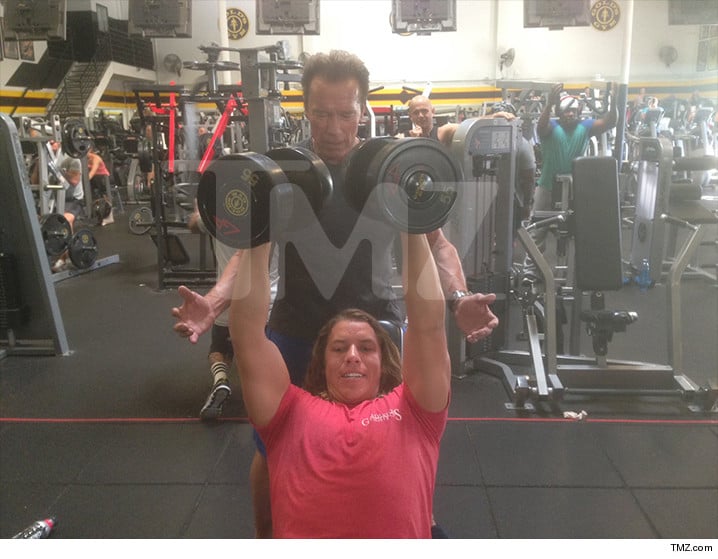 Do you think Josepha Baena and Arnold Schwarzenegger will become the next father-son bodybuilding team?
Let us know in the comments and follow Generation Iron on Facebook and Twitter. Also, be sure to share, like, and comment to show your support.
[wptouch target="mobile"]
[/wptouch]
[wptouch target="non-mobile"]
[/wptouch]
[wptouch target="mobile"] [/wptouch]
[wptouch target="non-mobile"][/wptouch]