Ashton Rouska is the new 110 kg USAPL Raw Nationals king.
Ashton Rouska recently set the squat and all-time world record at the drug-tested USA Powerlifting Raw Nationals. The talented powerlifting champion took top honors in the 110 kg division where he and fellow competitor Bobb Matthews reign supreme. Rouska has now cemented himself as the man to outperform in the 110 kg division with his overwhelming total numbers.
The battle in the 110 kg division was the fiercest of them all at the USAPL Raw Nationals. Both Ashton Rouska and Bob Matthews fought tooth and nail, each man bringing their A game. While it was a closely contested showdown, it would be Rouska who would come out on top, setting records in the process.
In his record-setting squat performance, Ashton Rouska would heft an astounding 380.5 kgs (838.9 lbs). The squat now sits as the new drug-tested world record in the 110 kg division. Rouska hit a 968 kg (2134 lb) total which is also the new record in the 110 kg division.
The Breakdown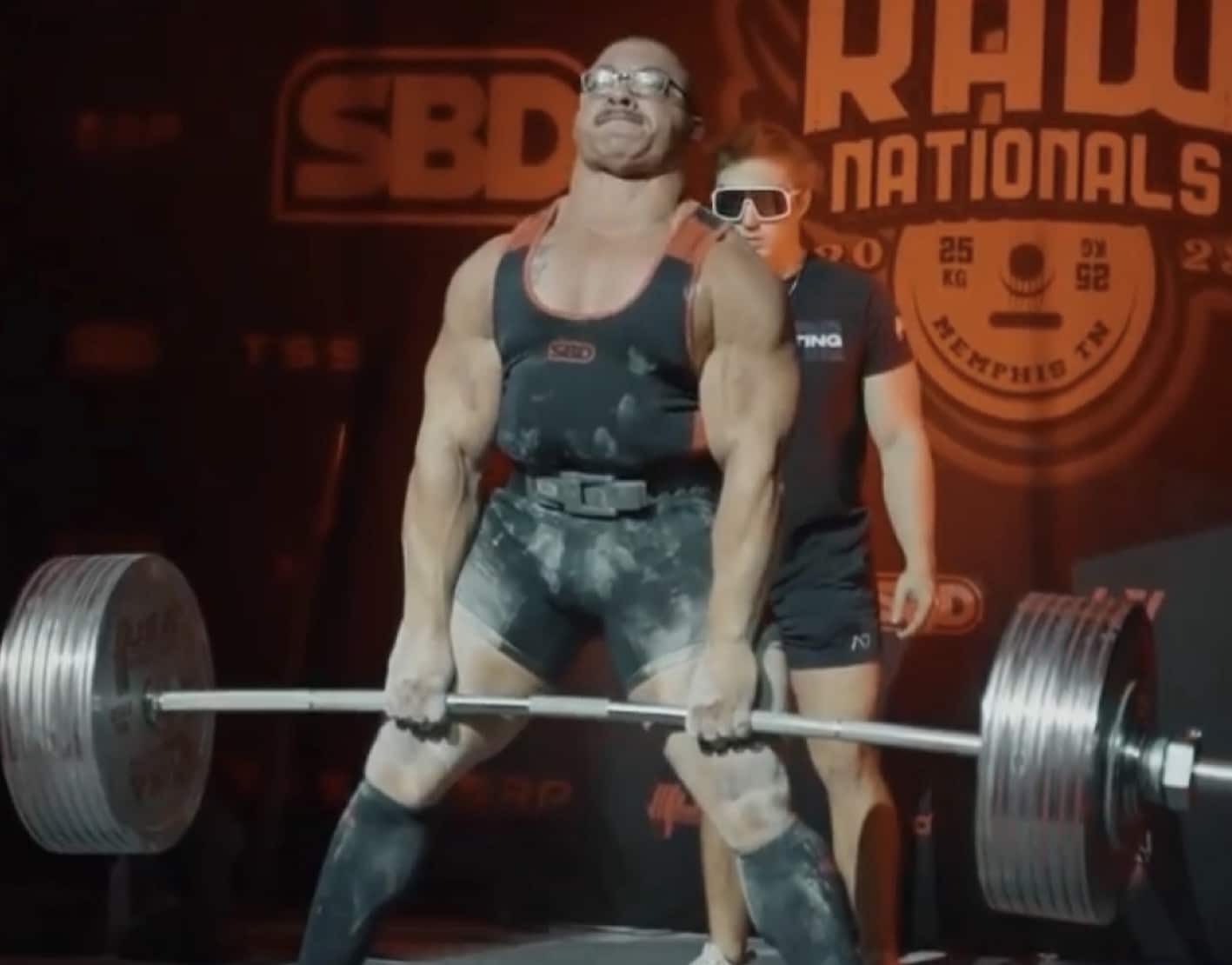 Ashton Rouska went into detail about his dominant performance and his hopes for the future.
USA POWERLIFTING RAW NATIONALS 2023, 110KG CHAMPION

SQ: 380.5kg/838.85lbs

BP: 215kg/474lbs

DL: 372.5kg/821lbs, 388.5kg/856 lbs (x)

Total: 968kg/2134lbs, BW: ~233 lbs

7/9 successful registered attempts
Squat
"Excellent execution and attempt selection. We took low end 3rd attempt to save the back for deadlift, which paid off. Had a little room left here on the day."
Bench Press
"Missed 485 lbs right at lockout which was surprising. Felt much more unstable than usual due to meet moving faster than expected and only taking 2 warm-ups (155, 407). I know for a fact I underperformed here and I'll leave it at that."
"Intent was to pull conventional but my back was in considerable pain after squats, so we opted to pull sumo halfway through warm-ups. I knew I'd have to take a big jump to my second deadlift (47.5kg) to gain the lead. My third deadlift, while successful, was called 2-1 and after reviewing the footage I could see it going either way and I think it's a fair call. 856 lbs actually didn't feel as heavy as I was anticipating given the day we had."
View this post on Instagram
Rouska Performance Review
It's clear that Ashton Rouska isn't resting on his laurels and is looking to push himself to even greater heights.
"Just inches from a 9/9 and 990.5kg/2182 lbs total. I can taste 1000kg+, it's on the horizon. Have to be patient and stay the course.

"This was the fiercest direct weight class battle I have ever had the pleasure of competing in and I am so grateful to have great competitors to push me far beyond what I thought I was capable of on the day. Only TRUE competition can do that and I respect them for it. Any one of us could have walked away with that dub. Blessed to be part of such a historic competition and win or lose I was thrilled to be hanging along with the best in the world.

"Blessed to have placed first and come out on top. We did it. The journey to push further into the realm of superhuman strength continues. ♥️✊🏾

"In strength we trust."
Ashton Rouska continues to cement his name in powerlifting history. It will be interesting to see where his career goes from here.
For more news and updates, follow Generation Iron on Facebook, Twitter, and Instagram.
---
News and Editorial Writer at Generation Iron, Jonathan Salmon is a writer, martial arts instructor, and geek culture enthusiast. Check out his YouTube, Instagram, Twitter, Facebook, and Sound Cloud for in-depth MMA analysis.