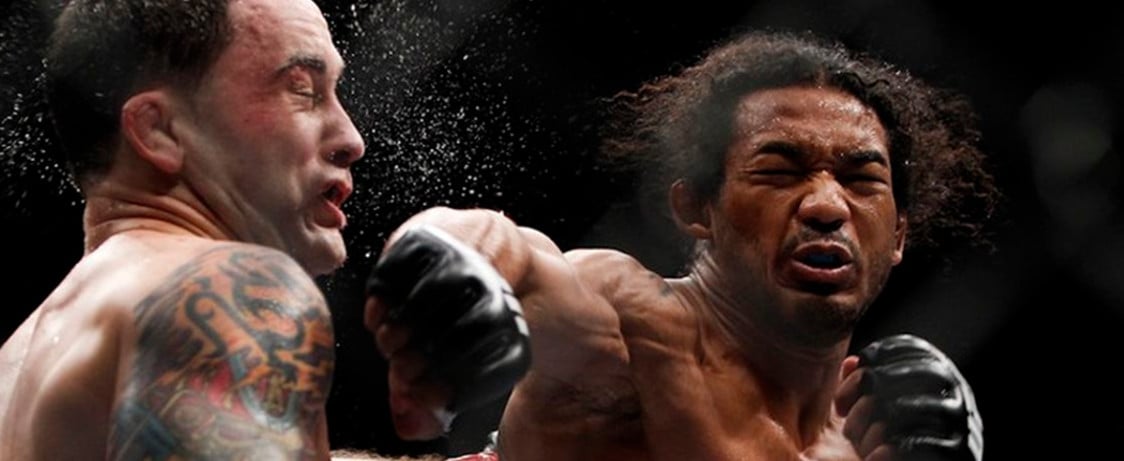 The road less traveled.
The super always soulful and always "smooth" Ben Henderson has officially made the move from UFC to Bellator. In a post on his official website Benson Henderson announced that he appreciated all the things UFC has done for him but after much consideration would be moving to the Via-com backed Bellator MMA – which airs on Spike TV. Ben Henderson purposely let his contract expire in order to test his value on the open market – it looks like the new to pay-per-view company won. Check out the post below: The Move
I'd like to officially announce my move over to Bellator MMA I'm beyond excited for this next phase of my career, it's a big move, like any move when switching employers or jobs after having worked somewhere for such a long time. I have to thank the BigMan upstairs for putting some amazing people in my life, my wife (first and foremost) and a lot of truly smart and insightful people behind the scenes who helped make the connections and negotiated this deal to bring it to fruition. I'd be remiss to not thank Dana White and Lorenzo Fertita for the opportunities they presented me, you guys have helped me change my life for the better and to be able to provide my family with the things I didn't have while growing up. For that I'll always have the utmost appreciation. Thanks for all the advise you guys gave too, both business wise and personal. And last but not least, to who it is I think of when I think of the UFC! Everybody behind the scenes who I personally dealt with every time I reported in or had to do something. Mayra, Melissa, Dave, Chris, Nick, Tracy, Joanie, Maura, Tony, Heidi, Ryan, James, Dave, Kaia (sp.???), Burt, Rob, Rudy, Stitch, House, Mike, Susie, Dean, Donna, Feryal, Sean, Joe, Brad, Jazzmine, Candice, Michelle, Reed, sorry I can't name everyone or this list would go on for forever. There's a whole ton of people behind the scenes who make that show what it is. You guys and girls are the ones who make that show great and allow us fighters to do what it is we love!!! Much love to you all and thanks for putting up with me for so long. To my fans, thanks for all the love and support, I'll keep giving you my all, opening up my heart and soul inside that cage. I'm excited for this next chapter and building new relationships with guys I've heard nothing but great things about like Scott Coker, Rich Chou and Mike Kogan. #TheOnceAndFutureKing BH
With another UFC fighter choosing to fight in the smaller circuit of Bellator, the move begs the question – will Ben Henderson start a revolution? We know what you're thinking, Phil Davis left and no one really batted an eye. While this is true, and we agree the show will go on, the signing of Benson Henderson makes Bellator a viable option. Previously thought of as either a scouting ground for upcoming talent or where UFC vets go to die – with the acquisition of Ben Henderson – Bellator MMA has now become a legit breeding ground of talent. While Phil Davis definitely had a name and was up there with the top contenders – "Smooth" Ben Henderson is a former UFC lightweight title holder who is still at the top of his game. He could fight Dos Anjos, or Robbie Lawler tomorrow and people would still tune in. They have a legit contender for best in the world for their 155 or 170 weight classes and that's serious business. Bellator President Scott Coker says he thinks "this is just the tip of the iceberg".  "Fighters are fighting out their contacts. They want to negotiate. They really want to see what their value is. We're going to help them to define what their value is. It's always good for the industry to have more than one bidder" – Coker says. As far as will Ben Henderson get a title shot for his first fight? Coker is quite candid about it, "If he wants to go for the belt, c'mon," Coker said. "The guy has done it all. How can you say he doesn't deserve a shot? He's been there and done that. For me, we would have no problem doing it." With the blatant favoritism of the UFC –  showing their a$$es for capital gain, free agents like Alistair Overeem, Aljamain Sterling, and Matt Mitrione might be making the switch, and Ben Henderson has possibly opened the floodgates. No matter how you feel about the decision I think we can all agree that this is a good thing. With the UFC virtually having a monopoly on talent, diversification and competition should bring out the best out of MMA. With smaller circuits coming up in the game, this gives fighters more power and leverage, as well as forcing owners to play fair or else face the loss of a big name. But what do you guys think? Is Coker right? Will the move start a revolution? Let us know in the comments section below. Don't forget to follow us on Fbook, Insta, and Twitter Lionel Harris-Spence is an MMA junkie and Krav Maga head. In his free time you can catch him making movies or down at your local pub. Follow him on Twitter.