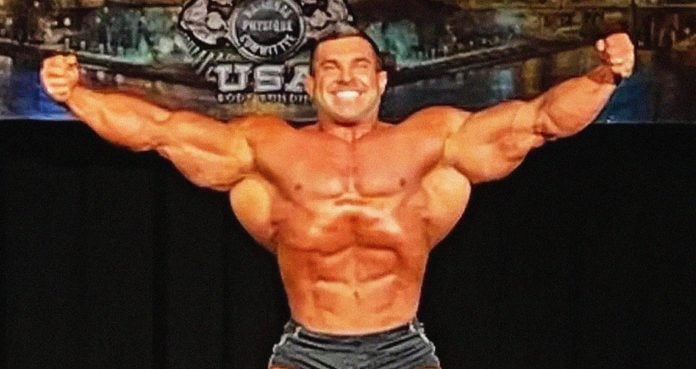 Derek Lunsford shocked fans with a massive guest posing at the star studded 2022 Pittsburgh Pro.
Derek Lunsford gave us an up close and personal look at his latest physique during his guest posing at the 2022 Pittsburgh Pro – which commenced on May 7, 2022. This is Lunsford's first on stage appearance of 2022. While this is still a strong seven months away from the Mr. Olympia, it provides fans with some insight into his offseason physique as he trains to potentially win his third Olympia title later this year.
The Pittsburgh Pro is a notable pro bodybuilding competition for being run by IFBB Pro and NPC president Jim Manion himself. Due to this, the Pittsburgh Pro always has a star studded roster of elite IFBB Pro competitors take the stage to guest pose. Beyond Derek Lunsford, Brandon Curry, Nick Walker, and Hunter Labrada all took the stage to guest pose as well.
Many fans were expecting to see Big Ramy take the stage at the Pittsburgh Pro – but he ended up being a no-show. Instead, Derek Lunsford made a surprise appearance and looked truly massive. In fact, many fans were pointing out that he looked as large or even larger than many of the Men's Open competitors who guest posed alongside him that night.
Derek Lunsford is the current Men's 212 Olympia champion – but his physique here showed that he could truly hold an impressive and controlled physique weighing well over the 212 limit.
View this post on Instagram
View this post on Instagram
Derek Lunsford is the number one competitor to beat at the 2022 Men's 212 Olympia. Lunsford truly shocked and impressed at the 2021 Olympia, knocking out the returning champion Shaun Clarida. After many years of impressive showings, Lunsford transformed into perfection that night with a shock and awe performance. Many believe that if he could keep that kind of consistency, he will be an Olympia champion for years to come.
Most notable this weekend was the fact that Derek Lunsford was the only non-Men's Open competitor guest posing. Derek Lunsford took the stage alongside Brandon Curry, Nick Walker, and Hunter Labrada. Not only did Lunsford look impressive in his own right – he looked fantastic standing side by side with the other Men's Open competitors. This spurred many fans to wonder if he will one day transition into the Men's Open division.
Many Men's 212 competitors have transitioned to Men's Open over the past few years. Most notable is Hadi Choopan – who has placed in the top five consistently in Men's Open at the Olympia. Perhaps Lunsford can have the same kind of success if he transitioned upwards. He can hold much more size and height that Choopan – which might give him an even better advantage based on what we saw during the guest posing this weekend.
This is all just speculation though. For now, the main takeaway is that Derek Lunsford is still the number one competitor to beat at the Men's 212 Olympia later this year. A lot can change over the next seven months, so nothing is set in stone. But this offseason physique was so impressive – many will hype Lunsford further for the rest of this season.