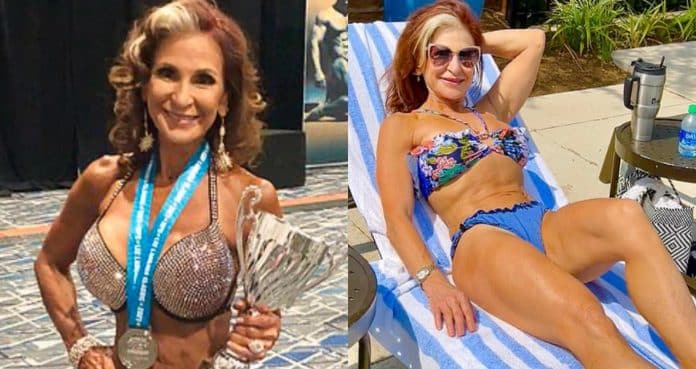 Renee Landers, mother and grandmother, began bodybuilding following back surgery.
Renee Landers, a mother and grandmother from Houston, got a new view on life following back surgery after the birth of her son. Now, Landers feels better at 70 years old than she did in her 20s thanks to her passion for fitness.
Prior to the birth of her son, Landers would run five or six miles a day. She suffered severe backspin following the birth of her only child and could not run. For 25 years, Landers struggled to do any physical activity because of the pain. That would all change when she went through a lower lumbar fusion surgery in October 2009.
Landers hired a personal trainer once she was recovered from surgery and began working out again. Now, Landers has taken her passion to the next step on stage.
"This is the fittest I have ever been and I look and feel better than I did when I was in my twenties," Landers said.
Renee Landers and Her Bodybuilding Journey
In May 2021, Landers stepped on stage for the first time in a bodybuilding competition. At 69 years old, she was the oldest competitor by 20 years but she did not let this get in the way of her goal of becoming a bodybuilder. She finished sixth in the event and she remembers it as one of the best days of her life.
"It was a highlight in my life. After having my son and my grandchildren, it was the best day of my life."
It was not easy for Landers to step on stage for the first time. Now that she was able to break the ice, Landers has competed in four shows since that magical day in May 2021. These competitions have spanned across Texas and California as she continues to stand next to competitors who are younger.
"I was terrified to put on a skimpy and sparkly bikini, as I was nearly 70 and at least 20 years older than the next oldest person there. But now I know that 70 and sexy can go together, as I'm living proof."
Now 70 years old, Renee Landers is more motivated than ever to continue competing. She is living proof that age is truly just a number and it is all about how you feel.
"I am definitely not slowing down. This is my life and this is how I want to live. I can't wait to compete again. I'm having a blast. I feel so fortunate to be doing this and I can't believe I am 70."
For more news and updates, follow Generation Iron on Facebook, Twitter, and Instagram.