Former Classic Physique champion Breon Ansley did not wait until Saturday to show off his physique.
Breon Ansley is one of the best Classic Physique competitors in the sport. He is a two-time Olympia champion and is looking to get his title back from reigning champion Chris Bumstead. Ansley started off the Olympia press conference with some fire, confidence, and even a sneak peek.
Ansley and Terrence Ruffin started out the press conference before being joined by Bumstead on stage. There was a confidence from Ansley that believes he can get his title back at this year's competition. He even chose to show off his physique earlier than expected.
Breon Ansley stated that no one had to wait until the weekend to show any progress made from last year's competition. He did so by removing his shirt and posing down a bit early.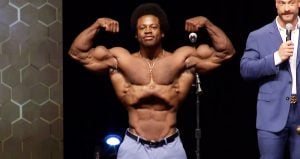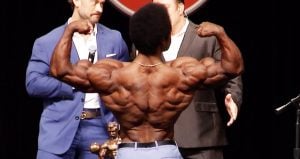 Ansley went through a stretch where he was difficult to defeat. He took home back-to-back titles in Classic Physique at the Olympia in 2017 and 2018. Ansley also won the Arnold Classic is 2018. At 41 years old, Ansley is still competing at a high level and wants to show that he is not regressing.
Bumstead has won back-to-back competitions and it began in 2019. Ansley finished second at this competition and fell to third in 2020. Ruffin was able to jump Ansley in last year's competition for a second-place finish. Ansley believes that he was not at his best and this is why he fell to third.
Breon Ansley was up on stage posing on his own as Bumstead and Ruffin did not participate. Bumstead believes that the other competitors are fighting for second place and he will make it three in a row. He has been active on social media showing off his recent physique. As for Ruffin, he is coming off an Arnold Classic win two weeks ago and is in the best shape of his career.
The Classic Physique competition is one that will be exciting on Saturday. With the athletes at the top, it should be as good as it gets.
For more news and updates, follow Generation Iron on Facebook, Twitter, and Instagram.