Nick Walker wins Men's Open at the Arnold Classic 2021.
The Arnold Classic 2021 was postponed due to COVID-19 and cut down to one day. There were a total of four events that took the stage in Columbus, OH — Men's Open, Classic Physique, Bikini, and Fitness. The results have been announced and it is Nick Walker who wins the crown in the Men's Open. Walker takes home the title in his debut in the competition.
The Men's Open division was hit hard with some of the top names dropping out for different reasons. This did not take anything away from the event as some of the top competitors in the world put on a show during the finals.
Prior to the results being announced, the Ed Corney Most Muscular Award was given to Nick Walker. For the second-straight year, Sergio Oliva Jr. took home the Franco Columbu Best Posing Routine Award.
The full results have been announced. Check out our full breakdown of each division at the Arnold Classic 2021 results below.
Arnold Classic 2021 Winners
Here are the first place winners for each division at the Arnold Classic 2021.

Arnold Classic 2021 Men's Open Results
First Place – Nick Walker
Second Place – Iain Valliere
Third Place – Steve Kuclo
Fourth Place – Justin Rodriguez
Fifth Place – Akim Williams
Sixth Place – Sergio Oliva Jr.
Seventh Place – Mohamed El Emam
Eighth Place – Maxx Charles
Ninth Place – Hassan Mostafa
Tenth Place – Seung Chul Lee
Arnold Classic 2021 Most Muscular Award
Arnol Classic 2021 Best Posing Routine Award

Arnold Classic 2021 Classic Physique Results
The Classic Physique division was extremely deep at this year's Arnold Classic. The top two finishers from last year returned, in Ruffin and Alex Cambronero. This also included some newcomers looking to make an impact. Bryan Jones and Peter Molnar led the way for the newcomers, along with Logan Franklin, who has competed at the Arnold Classic in the Men's Physique division previously.
First Place – Terrence Ruffin
Second Place – Alex Cambronero
Third Place – Logan Franklin
Fourth Place – Courage Opara
Fifth Place – Bryan Jones
Sixth Place – Fabian Mayr
Seventh Place – Dani Younan
Eighth Place – Peter Molnar
Ninth Place – Tony Taveras
Tenth Place – Jarek Crew

Arnold Classic 2021 Bikini Results
This might have been one of the deepest Bikini finals at this event in years. Dorieand Lauralie Chapados headlined the event, along with Ashley Kaltwasser, who is a two-time winner at this event. Elisa Pecini returned as the reigning champion and made an impact during prejudging as well.
First Place – Jennifer Dorie
Second Place – Elisa Pecini
Third Place – Lauralie Chapados
Fourth Place – Ashley Kaltwasser
Fifth Place – Romina Basualdo
Sixth Place – Breena Martinez
Seventh Place – Jasmine Gonzalez
Eighth Place – Jourdanne Lee
Ninth Place – Gabriella Messias
Tenth Place – Priscila Leimbacher

Arnold Classic 2021 Fitness Results
Fitness featured eight of the top competitors in the world, such as Truscott and Ariel Khadr. This was a competition that went right into the night portion with the race being close for the top spot. The prejudging round set up the finals in a big way and it did not disappoint.
First Place – Missy Truscott
Second Place – Oksana Grishina
Third Place – Ariel Khadr
Fourth Place – Jaclyn Baker
Fifth Place – Aurika Tyrgale
Sixth Place – Darrian Borrello
Seventh Place – Minna Pajulahti
Eighth Place – Sally Kendall-Williams
Official Score Cards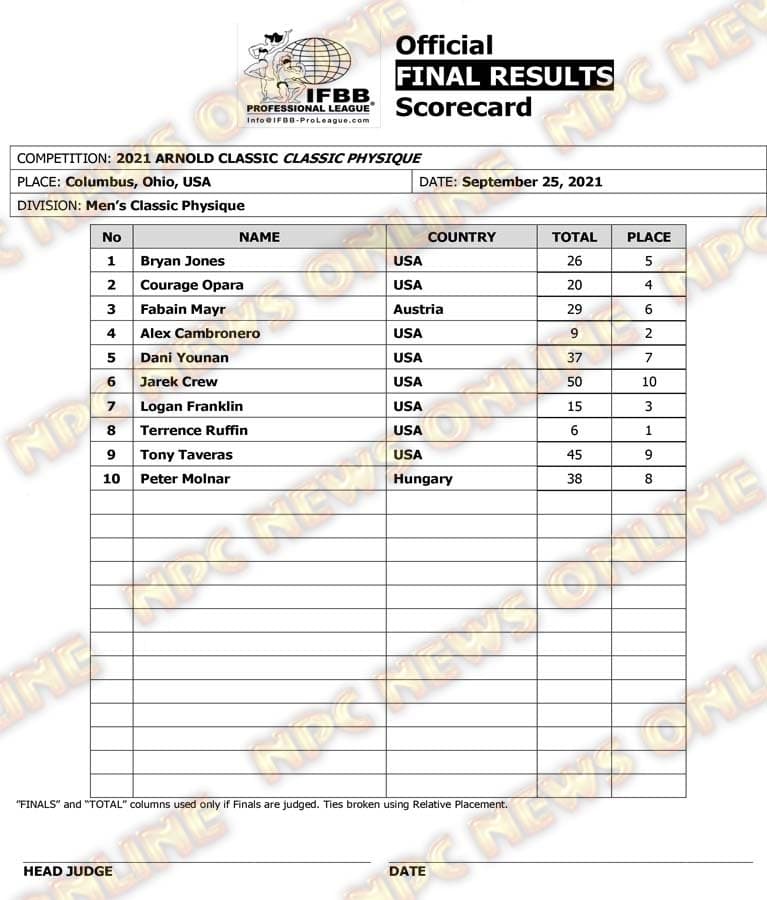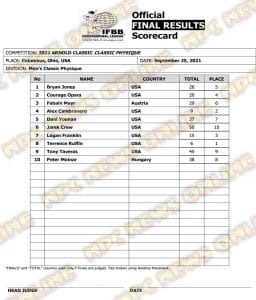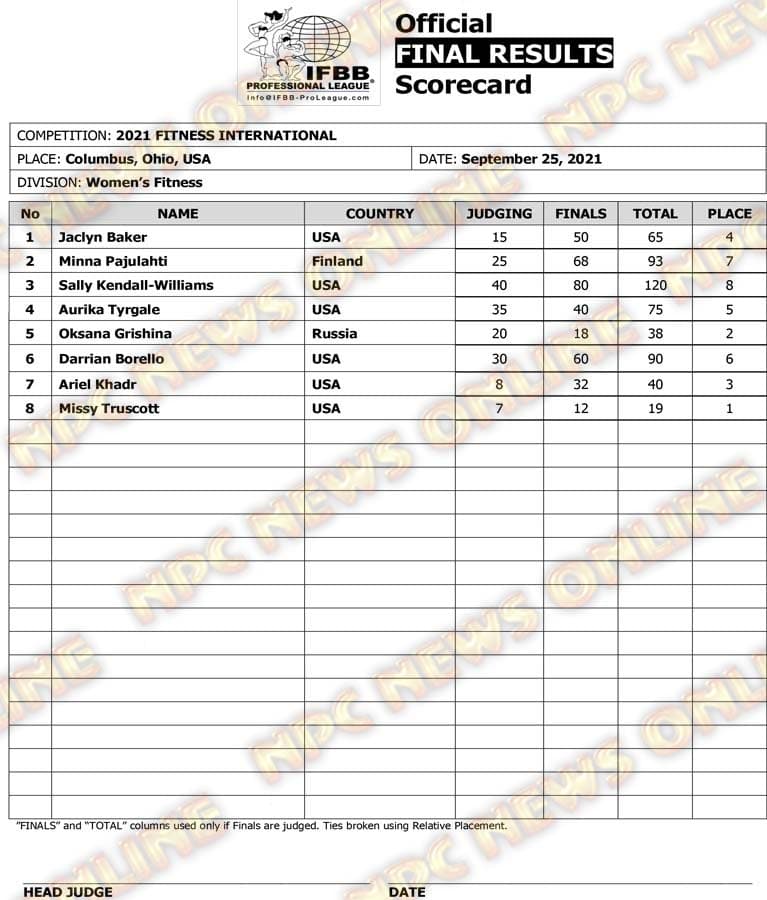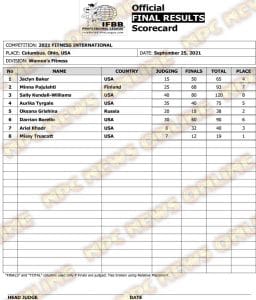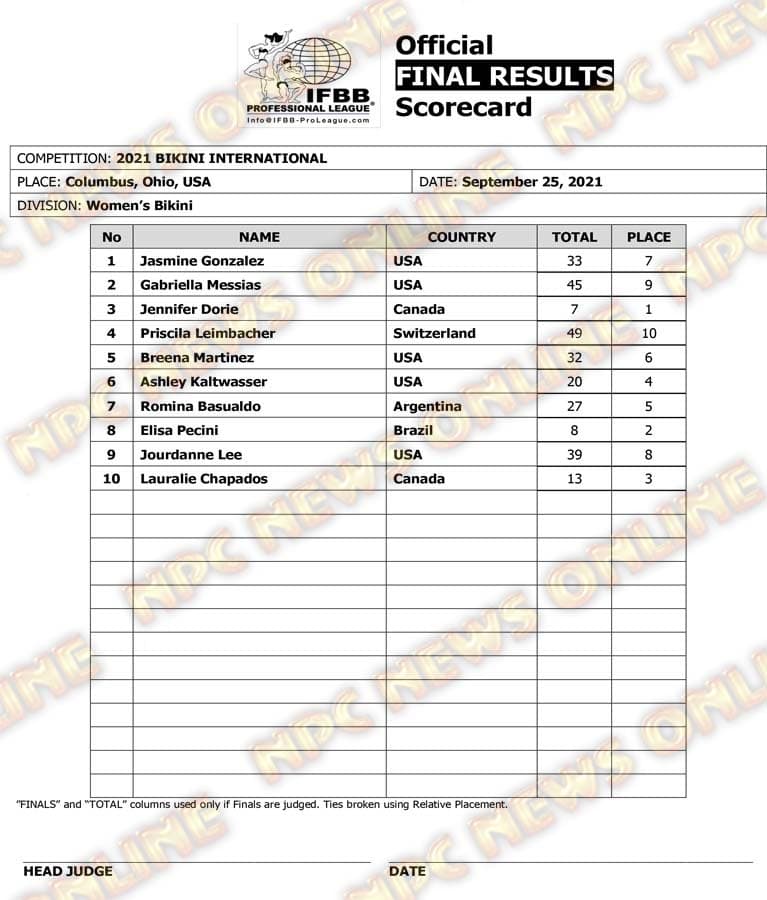 Generation Iron Fitness Network will be coverage the full Arnold Classic 2021 event including pre-judging reports, analysis, and results updates. Stay tuned to Generation Iron and visit our official Arnold Classic 2021 coverage hub right here!