My condolences go out to Joao's family and his team. Their man was a hell of a fighter and will be sorely missed by all.
Total extreme fighter Joao Carvalho was announced dead yesterday after injuries sustained during his TKO loss to fellow middleweight Charlie Ward. He was dropped with a right hand during the fight at which Charlie Ward took his back and finished him with a flurry of right hands. After the bout Joao Carvalho complained of feeling ill and was rushed to the hospital was he was said to be in serious condition. He was pronounced dead late Monday morning. Conor McGregor who was at the event, shed his thoughts on the surprising death of the young fighter. Conor McGregor:
Terrible news regarding Joao Carvalho. To see a young man doing what he loves, competing for a chance at a better life, and then to have it taken away is truly heartbreaking. We are just men and women doing something we love in the hope of a better life for ourselves and our families. Nobody involved in combat sports of any kind wants to see this. It is such a rare occurrence that I don't know how to take this. I was ringside supporting my teammate, and the fight was so back and forth, that I just can't understand it. My condolences go out to Joao's family and his team. Their man was a hell of a fighter and will be sorely missed by all. Combat sport is a crazy game and with the recent incident in boxing and now this in MMA, it is a sad time to be a fighter and a fight fan.  It is easy for those on the outside to criticise our way of living, but for the millions of people around the world who have had their lives, their health, their fitness and their mental strength all changed for the better through combat, this is truly a bitter pill to swallow. We have lost one of us. I hope we remember Joao as a champion, who pursued his dream doing what he loved,
Though everyone said he seemed fine after the event and praised the medical staff and the organisation for their handling of the fighter afterwards, there is still a lingering question of whether the fight went on too long? We've provided you with a video of the stoppage below. https://youtu.be/Lp0brVc1094 Could the fight have been stopped earlier? Yeah it could've. Should it have been stopped earlier? well that's what's up for debate. From this angle it looks like the fight should've been stopped. It  seems Joao was eating hard right hands with no intelligent movement or defense. A big defender of letting fights go on a little longer, there's a big difference between the pitter patter shots of a Neil Magny vs. Hector Lombard and the booming shots of right hands at that angle. But I digress, ultimately I wasn't there and hindsight is 20/20. None of the fans seemed to complain about the stoppage and from all accounts everyone thought the fighter looked fine after the bout. After the fact, Conor Mcgregor did put out a statement to MMA Connect TV saying the bout could've been stopped sooner but praising the staff for their efforts afterwards.
"My teammate Charlie had a good win just there. hell of a fight. Yer man took some big shots. Thought it could have been stopped a little earlier. I feel these referees need to be on the ball a little bit," "To see the way it's all progressed, the regulations and everything, all the medical staff and everything. It's proper now. To see this is great".
Joao Carvalho's family as well as Charlie Ward's family, and the promotion have all put out statements afterwards.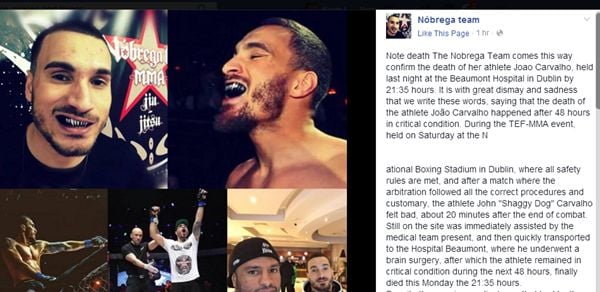 "Note death The Nobrega Team comes this way confirm the death of her athlete Joao Carvalho,at the Beaumont Hospital in Dublin by 21:35 hours. It is with great dismay and sadness that we write these words, saying that the death of the athlete João Carvalho happened after 48 hours in critical condition. During the TEF-MMA event, held on Saturday at the National Boxing Stadium in Dublin, where all safety rules are met, and after a match where the arbitration followed all the correct procedures and customary, the athlete John "Shaggy Dog" Carvalho felt bad, about 20 minutes after the end of combat. "Still on the site he was immediately assisted by the medical team present, and then quickly transported to the Beaumont Hospital, where he underwent a brain surgery, after which the athlete remained in critical condition during the next 48 hours, died this Monday the 21:35 hours. "Despite the ongoing medical care that had by the organization of the event and the Irish hospital, whom we thank for all their support in these difficult times, and although the risks of this sport are known, the death of João Carvalho in my point of professional view was a huge misfortune that leaves deeply  saddened and dismayed, both your family, like all Nobrega team, who always accompanied João Carvalho throughout his career, where he was highlighting national and international level. "It is with much regret that we present our sincere condolences to FAMILY and all Nobrega team. Vitor Nobrega."
A crowdfunding site has been started for Joao Carvalho's family. Stay tuned for breaking MMA news.