Brian Shaw teams up with UFC star Dustin Poirier for some epic training.
Worlds collide as
four-time World's Strongest Man Brian Shaw
recently trained with UFC Star Dustin Poirier. Hot off the heels of his victory over
Conor McGregor
, Poirier's star has risen into the stratosphere. Shaw previously interviewed Poirier before the two decided to do some MMA style training. During the training Shaw learned how to throw some heavy low kicks while Poirier demonstrated how to subdue a bigger, stronger opponent with jiu-jitsu. That's right,
Dustin Poirier choked out Brian Shaw during their training.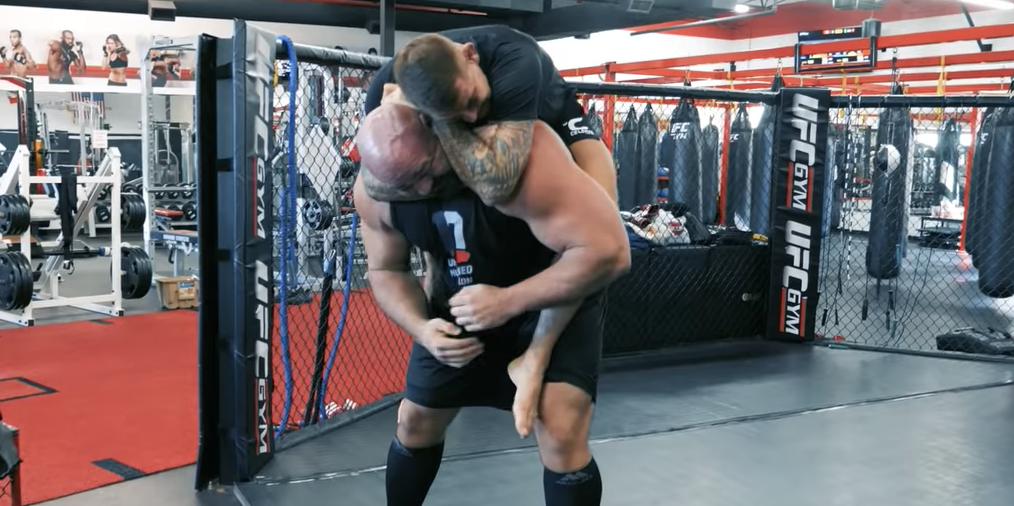 They say the bigger they are the harder they fall. While that may be true, the bigger they are the harder they hit. In a clip from their training together,
Brian Shaw showcased his raw power when performing a low kick on the shield pad held by Dustin Poirier. The kick sent the former UFC Interim Lightweight champion flying. 
Hanging with @dustinpoirier in my gym. We have some amazing content coming out on my YouTube channel SHAWSTRENGTH starting TODAY!

I can't wait for you guys to see everything that went down and it was awesome being around Dustin and spending time with another athlete at the top level of their sport!

You won't want to miss this!
View this post on Instagram
Training Highlights
Here are some tidbits from the the training they engaged in, including Shaw's kick and rear naked choke ability of Dustin Poirier.
View this post on Instagram
To see their full training together click here.
What do you think of Brian Shaw and Dustin Poirier teaming up?
For more news and updates, follow Generation Iron on Facebook, Twitter, and Instagram.
---
Managing Editor at Generation Iron, Jonathan Salmon is a writer, martial arts instructor, and geek culture enthusiast. Check out his YouTube, Instagram, Twitter, Facebook, and Sound Cloud for in-depth MMA analysis.