Eddie Hall had some choice words for his old friend Thor Bjornsson.
Who are these guys kidding. It's quite clear that despite all the "bad blood" Eddie Hall and Hafthor "Thor" Bjornsson are the best of friends. Even their latest spat on social media seemed more tame than usual. All jokes aside, Eddie Hall really tore into Hafthor Bjornsson on IG.
The feud started pretty much out of nowhere, initiated by Eddie Hall. Commenting on Brian Shaw's latest post, Thor wished his former rival good luck and encouraged him to win the next World's Strongest Man competition.
View this post on Instagram
To the post Thor Bjornsson had this to say to Brian Shaw.
While it appeared to be an honest and thoughtful message, Eddie Hall isn't buying it one bit. Hall went on to really tear into Thor in a follow up comment.
Essentially it would seem that Eddie Hall is trying to say Thor Bjornsson was being insincere with his encouragement. Thor responded to Hall in a calm, cool, collected manner.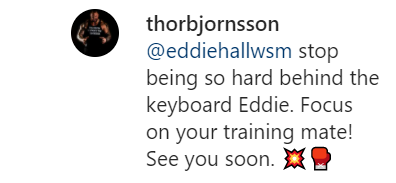 So in the end while Eddie Hall may have been speaking his truth, it came off very aggressive and mean spirited. That said, he and Thor are going to have a fist fight, so no one should expect the two to be getting along. Both men appear to have a genuine dislike of each other which means interest in their fight is sure to main high.
What do you think of Eddie Hall calling out Thor Bjornsson? What does Brian Shaw make of all this?
For more news and updates, follow Generation Iron on Facebook, Twitter, and Instagram.
---
Managing Editor at Generation Iron, Jonathan Salmon is a writer, martial arts instructor, and geek culture enthusiast. Check out his YouTube, Instagram, Twitter, Facebook, and Sound Cloud for in-depth MMA analysis.