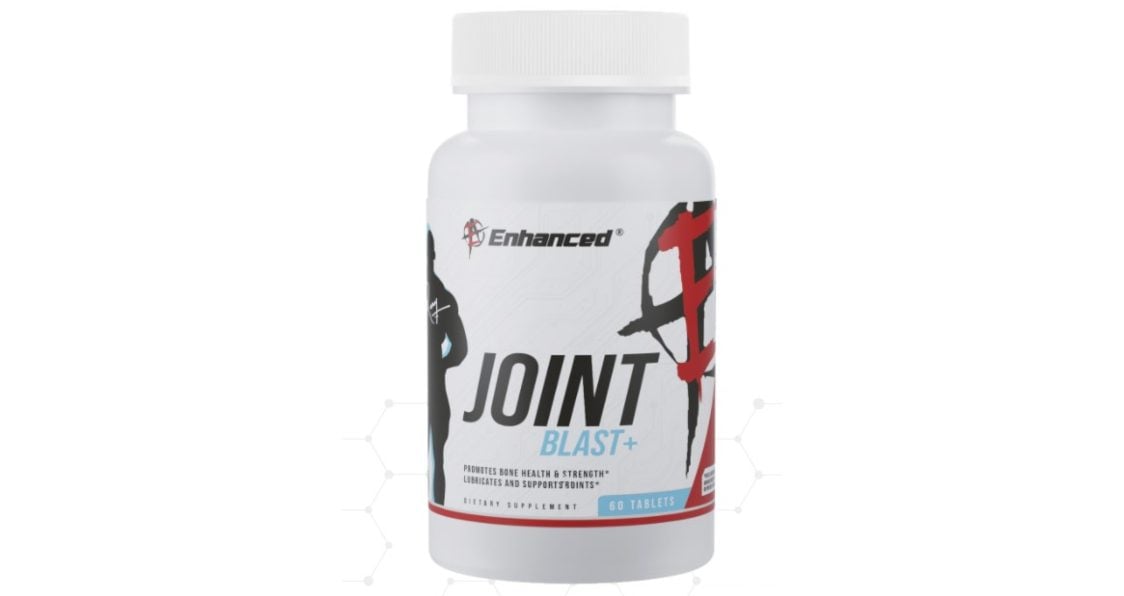 Does this joint supplement deserve your hard-earned money?
Product Overview
Enhanced Labs has a diverse supplement line, covering all the major categories such as muscle building, fat loss and pre-workout. One of the categories missing from the Enhanced Labs product line was a joint support supplement; a gap it recently filled with the launch of Joint Blast, a simple and cost-effective joint health supplement. The perfect joint support supplement for you, this can greatly help when it comes to support and overall pain relief.
Why a joint support supplement matters is that so often do we put our bodies through an absolute grind. We often find ourselves in pain after a workout leading us to feel even more tired and achy than we want or need. With a great supplement backing you, you can better work to tackle all of those needs and give yourself the best plan of attack for better bounce back and recovery. Enhanced Joint Blast does this and much more and is your go-to supplement for all things joints.
Enhanced Joint Blast is a great joint support supplement to boost joint health and alleviate pain relief.
Enhanced Labs are a team of bodybuilders, chemists, and innovators who joined together to disrupt a chaotic industry by doing absolutely whatever it takes to come out with the most effective hardcore supplements line on the market. By always staying on the cutting-edge advancements in technology and chemistry, Enhanced Labs gives their customers the continuous edge they desire most.
Joint Blast Highlights
Enhanced Joint Blast combines proven ingredients into a powerful formula to work for better joint support, strength, and flexibility. Backed by a great team who cares about quality above all else, this supplement can also prevent collagen degradation, relieve joint stiffness and pain, and promote only the healthiest joints possible. With just 4 effective ingredients, all of those gains are just around the corner.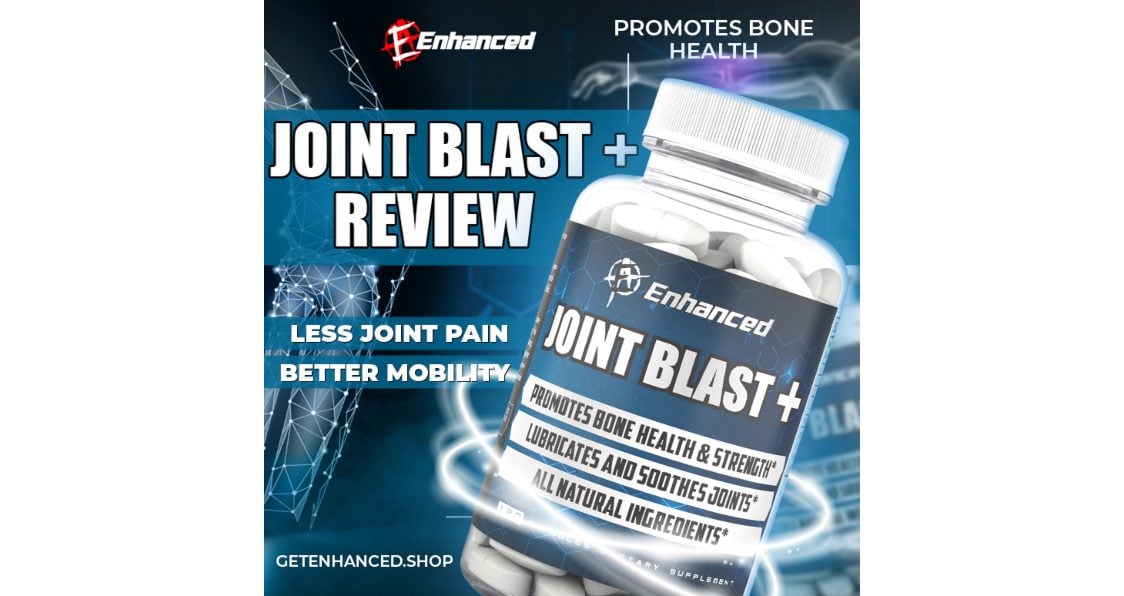 Ingredients
Joint Blast combines research proven ingredients that improve joint strength and flexibility – key components for optimal strength and performance. Furthermore, Joint Blast contains additional ingredients to prevent collagen degradation, relieve joint stiffness, and maintain healthy joints so your training never skips a beat.
Joint Blast contains a synergistic blend of Glucosamine, Methylsulfonylmethane (MSM), Chondroitin and Potassium.
Glucosamine Sulfate (1500 mg)
Glucosamine is a natural compound found in cartilage — the tough tissue that cushions joints. A study for the Journal of Alternative and Complementary Medicine linked glucosamine supplements to a 28% and 24% reduction in two specific biochemical markers of inflammation: CRP and PGE [1]. Another study for the Journal of Molecular Medicine reported that supplementing with glucosamine daily reduced collagen degradation in the knees by 27% [2].
Methylsulfonylmethane (MSM) (100 mg)
Methylsulfonylmethane (MSM) is a sulfur-containing compound found naturally in plants, animals and humans. Studies show that MSM significantly reduces inflammation and inhibits the breakdown of cartilage. For example, a study for the International Journal of Biomedical Science reported that supplementing with MSM for 12 weeks decreased joint pain, stiffness and inflammation [3].
Chondroitin Sodium Sulfate (50 mg)
Chondroitin is a vital part of cartilage. Laboratory studies have found that chondroitin supplementation has significant anti-inflammatory properties. For example, a study for the Journal of Osteoarthritis Cartilage reported that chondroitin sulfate supplementation was more effective at reducing inflammation than nonsteroidal anti-inflammatory drugs (indomethacin, ibuprofen) [4].
Potassium (as potassium chloride) (145mg)
The association of potassium deficiency to rheumatoid arthritis and joint pain is well documented. A 2008 study for the Journal of Pain reported that participants who took a potassium supplement daily for 28 days reported a 43.75% reduction in their joint pain [5].
Other Ingredients
Microcrystalline Cellulose, Croscarmellose Sodium, Magnesium Stearate, Silicon Dioxide, Pharmaceutical Glaze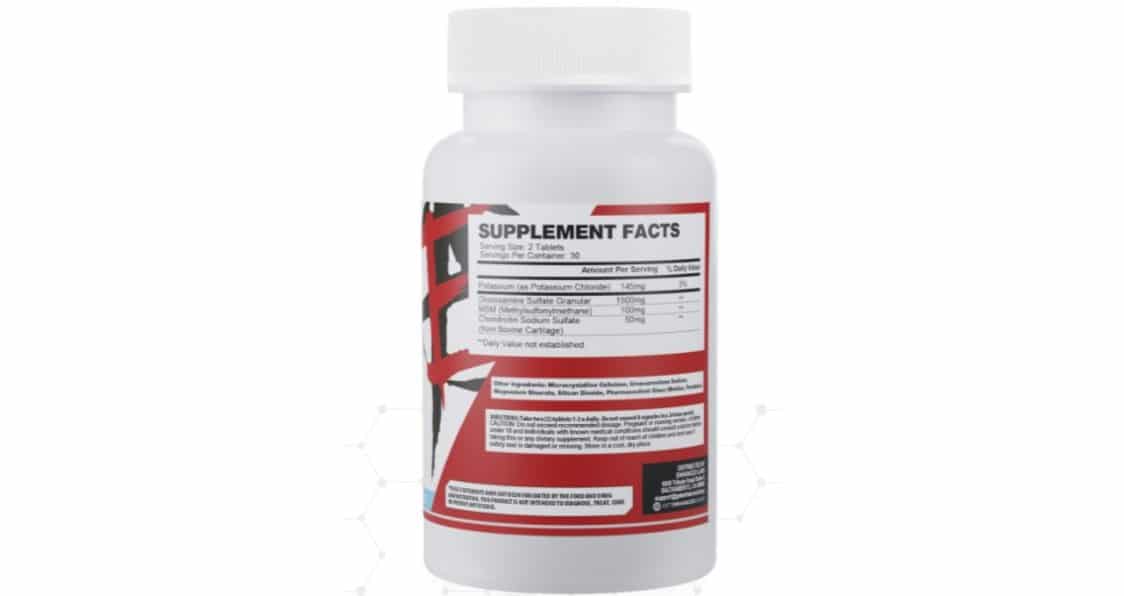 | | |
| --- | --- |
| Number Of Ingredients | 4 |
| Serving Size | 2 Tablets |
| Number Of Servings | 30 |
| Best Way To Take | Take 2 tablets 1-2 times daily. |
Price & Effectiveness
Enhanced Joint Blast is a great supplement to promote bone health and strength while lubricating and supporting your joints. With 30 servings per container, 2 tablets will pump you with all of the great ingredients for joint support and pain relief.
Pros
4 clinically validated ingredients
Safe and non-hormonal
Simple and effective formula
Less than $1 per serving
Cons
Large tablets that some individuals may find hard to swallow
Price: $19.99
Enhanced Labs offers Free shipping ANYWHERE in the world. If you live in the United States, your order ships FREE no matter what you buy. If you live outside the US, your order ships for free when it's over $169.
Best Time to Take Joint Blast?
Enhanced Labs recommends taking two (2) tablets of Joint Blast once or twice daily with meals. Joint Blast should be taken every day, on both rest days and training days.
---
Check out our list of the Best Joint Supplements for more great joint support and pain-relieving products!
---
Overall Value
Enhanced Joint Blast is a great supplement to aid in all things joints and as athletes constantly pushing our bodies to the limit, the right supplement can protect our joints and help us stay pain free. The reason to use joint blast is simple, for it will provide for less pain and inflammation, more mobility and function, and healthier joint cartilage and bones. What you are really getting is a top tier joint support supplement from a company who knows the needs of athletes. Try Enhanced Joint Blast today and see what this can do for all your goals.
If you have any questions about Joint Blast or any of the other Enhanced Labs products, reach out to the Enhanced Labs Chemical Engineer Trevor Kouritzin by emailing [email protected]
Try Enhanced Labs Joint Blast Today
---
Generation Iron may receive commissions on purchases made through our links. See our disclosure page for more information.
Let us know what you think in the comments below. Also, be sure to follow Generation Iron on Facebook, Twitter, and Instagram. 
*Images courtesy of Enhanced and Envato
References
[1] https://pubmed.ncbi.nlm.nih.gov/24738579/
[2] https://www.spandidos-publications.com/mmr/7/3/742
[3] https://www.ncbi.nlm.nih.gov/pmc/articles/PMC4502733/
[4] https://pubmed.ncbi.nlm.nih.gov/9743814/