This protein is whey-free and uses bone broth as its main source.
Product Overview
Protein supplements are essential when it comes to seeing huge growth and gains and optimal recovery. While whey protein seems to be the most popular protein supplement for athletes to take, Enhanced Labs has created a revolutionary protein powder to seriously enhance your training and performance. Protein-Tech is whey free and works as a great protein alternative derived from bone broth.
The Enhanced Labs brand recently jumped into the collagen category. The brand is taking on the market with a product named Enhanced Protein-Tech, a grass-fed bovine bone broth protein that is free of GMOs, soy, dairy, and artificial ingredients. Each 24.77g scoop provides 20g of protein with zero carbohydrates and zero fat.
Protein-Tech has been getting a lot of attention with verified buyers stating that Enhanced Labs has perfected the collagen category. In this review we are going to evaluate whether this collagen supplement is worth the hype.
Enhanced Labs Protein-Tech uses grass-fed bovine bone broth and is free of any artificial ingredients. With 20g protein, this supplement will give you a great spike for muscle growth with digestive assistance and bone and joint support.
Enhanced Labs are a team of bodybuilders, chemists, and innovators who joined together to disrupt a chaotic industry by doing absolutely whatever it takes to come out with the most effective hardcore supplements line on the market. By always staying on the cutting-edge advancements in technology and chemistry, Enhanced Labs gives their customers the continuous edge they desire most.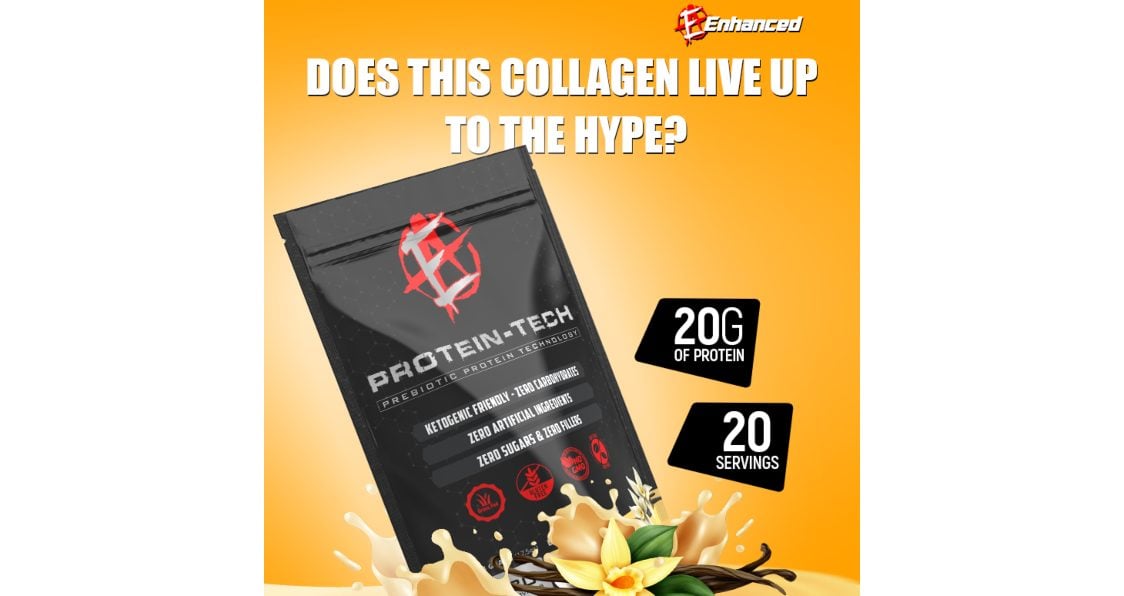 Protein-Tech Highlights
Enhanced Labs is proud to introduce its newest addition to the lineup: the long awaited protein product. But this isn't just any old protein product. Common feedback from athletes, fitness enthusiasts, and bodybuilders is that they are sick of whey protein. That they consume too much of it and that it upsets their stomachs and causes digestive issues. This smart protein supplement is whey-free. That means no dairy issues, no digestive issues, the smartest protein on the market. One that not only gives you a protein spike for muscle growth, but also digestive assistance and bone/joint support!
Protein-Tech is a grass-fed bovine bone broth protein that is free of GMOs, soy, dairy and artificial ingredients. Each 24.77g scoop provides 20g of protein with zero carbohydrates and zero fat!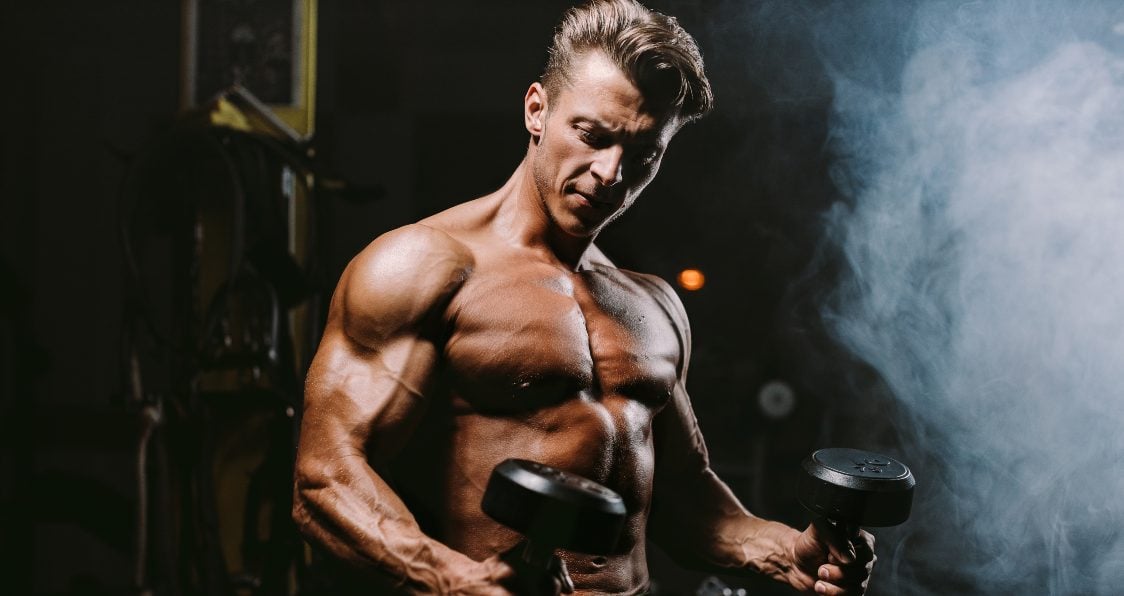 Ingredients
100% Grass-Fed Bovine Bone Broth Hydrolyzed Protein
Protein-Tech is made with 100% pure hydrolyzed bone broth protein made from grass-fed pasture-raised cattle, packed with natural glycine and loaded with 20 grams of highly-absorbable protein, 0 carbs and less than 100 calories per serving. This all-natural bone broth is made for bodybuilding and overall health.
A study for the British Journal of Nutrition found that when combined with resistance training, bone broth protein helped increase muscle mass and decrease body fat [1].
What are the Benefits of Bone Broth?
Bone broth protein provides a full spectrum collagen source in the form of a convenient nutritional powder. Bone broth protein fortifies the structure and function of the body, promoting the development of lean muscle tissue, bones, ligaments, skin, nails, hair, and more.
Prebiotic Inulin Fiber
In addition, Protein-Tech is fortified with organic inulin, a natural prebiotic derived from chicory root. Inulin supplementation has been shown to improve digestive health and promote fat loss. In one study for the Journal of Nutrition & Metabolism, participants taking inulin lost significantly more weight than the placebo [2]. Another study for the Journal of Metabolism found that moderate intensity exercise training combined with inulin supplementation increased whole body resting fat oxidation [3].
Other Ingredients: Natural French Vanilla flavor, sunflower lecithin, stevia extract
| | |
| --- | --- |
| Calories | 85 |
| Protein | 20g |
| Carbs | 0g |
| Fat | 0g |
| Sugar | 0g |
| Flavors | Vanilla |
| Number Of Servings | 20 |
Price, Flavors & Effectiveness
Enhanced Labs Protein-Tech delivers a solid amount of protein while also providing a natural prebiotic derived from chicory root. With 20 servings per container, this protein is a new technology worth trying and comes in a great tasting vanilla flavor.
Pros
No fillers or artificial flavors
20g protein with zero carbohydrates or fat
Fully disclosed supplement facts panel
100% grass fed hydrolyzed bovine collagen
Prebiotic fibers
Cons
Highly complex protein that requires a blender for mixing
Only one flavor option
Price: $29.99
Enhanced Labs offers free shipping ANYWHERE in the world. If you live in the United States, your order ships FREE no matter what you buy. If you live outside the US, your order ships for free when it's over $169.
How Much Should I Take?
Mix 1 level scoop in 6 oz. (180mL) of your favorite hot or cold beverage. Protein can also be used for baking!
Best Time to Take Protein-Tech?
Protein-Tech can be used any time of day, such as in the morning blended into a smoothie, before/after training, or at night with a glass of milk.
---
Check out our list of the Best Non-Dairy Protein Supplements for more great plant-based and non-dairy proteins!
---
Wrap Up
Protein-Tech provides 20 grams of full spectrum collagen protein with zero carbohydrates and zero fat. Protein-Tech is fortified with organic inulin, a natural prebiotic derived from chicory root. Protein-Tech is a convenient nutritional powder that can be added to coffee, milk, smoothies, or used for baking! Enhanced Labs never did come out with a whey protein. You can say they skipped a step and instead created a zero carb, zero whey protein tech, that is perfect in addition to or as a replacement for your current protein regimen. What you are really getting is an innovative and top tier product from a reputable company with loads of benefits.
Don't do dumb protein, do Protein-Tech by Enhanced Labs!
If you have any questions about Protein-Tech or any of the other Enhanced Labs products, reach out to the Enhanced Labs Chemical Engineer Trevor Kouritzin by emailing [email protected]
Try Enhanced Labs Protein-Tech Today
---
Generation Iron may receive commissions on purchases made through our links. See our disclosure page for more information.
Let us know what you think in the comments below. Also, be sure to follow Generation Iron on Facebook, Twitter, and Instagram. 
*Images courtesy of Enhanced Labs and Envato
References
Zdzieblik, D.; Oesser, S.; Baumstark, M.; Golhofer, A.; et al. (2015). "Collagen peptide supplementation in combination with resistance training improves body composition and increases muscle strength in elderly sarcopenic men: a randomized controlled trial". (source)
Guess, N.; Dornhorst, A.; Oliver, N.; Bell, J.; et al. (2015). "A randomized controlled trial: the effect of inulin on weight management and ectopic fat in subjects with prediabetes". (source)
Malkova, D.; Polyviou, T.; Rizou, E.; Gerasimidis, K.; et al. (2020). "Moderate intensity exercise training combined with inulin-propionate ester supplementation increases whole body resting fat oxidation in overweight women". (source)