Enhance your health and fitness recovery with this great BCAA supplement from Gym Molly while also seeing great growth for your bodybuilding goals.
Product Overview
Supplementing with a great BCAA supplement can enhance muscle growth, aid in overall recovery, and work to boost your performance. Branched chain amino acids, or BCAAs, are a popular intra-workout supplement for athletes of all experience and skill levels to provide for those mid- and post-workout gains. By working to reduce fatigue, increase growth, and prevent muscle soreness and degradation, branched chain amino acids are more than helpful when it comes to your overall health and fitness and Gym Molly After Party is a great BCAA supplement that will do it all.
Amino acids provide for the foundation of protein and there are 20 that make up protein. Nine of these are considered essential amino acids and of those nine essential amino acids, three are branch chain amino acids. Working together, isoleucine, leucine, and valine can stimulate protein synthesis and provide that heavily desired muscle growth and much needed recovery. While a lot of debate surrounds if taking branched chain amino acids and essential amino acids as supplements is worth it, the benefit of taking these should be clear. Branched chain amino acids begin this protein synthesis process and EAAs provide for that much desired growth so you see all of the gains you hope for and give you exactly what your body needs.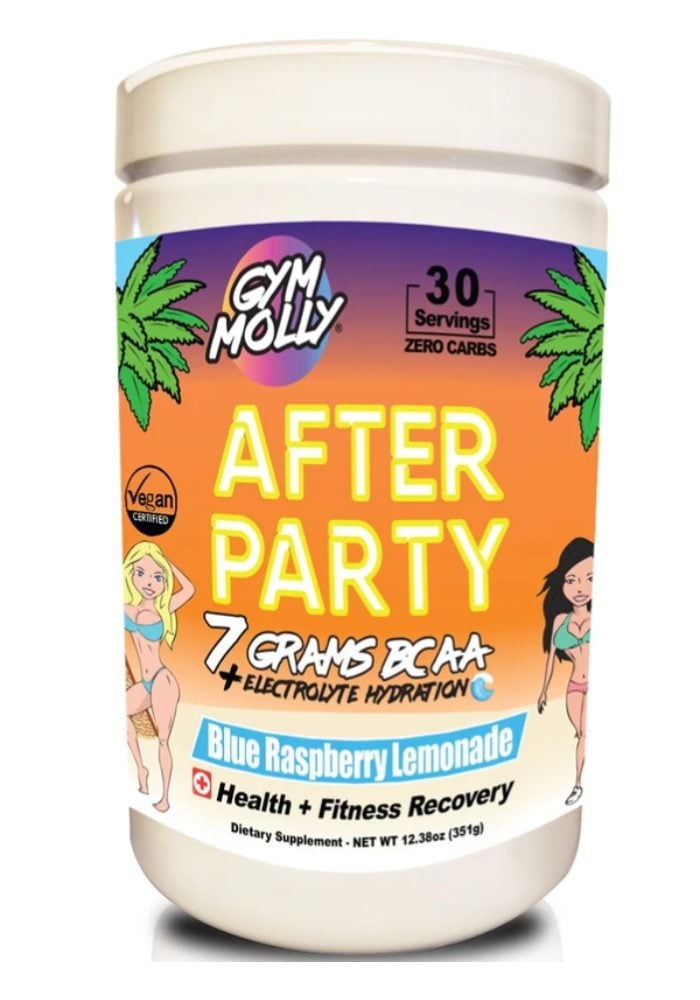 Gym Molly began as a company whose mission was to provide high quality products to consumers. With that same original mission in mind, their attention to detail and passion for innovation has spread Gym Molly's products around the country and the world. Working with high quality ingredients and effective doses, they have produced some amazing supplements for bodybuilders and athletes looking to take their health and fitness to the next level to give you exactly what your body needs out of this BCAA supplement in or out of the gym.
After Party Highlights
After Party is specially designed to improve exercise performance, reduce fatigue and muscle damage, and keep your energy levels high for the most effective workout and recovery regimen to minimize muscle damage and loss. As a 100% vegan and naturally made product, as well being non-GMO, this BCAA supplement is safe and effective for all of your desired needs. Using patented InstaAminos, their BCAA formula is scientifically proven with a ratio of 2:1:1. With the option to go with caffeine or without, this is a great feature depending on your sensitivity levels and what you want from this product.
After Party contains a solid Pure Energy B Complex full of essential and beneficial B vitamins to help the body function properly when it comes to metabolic support, creating new blood cells, and maintaining healthy skin cells, brain cells, and other body tissues. Their BCAA Ultra Endurance with InstaAminos provides for all those vital BCAAs with tyrosine also in the mix. To keep you energized and hydrated, their Hydration Matrix ensures your body stays properly hydrated to assist with anything your body needs to recover fully. And the Blue Raspberry Lemonade flavor tastes great to top it all off.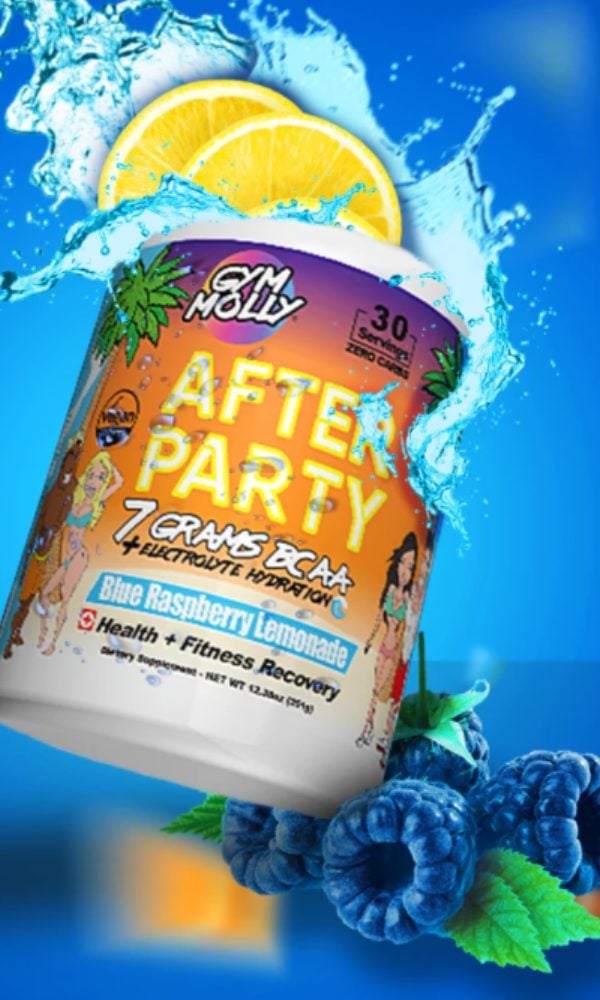 Ingredients
Pure Energy B Complex
B vitamins offer support for a variety of bodily functions and this B complex within After Party is a great addition to this BCAA product. Vitamin B3 helps improve digestion while also reduces levels of cholesterol to promote a healthy balance of both LDL and HDL cholesterol. It also provides for energy and improves mental health (1). Vitamin B6 may improve mood and reduce symptoms of anxiety and depression to keep you motivated while also aiding in inflammation and hemoglobin production. Vitamin B9 is great for increasing red blood cell count while working as a coenzyme to repair damaged DNA and vitamin B12 is great for boosting overall energy levels (2) to keep you going both during and after your workout.
BCAA Ultra Endurance with InstaAminos
This blend of branched chain amino acids works to provide you will all of the proven benefits that branch chain amino acids have to offer. From increased muscle growth, improve exercise performance, decreased muscle soreness and inflammation, and reduced fatigue (3), isoleucine, leucine, and valine work for your overall benefit to reduce muscle damage and loss. The addition of tyrosine can increase cognitive function and mood by targeting neurotransmitters like dopamine and epinephrine to enhance mental alertness, focus, and attention.
Hydration Matrix
The Hydration Matrix ensures your body stays properly hydrated to perform at peak capacity while staying as alert as possible. Glutamine is an amino acid that works to support immune and intestinal health, while also having great effects on muscle gain and exercise performance (4). Coconut water powder works as a great substitute for sports drinks or others that may contain sugar and other artificial ingredients because it works as a natural way to get electrolytes, potassium, and other essential nutrients to fuel hydration. Potassium is great for supporting blood pressure (5), preventing muscle cramps, and aiding in bone and muscle strength.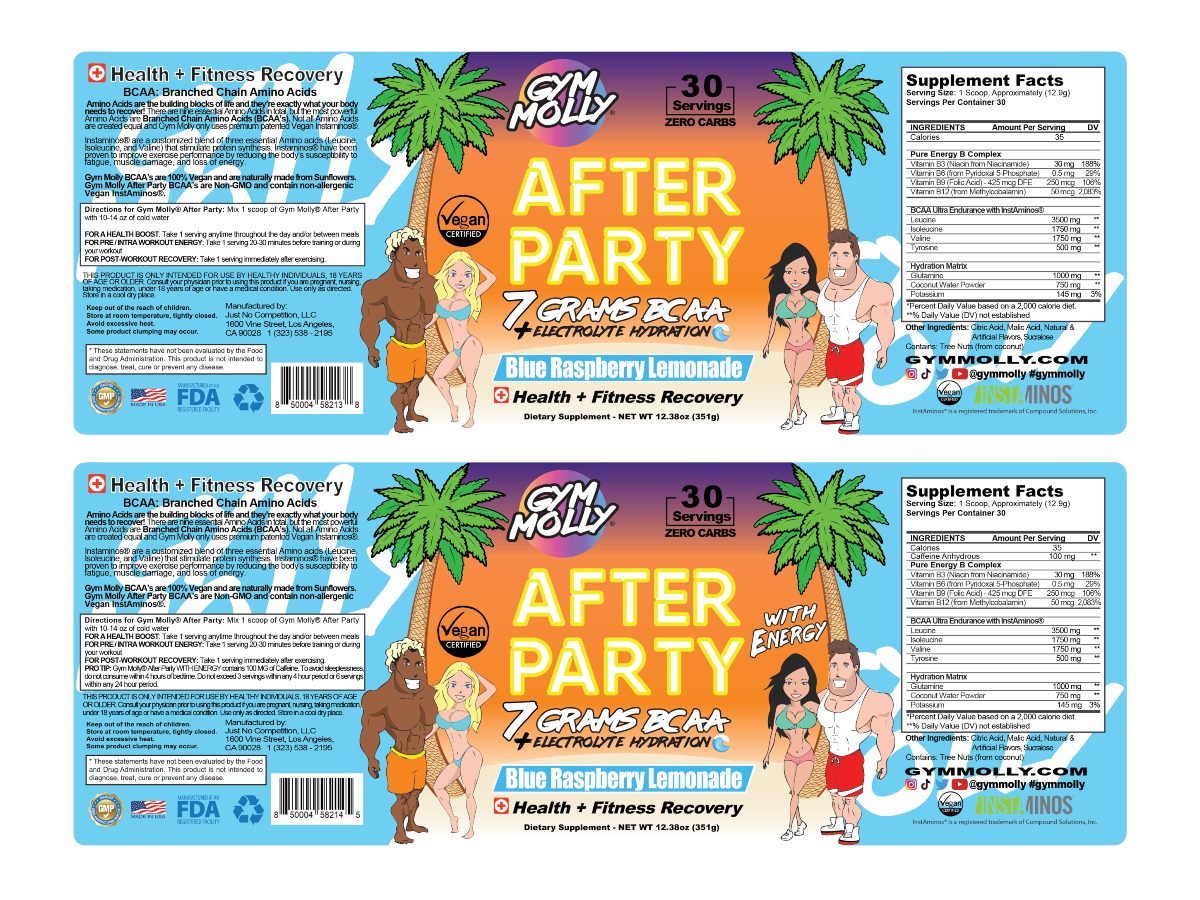 Price & Flavors
Gym Molly After Party comes in their most popular flavor, Blue Raspberry Lemonade, and one 12-ounce container costs $19.99. One healthy scoop of this is a serving size and 30 servings per container will ensure you get everything out of this workout drink.
Pros & Cons
Pros: A B vitamin complex and hydration matrix really enhances the effects of the BCAA benefits. The option for caffeine or no caffeine is great and the price point is right on. Blue Raspberry Lemonade is a great tasting flavor.
Cons: It does contain artificial flavors and sucralose so that may deter some who seek a more natural BCAA supplement.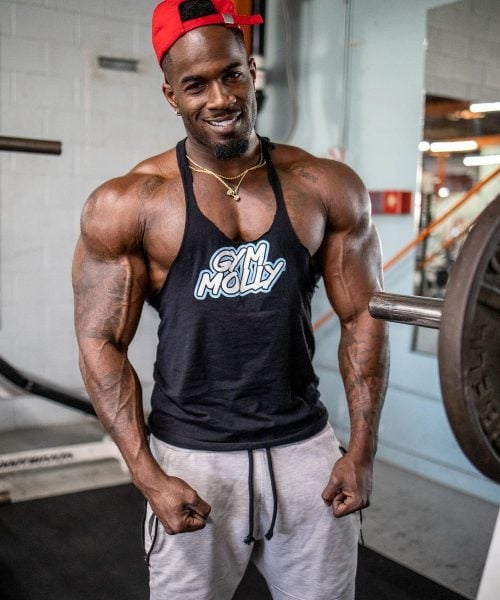 Gym Molly Athlete
Feddy Moe is a Gym Molly athlete and uses their products to enhance his workouts to keep him at the top of his game, while also promoting the benefits to better other people and their fitness goals. Feddy Moe is an IFBB pro, a 2-time Olympian with appearances in the Arnold Classic, and a prep and fitness coach. As Gym Molly seeks to promote and provide great quality supplements to consumers, having someone like Moe on their team only enhances awareness for people to live a healthier lifestyle.
Wrap Up
Gym Molly After Party is a fantastic BCAA supplement to promote growth and recovery. With high-quality ingredients, including B vitamins, coconut water powder, naturally sourced BCAAs, and those to assist in hydration, all of your mid- and post-workout needs will be met to ensure great gains and overall recovery. What you are really getting is a solid BCAA product from a company looking out for its consumers with great ingredients at a solid price point. Try After Party today and see how this can help your health and fitness recovery.
Try After Party at Gym Molly Today
Generation Iron may receive commissions on purchases made through our links. See our disclosure page for more information.
Let us know what you think in the comments below. Also, be sure to follow Generation Iron on Facebook, Twitter, and Instagram. 
*Images courtesy of Gym Molly and Feddy Moe Instagram
References