Could this be how Conor McGregor broke his leg?
Unless you've been living under a rock, you probably know the result of the recent trilogy bout between Dustin Poirier and Conor McGregor. The outcome was marred by the fact that McGregor broke his leg at the end of the first round.
After a fast start in round one, Conor McGregor found himself on his back for much of the first round. Dustin Poirier was raining down some heavy shots from top position and made every strike count. McGregor did well to survive, but he was definitely beaten and bruised after the first frame.
Then the two found themselves back on the feet, ready for a striking battle once again. The two traded blows and then the unexpected happened. After attempting to throw a left cross, Conor McGregor stepped back on his left leg and his shin suddenly snapped.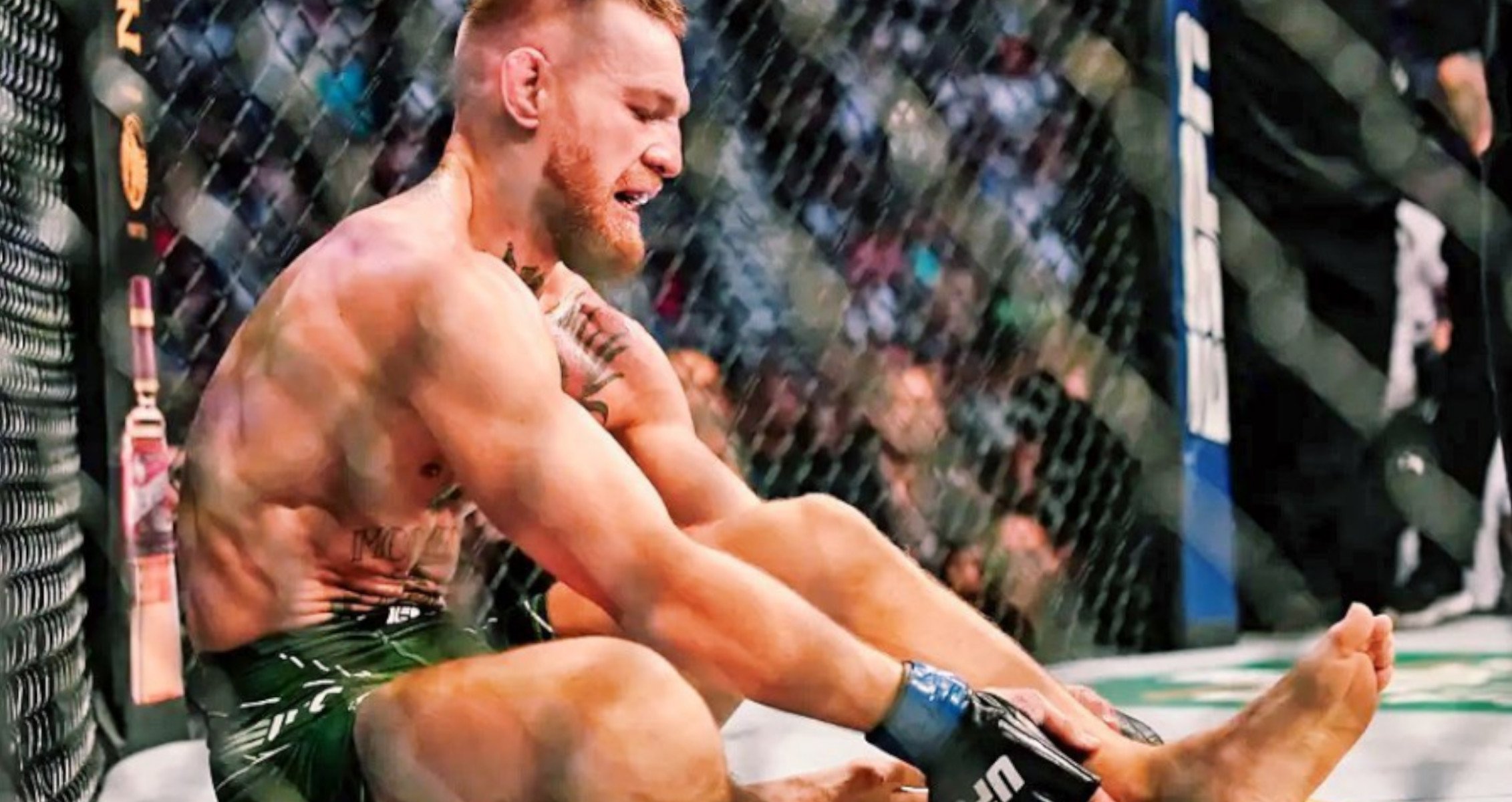 Ouch…
Many people have been speculating about what caused his injury, Joe Rogan being one of them. The comedian and UFC commentator was there to see the injury occur live. Rogan would go on to make a post on his Instagram where he and MMA coach Eric Nicksick believe Conor McGregor broke his leg. 
Viewer Discretion Advised
This is it. You can see where it breaks. Shoutout to @eric_xcmma's mom! If you go to @laura_sanko's page she did an amazing job interviewing @coach_kavanagh and he describes exactly what we're seeing here.

Repost: @eric_xcmma ⚡︎ Credit to my mom, yes, my mom wrote me at 7am to tell me she thinks Conor broke his foot off Dustin's elbow after throwing the rear teep kick. After slowing it down, it makes a lot of sense. Watch the integrity of his foot before and after. You be the judge ⚡︎
View this post on Instagram
That was pretty painful to watch.
The speculation is that Conor McGregor broke his shin when Dustin Poirier defended his front kick with an elbow block. It certainly makes sense, though the likelihood that the defensive motion was enough to shatter bone is a bit hard to believe. Others speculated that McGregor may have injured the leg in his training.
While kicking the bag or an elbow or shin during sparring, McGregor could have had a fracture in his shin, one that possible wasn't noticeably painful. From there the constant kicking and contact could have wore down the bone. Eventually the fight with Poirier took place and McGregor's leg could have been compromised after throwing one of his kicks, resulting in the break.
For now it's all just speculation. What isn't speculation is Conor McGregor making himself  clear that he's not ready to hang it up just yet.
Onwards and upwards we go ☘️ pic.twitter.com/qKgochlT3t

— Conor McGregor (@TheNotoriousMMA) July 12, 2021
What do you think of Conor McGregor and his recent devastating leg break?
For more news and updates, follow Generation Iron on Facebook, Twitter, and Instagram.
---
Managing Editor at Generation Iron, Jonathan Salmon is a writer, martial arts instructor, and geek culture enthusiast. Check out his YouTube, Instagram, Twitter, Facebook, and Sound Cloud for in-depth MMA analysis.