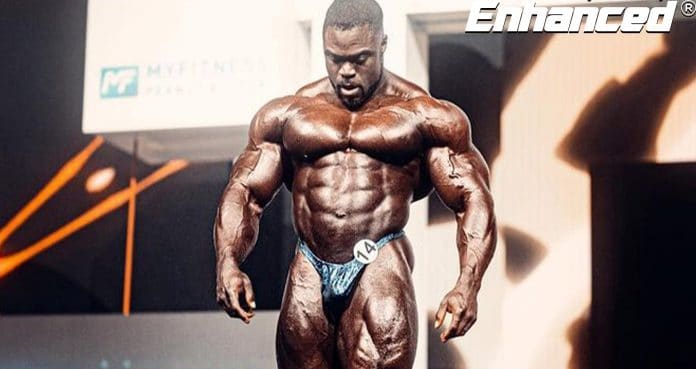 A complete guide on how to watch the 2021 Olympia. All events including Men's Open and expo.
The biggest event in the sport of bodybuilding has finally arrived. The Mr. Olympia 2021 weekend is upon us with 11 divisions competing, a full expo, and plenty of special moments in store.
Sticking with the recent changes last year due to the pandemic, the event is once again being held at the Orange Country Convention Center in Orlando, Florida. With some of the best bodybuilders and athletes in the world attending, including the returning champion Big Ramy, this is sure to be a show to watch.
Much like last year, the Olympia 2021 will be providing a PPV live stream for the entire weekend – including the pro bodybuilding pre-judging and finals, amateur Olympia, and fun extras such as the press conference and seminars.
How To Watch The Olympia 2021
So how exactly can you watch the Olympia? Well the promoters are offering a pay-per-view stream on olympiaproductions.com. By signing up on the official site you'll be able to stream the show through a number of different mediums like your iPhone, Apple TV, Roku, Android, Android TV, and FireTV.
Two packages are being offered for the show: the premium package and the amateur package. The premium package will be $59.95 and for the amateur $29.95.
Olympia 2021 Premium Package events that can be viewed:
Olympia Press Conference, Oct. 7, 2021, 12 p.m. EST
Meet the Olympians, Oct. 7, 2021, 8 p.m. EST
Friday Pre-Judging, Oct. 8, 2021, 9 a.m. EST
Olympia Friday Finals, Oct. 8, 2021, 7 p.m. EST
Saturday Pre-Judging, Oct. 9, 2021, 9 a.m. EST
Olympia Saturday Finals, Oct. 9, 2021, 7 p.m. EST
Olympia Superstar Seminar, Oct. 10, 2021, 11 a.m. EST
Olympia 2021 Amateur Package events that can be viewed:
Pre-Judging and Finals (Women's Physique, Figure, Bikini, and Wellness), Oct. 5, 2021, 8 a.m. EST
Pre-Judging and Finals (Bodybuilding, Classic Physique, and Men's Physique), Oct. 6, 2021, 8 a.m. EST
Fan Channel that can be viewed:
The Olympia is also offering a free channel with limited offerings worldwide. The Olympia will be streaming footage directly from the Expo floor, where many fans, fitness and lifestyle brands will attend. This will also include meet and greet with IFBB Pro Bodybuilders and more. 

Olympia 2021 Breakdown
Men's Open Preview
The highlight event of the weekend is the Mr. Olympia Men's Open competition. Featuring the best competitors from across the world – these titans will battle for the ultimate prize. This year's lineup proves to be a truly competitive one. A clash a solidifying new generation and iconic veterans.
Returning champion Big Ramy is the one to beat this year. If he can bring in the same size and conditioning – or even improve – he will be near unstoppable from a repeat victory. But he'll have plenty of talented bodybuilders biting at his heels such as William Bonac, Hadi Choopan, and Brandon Curry. Any one of these giants can slip past Ramy and win the prize – should they bring improvements from last year.
Relative newcomers Nick Walker, Hunter Labrada, and Iain Valliere are also showcasing some incredible physiques. Walker, who is coming right off a major victory at the Arnold Classic 2021, has been hyped to be the dark horse for the Olympia. Will he be able to win the competition – or at the very least place top 3?
2021 Olympia Men's Open List of Competitors
William Bonac (Netherlands)
Hadi Choopan (Iran)
Brandon Curry (USA)
Mamdouh Elssbiay (Egypt)
Regan Grimes (Canada)
James Hollingshead (UK)
Hunter Labrada (USA)
Patrick Moore (USA)
Hassan Mostafa (Egypt)
Andrea Presti (Italy)
Justin Rodriguez (USA)
Mohamed Shaaban (Egypt)
Iain Valliere (Canada)
Nicholas Walker (USA)
Akim Williams (USA)
Roelly Winklaar (Curacao)
Classic Physique Preview
The biggest clash to look out for in the Classic Physique division is a three-way battle between Breon Ansley, Terrence Ruffin, and returning champion Chris Bumstead. Coming back for his potential third straight win – Bumstead is the one to beat. Ruffin surprised the bodybuilding world by not only placing well but beating out former Classic Physique Olympia champion Breon Ansley.
On his end, Ansley has a lot to prove. Not only did he lose his crown in 2019 – he slid further into third place in 2020. During Thursday's Olympia press conference – Ansley beamed confidence. So much so that he threw off his shirt and did some quick poses. Bumstead was not impressed.
Of course, there are plenty of other deserving Classic Physique competitors hungry to prove themselves and shake up the top spots. We can't cover them all here – but you can check out the full lineup below.
2021 Olympia Classic Physique List of Competitors
Zeek Andrews (USA)
Breon Ansley (USA)
Jose Maria Mete Bueriberi (Spain)
Chris Bumstead (Canada)
Alex Cambronero (Costa Rica)
Tommy Clark (USA)
German Pastor Cueto (Spain)
Neil Currey (UK)
Sabur Favors (USA)
Bryan Jones (USA)
Urs Kalecinski (Germany)
George Kawalawu (USA)
Seonghwan Kim (South Korea)
Brady King (USA)
Laszlo Kiraly (Hungary)
Gabriel Zancanelli Machado (Brazil)
Fabian Mayr (Austria)
Peter Molnar (Hungary)
Courage Opara (USA)
Ramon Rocha Querioz (Brazil)
Terrence Ruffin (USA)
Abtin Shekarabi (IRAN)
Mike Sommerfeld (Germany)
Tony Taveras (USA)
Robert Timms (USA)
Darwin Andres Uribe (Colombia)
Wesley Vissers (Netherlands)
Divine Wilson (USA)
In Seong You (South Korea)
Dani Younan (USA)
Men's 212 Preview
The Men's 212 division is stacked at this year's Olympia. Most notably, we have the returning champion Shaun Clarida hungry to prove himself a repeat victor. Clarida has long been pushing for his chance in the sun – and finally earned in 2020. Many considered his physique pitch perfect – a once in a lifetime showcase.
Shaun Clarida won't have it easy though. He has former champion Kamal Elgargni returning for revenge. There is also some other incredible physiques in the form of Derek Lunsford and Keone Pearson. Any one of these athletes can tighten the screws to show up new and improved.
Of course, we'd be remise to not mention who won't be on the Men's 212 stage this evening. George Peterson was set to compete for a chance to prove his worth after moving up form Classic Physique. Unfortunately, Peterson tragically passed away just two days before the competition. His presence will be missed not only on stage but in the community and lives of those he's touched.
2021 Olympia Men's 212 List of Competitors
Noel Adame (USA)
Ahmad Ashkanani (Kuwait)
Kerrith Bajjo (USA)
Steve Benthin (Germany)
Piotr Borecki (Poland)
Tonio Burton (USA)
Shaun Clarida (USA)
Lucas Coelho (Brazil)
Pasquale D'Angelo (Italy)
Kamal Elgargni (Libya)
Ahmed ElWardany (Egypt)
Nathan Epler (USA)
Angel Calderon Frias (Spain)
Vladimir Iacovlev (Moldova)
John Jewett (USA)
Junho Kim (South Korea)
Derek Lunsford (USA)
Naser Mohammed (Kuwait)
Keone Pearson (USA)
Other Olympia Divisions To Watch
We sadly can't cover every single division preview in one super-sized article. But there are far many more exciting competitions in store for this weekend at the Olympia 2021. Ms. Olympia returns after an epic comeback last year. Not to mention the always entertaining routines of the Fitness division.
Men's and Women's Physique will also be present alongside Figure, Bikini, and Wellness. All in all the event makes for a massive 11 divisions present during the weekend event. That means more drama, excitement, and champions to stand in the spotlight.
You can check out the remaining division competitor lists below.
2021 Olympia Men's Physique List of Competitors
Daniel Ammons (USA)
Erin Banks (USA)
Luca Biolo (Italy)
George Brown (USA)
Rodrigue Chesnier (France)
Bong Seok Choi (South Korea)
Riccardo Croci (Italy)
Carlos DeOliveira (Brazil)
Youcef Djoudi (France)
Ismael Martinez Dominguez (Mexico)
Raymont Edmonds (USA)
Andre Ferguson (USA)
Felipe Franco (Brazil)
Charjo Grant (USA)
Brandon Hendrickson (USA)
Kyron Holden (USA)
Jason Huynh (USA)
Nicolas Koeu (USA)
Joseph Lee (USA)
Junho Lee (South Korea)
Andrei Marius Lincan (Romania)
Antoine McNeill (USA)
Clarence McSpadden, Jr (USA)
Diogo Montenegro (Brazil)
Corey Morris (USA)
Jahvair Mullings (USA)
Abisai Pietersz (Netherlands)
Khali Quartey (USA)
Ramses Rams (Spain)
Arya Saffaie (USA)
John Sarmiento (USA)
Suraqah Shabazz (USA)
Micah Thomas, Jr (USA)
Leonardo Vecchiato (Italy)
Yukihiro Yuasa (Japan)
2021 Ms. Olympia List of Competitors
Irene Andersen (Sweden)
MayLa Ash (USA)
Michaela Aycock (USA)
Reshanna Boswell (USA)
Nadia Capostosto (Italy)
Leah Dennie (USA)
Stephanie Flesher (USA)
Monique Jones (USA)
Janeen Lankowski (USA)
Anastasia Leonova (Russia)
Margie Martin (USA)
Silvia Matta (Italy)
LaDawn McDay (USA)
Sheena Ohlig (USA)
Mona Poursaleh (Canada)
Virginia Sanchez (Spain)
Andrea Shaw (USA)
Helle Trevino (USA)
Margita Zamolova (Czech Republic)
2021 Olympia Fitness List of Competitors
Jaclyn Baker (USA)
Darrian Borello (USA)
Kate Errington (UK)
Debbie Fowler (USA)
Oksana Grishina (Russia)
Whitney Jones (USA)
Ariel Khadr (USA)
Sara Kovach (USA)
Minna Pajulahti (Finland)
Alix Small (UK)
Missy Truscott (USA)
Aurika Tyrgale (USA)
Tamara Vahn (Canada)
Derina Wilson (USA)
2021 Olympia Figure List of Competitors
Bahar Ayra (Germany)
Anna Banks (Poland)
Heather Dees (USA)
Maria Luisa Baeza Diaz (USA)
Wendy Fortino (USA)
Rhea Gayle (UK)
Stephanie Gibson (USA)
Cydney Gillon (USA)
Nicole Zenobia Graham (USA)
Sandra Grajales (Mexico)
Julia Heerenveen (Netherlands)
An Da Jeong (South Korea)
Lola Montez (Canada)
Jessica Reyes Padilla (Puerto Rico)
Michele Silva Pinto (Brazil)
Larhannah Robinson (USA)
Shelace Shoemaker (USA)
Natalia Soltero (Mexico)
Carly Starling-Horrell (USA)
Bojana Vasiljevic (USA)
Julia Waring (USA)
Latorya Watts (USA)
Nadia Wyatt (USA)
2021 Olympia Bikini List of Competitors
Vania Auguste (USA)
Ariel Barley (USA)
Romina Basualdo (USA)
Maureen Blanquisco (USA)
Kristina Brunauer (Austria)
Melissa Carver (Australia)
Lauralie Chapados (USA)
Sara Choi (South Korea)
Carolina Collazos (USA)
Lauren Dannenmiller (USA)
Jennifer Dorie (Canada)
Alessia Facchin (Italy)
Eli Fernandez (Mexico)
Ivanna Escandar Fernandez (Spain)
Jasmine Gonzalez (USA)
Stine Hansen (Denmark)
Reijuana Harley (USA)
Daraja Hill (USA)
Adrianna Kaczmarek (Poland)
Ashley Kaltwasser (USA)
Janet Layug (USA)
Jourdanne Lee (USA)
Maria Julia Lemos (Brazil)
Ashlyn Little (USA)
Chen Qi Liu (China)
Noora Mahonen (Finland)
Lucia Malavaze (USA)
Jimi Marley (USA)
Gabrielle Messias (USA)
Ji Bin Park (South Korea)
Elisa Pecini (Brazil)
Emily Plajer (USA)
Jennifer Ronzitti (USA)
Erin Stern (USA)
Francesca Stoico (Italy)
Sierra Swann (USA)
Angelica Teixeira (USA)
Allison Testu (France)
Jessica Wilson (USA)
2021 Olympia Women's Physique List of Competitors
Elizabeth Bradshaw (USA)
Daniely Castilho (Brazil)
Tanya Chartrand (Canada)
Laura Pintado Chinchilla (Spain)
Natalia Abraham Coelho (USA)
Lenka Ferencukova (Czech Republic)
Patricia Gosselin (Canada)
Shanique Grant (USA)
Ana Harias (USA)
Ashley Jones (USA)
Alyssa Kiessling (USA)
Barbara Menage (France)
Anne-Lorraine Mohn (France)
Bork Im Park (South Korea)
Ivie Rhein (USA)
Caroline Alves Dos Santos (Brazil)
Emily Renee Schubert (USA)
Melissa Teich (USA)
Carli Terepka (USA)
Penpraghai Tiangngok (Thailand)
Sarah Villegas (USA)
Brooke Walker (USA)
Christelle Zarovska (Sint Maarten)
Elisama Manuel Benta Zorzetto (Brazil)
2021 Olympia Wellness List of Competitors
Sunny Andrews (USA)
Yarishna Ayala (USA)
Angela Borges (Brazil)
Devyn Cambre (USA)
Barbara Emanuele Cesar (USA)
Julia Chitarra (Brazil)
Casey Delong (USA)
Juliana Mota Esteso (France)
Kassandra Gillis (Canada)
Renee Harshey (USA)
Renee Jewett (USA)
Giselle Machado (Brazil)
Charline Mas (France)
Francielle Mattos (Brazil)
Lisa Christin Meiswinkel (Germany)
Mallory Myers (USA)
Isabelle Nunes (Brazil)
Maria Paulette (Spain)
Lorena Ragusa (USA)
Amanda Rezende (Brazil)
Susana Rodriguez (Brazil)
Isamara dos Santos (Brazil)
Bruna Seredich (USA)
Tatiany Valliant (Brazil)
2012 Olympia Pro Wheelchair List of Competitors
Gabriele Andriulli (Italy)
Bradley Betts (USA)
Tyler Brey (USA)
Adelfo Cerame, Jr (USA)
Harold Kelley (USA)
Antoni Khadraoui (Algeria)
Chad McCrary (USA)
Johnny Quinn (USA)
For more news and updates, follow Generation Iron on Facebook, Twitter, and Instagram.