Jacked Factory Burn XT Review
It doesn't matter whether you're a bodybuilder getting ready to compete, or you want to get shredded for a photoshoot, going through a fat loss phase is difficult.
Throughout this period, calories are often low and training is intense, which is why it's sometimes good to get some help. This is where supplements can help. Fat burners often come in a capsule form and are taken daily to suppress the appetite, increase fat loss and possibly improve training.
But, there are so many on the market to choose from, where do you start? Today we are taking a look at the Jacked Factory Burn XT and how this might benefit you are your physique goals.
Looking for our top fat burners? Click here to see the best rated.
What is Jacked Factory Burn XT?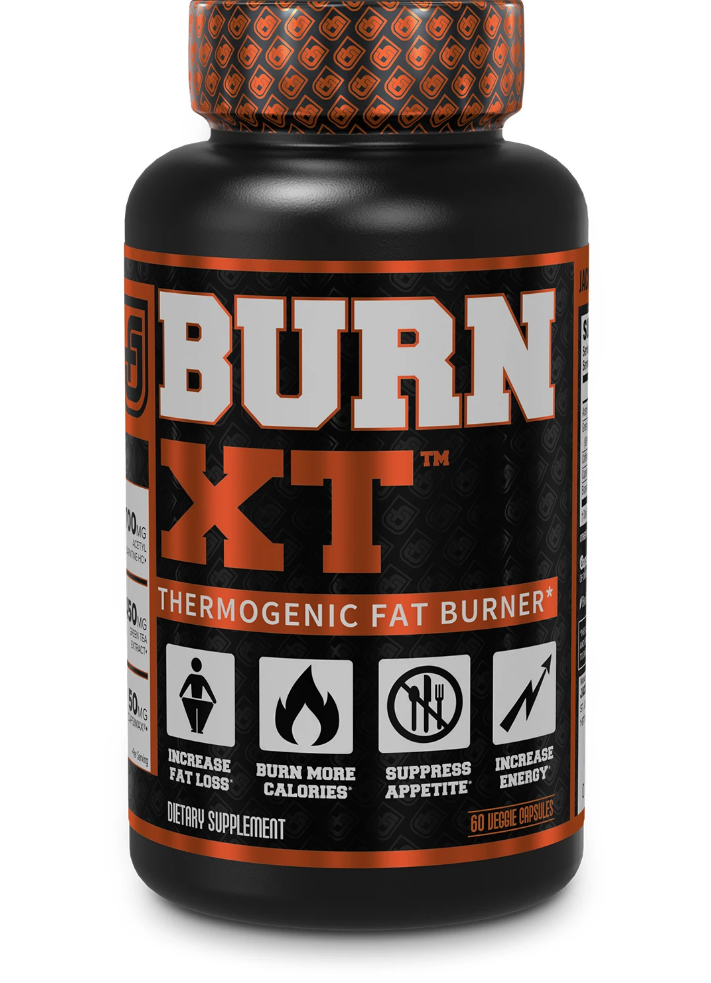 Just landed on the supplement market, Jacked Factory Burn XT is a thermogenic fat burner made in the USA.
Like many fat burner supplements, it is packed with vital ingredients to increase the metabolism, improve training and increase concentration. However, unlike many, this fat burner has a completely transparent label and you know exactly what's in it and how much.
Jacked Factory Burn XT Ingredients
Acetyl L-Carnitine – This is one of the most important ingredients in the fat burner as it helps to release fat stores from the body. L-Carnitine is an amino acid that is naturally produced in the body. Unlike other amino acids, L-Carnitine is used to help the body turn fat into energy because it helps the body to produce more energy.
Green tea extract – Green tea extract is a popular ingredient in most fat burners as it is traditionally known to have several health benefits. One of these being EGCG epigallocatechin Gallate which is found in the leaves of the plant. This is a substance that aids fat loss and increases energy. Green tea also has naturally occurring caffeine that acts as a stimulant.
Caffeine Anhydrous – We all know that caffeine is the king of pre-workout and gives your body the energy it needs to smash a great training session. Caffeine Anhydrous is next level caffeine and contains a lot more than your average cup of coffee. This is important as when you're going through a fat burning stage on less calories, you will need even more stimulation and energy to train. Caffeine also boosts the other stimulants in your body such as dopamine, glutamate and adrenaline.
Capsimax Cayenne pepper extract – This is a common ingredient in fat burning supplements as it has thermogenic properties. Capsicum is also known as red pepper and there is also some evidence that it may improve athletic performance.
Bioperine  – Bioperine is a key ingredient for fat loss and it speeds up the metabolism. When you take bioperine, it breaks down the fat cells and in-tern increases your internal temperature which is known as thermogenesis. When you are going through a fat loss phase, this can be extremely useful as you are looking to increase calorie expenditure.
Dose
In-order to gage how you react to the fat burner, it is recommended that you begin with 1 capsule per day for the first 3 days. From here, you can then progress to 2 capsules, once or twice daily.
Capsules should be consumed before meals and no less than 4 hours before bed as there are several stimulants that could affect your sleep. Along with the capsules, it is advised that you maintain a healthy, controlled diet and continue to strength train for maximum results.
Jacked Factory Burn XT also has the perks of being a non-proprietary blend. A proprietary blend supplement does not have the exact dosage of the ingredients and therefore it is never clear exactly how much is being included in each capsule. Being a non-proprietary blend, this fat burner tells you exactly what's going in and how much of it, so you aren't left questioning what is going into your body.
Conclusion
Fat burners are becoming an increasingly popular supplement as people are looking for body recomposition, maintaining muscle and burning fat.
Fortunately, Jacked Factory Burn XT is packed with the fundamental ingredients that are essential for an effective fat burner. Not only do the ingredients carry thermogenic properties which have the ability to increase the metabolism, but ingredients such as caffeine will help you grind through gruelling workouts when you're undergoing a calorie deficit.
If you're looking for a supplement to compliment your nutrition and training, this could transform the way you endure a fat loss phase
How Does Jacked Factory Stack Up? See the Best Fat Burners Here.