Jay Fawcett has put his body to the test.
As we get older in life we get set in our habits, and it becomes harder and harder to make changes. Most members of the fitness community started young, and had the good fortune to form healthy habits at a young age. More mature people often struggle to rewire themselves for fitness. Many times the inspiration for true change comes in one transformative moment. For Jay Fawcett it was two:
He told Westernstar that in November 2016 he found himself unable to enjoy the simple pleasure of playing on the trampoline with his sons – Draco and Odin, "It broke my heart."
He knew he needed to make a change, with a 5'7 frame carrying 200lbs, but wasn't sure exactly what to do until his wife Becky competed in a local bodybuilding show.
He didn't commit to a specific weight or measurement. He just completely mentally committed to stepping on stage in a year, and let that certainty drive him into good habits. He began going to the gym and dieting, without any serious knowledge or experience, but sincerely, and soon enough was noticing some results.

Of course he found the momentum of positive results addictive and quickly was improving in all aspects of his venture. A year later, he stepped on stage at 136 pounds.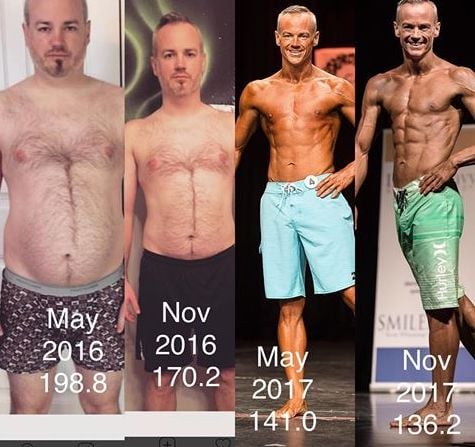 Beyond the obvious physical improvements, Jay says that his mindset has gone from night to day. He experiences more positive thoughts and feelings, and has an outlet to better cope with the negative ones:
"I'm able to handle stress a lot better. Anytime I'm struggling I'm able to channel that into exercise."
Jay says that he believe's the hardest part of improving is finding a concrete reason to, and thanks his children in that regard. Every man needs an ideal bigger than himself to strive towards, and nothing drives a parent like potential separation from their children. Pursuing fitness, he says, is harder than it sounds, but just as simple:
"You can't give up at the first stumble. You just have to keep going."
For more news and updates, follow Generation Iron on Facebook, Twitter, and Instagram.